Ran ahead
Today was the first day of competition in the 32nd Copa del Rey Mapfre on the Bay of Palma. Among the TP52s it was Niklas Zennström's crew on Rán Racing which won the one and only race for the nine boat Gaastra IRC Class.
The unusual northeasterly wind direction had several navigators and tacticians searching their memory banks to recall the best strategy for what ultimately proved to be an excellent opening contest for Spain's showcase annual regatta.

While Rán Racing's tactician Adrian Stead and strategist/trimmer Andy Hemmings read it well, guiding Rán Racing to a very comfortable win, by some two and a half minutes ahead of a tightly matched group, second placed Azzurra started badly after a series of mishaps spiralled to leave them out of sorts, last off the start line.

Azzurra overcame her own pre-race troubles and fight back through the fleet. An engine malfunction and radio problems had left them slightly short of their usual preparation regime.

Ergin Imre's Provezza led to the first mark, hung on to second around most of the course and only slipped to fourth, one second behind 52 Super Series leader Quantum Racing, despite racing with no electronics and with a stand in, late substitute bowman.

"We were sailing blind, like the old days," said the Turkish 52's tactician Tony Rey. "In spite of that we had a great first round. We led until we got swallowed up by Rán Racing which were a little better at boat handling at the top. We just tried to keep it close, but as it got lighter towards the end we lost to Azzurra but the end result we lost to Azzurra by a few seconds and beat Quantum Racing by a second or two at the most, so it was great racing. We like it when it is shifty and the fact that we had no instruments at all in a sense it makes you better sailors, you have to work harder to be smarter."

After a disappointing regatta earlier this month in Ibiza, the current world champion Rán Racing was back on form. Her crew was quick to recognise the stronger pressure to the right on the long first upwind, which meant they chased Provezza hard around the windward mark and were able to overhaul them thanks to a slightly better gennaker set.

Provezza maintained second until the last minutes of the final run. As the breeze started to fade Azzurra held to the left, inshore for longer and were able to pip the Turkish team which then lost third to Quantum Racing, by one tantalising second.

Rán Racing's winning navigator Jules Salter explained: "It was a really nice race we had today. It was quite puffy and shifty with diffrences in pressure across the track. It was a very different wind direction to normal. In fact I have never sailed here in that direction before. And Ado was picking his brains to try and remember a time like this from before. But between him and Andy Hemmings they did a very good job in finding us the best breeze and getting us up the track.
"Ultimately it was recognising there was a bit more wind pressure on the right and that was about using the windshifts well to get over there. It was quite a long beat, a bit longer than we are used to in the 52 fleet so far this season, so you really had to dig in and be there for the whole of the beat and it came good for us in the end. It was tight down the first run with Provezza and a group of boats but we managed to wriggle our way clear. We were leading up the second beat and were able to extend then."#
Guillermo Parada skipper-helm on Azzurra added: "We are pleased, not just with the result but also with the way things went today. We had a little problem before the start and so we were very late at the line and at the back. We were working hard for the whole race then. The boat speed was very good and our owner Alberto Roemmers did a very good job steering upwind and Vasco [Vascotto] picked up some shifts and so in the end we had a very good reward. We are pleased with second considering where we were off the start line. That gives us confidence for the rest of the week.
"We thought there was more time to go, we were just a bit late because of some problems. There was a problem with the gear box on the engine. We were far away from the line and the radio was not working very well as we were a bit far away so there was a bit of confusion. The net result was we did not have a good start."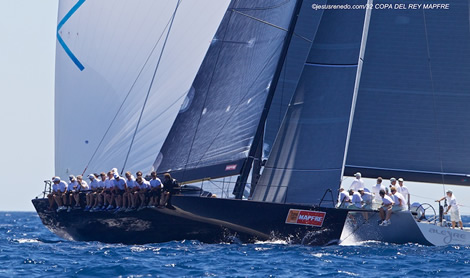 Elsewhere at Copa del Rey MAPFRE, in the four boat Hublot IRC 0 fleet, it was the smallest boat, Sir Peter Ogden's 60ft Jethou, which won the only race by 50 seconds from Andres Soriano's new Alegre on handicap, followed by George Sakellaris' Shockwave and Italian Andrea Rombelli's Stig.
Two TP52s are racing in the IRC 1 class, with one Italian Michele Galli's B2 leading after today only race, followed on corrected by German Dr Johann Killinger's Swan 60 Emma. The first Ker 46, Irvine Laidlaw's Cape Fling is holding fourth place.
Boats below 45ft are racing under ORC. This clearly seems to be popular as there are 36 yachts, most in the 40-45ft range. Again just one race was held in this with the top three boats separated by eight seconds on correcte time with Natalia Brailoiu's Swan 42 Natalia ahead of the Dutch team on Willem Wester's Grand Soleil 43R Antilope and Hubert Wargny's French team on the Swan 45 Axelle's.
Among the 23 boats in Class G.H. Mumm ORC 2, competition is lining up to be a clash of titans with X-Spain, the XP-38 skippered by Iñaki Castañer finishing today's only race just three seconds ahead of Pedro Campos' Sinergia 40 Movistar, both boats some way ahead of Toni Guiu's third placed BH36 Marina Port Vell/Sailing Control.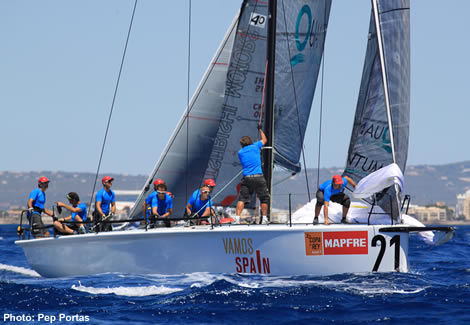 In the eight boat Soto 40 one design fleet, Vamos Spain, owned by Luis Martín Cabiedes and skippered by 'Pichu' Torcida, is the leader after one race. The start was held in 12 knots with a individual recall for José María Caldeira's Solete. In the first reach, Laurent Guerrero's Antares, skippered by Benjamin Enon, took the lead while the German team on Hendrik Brandis' Early Bird was the only boat capable of taking on Enon's crew - at least until they reached the first windward mark, when the British crew on Robert Lutener Cutting Edge, skippered by Stacey Clark, overtook Early Bird.

After a significant shift the Portuguese crew on Antares lost the lead to German Stefan Jentzsch's Black Pearl on the second reach. With 200m to go to the finish line, it was unclear who was going to win, but ultimately it was Vamos Spain that came home first ahead of Black Pearl and the Juan Eduardo Reid-steered Mitsubishi Motors in third.
In the X-35s two races were held with Roberto Mazzucato's Margherita scoring a decisive victory, demonstrating his intention to defend his Copa del Rey Mapfre title. Margherita won both races today, and rules the La Caixa X-35 class five points ahead of Javier Sanz's local team on Red Eléctrica de España and with six ahead of Italian Alessandro Solerio's Lelagain.
Two races were also sailed in the Mahou J/80 class. These were dominated by Hugo Rocha's Turismo do Algarve. The 2013 World Champion holds first place ahead of last year's winner, José María Van der Ploeg's Factor Energía, which scored two second places.
Full results here
Back to top
Back to top