Spookie ahead
Saving for a rainy day is a good idea in sailboat racing just as it is in real life. That's what early leaders were thinking today after opening races at the Storm Trysail Club's 25th Anniversary Block Island Race Week. With 182 teams racing in 19 classes (four IRC, five PHRF, seven one design, two cruising, one doublehand) and eight of those contesting major championships, the stakes are high over Race Week's five full days of racing, and early plays for advantages in scoring are undoubtedly wise investments.
In IRC, where the North American Championship is on the line, Steve and Heidi Bejamin's Carkeek 40 Spookie put a 1-2 in the bank today to lead, leaving fourth overall to the other Carkeek 40 in their class, Stephen Murray's Decision. "It was a good tricky southwest day with flood current changing to ebb, so there were a lot of variables on the race course between race one and two," said Steve Benjamin. "Decision is a sistership, so inherently we're quite close on boat speed, but there are two others out there: the Naval Academy Sailing Squadron's Corsair, which rates higher and owes us four and a half minutes on handicap, and Catapult [Marc Glimcher's Ker 40], which rates less and we owe them four minutes. So we have to sail against the clock more than anything."
Corsair finished in second overall with a 4-1 today, but Catapult is right there, tied on points, in third position. According to Benjamin, who thinks the latter part of the week looks better weather-wise than originally thought, the early performances are important for "every regatta, but especially this one."
The J/80 one design, the largest class here with 18 entrants, is also holding its North Americans, and Clarke McKinney's Knee Deep turned in the winning performance with a 1-2 for the day.
According to Will Crump, who steered R80 to a third today in that class, the wind, at 6-10 knots, had been forecast to blow at least five knots more. "These boats are good in the low teens, but you can be struggling in the light stuff. The fleet got spread out, and everyone was fighting up and down the course. There are a number of people who are competitive on any given day, and we saw a few of them pop out today." Thomas Bowen's Angry Chameleon is in second, tied on points with R80.
Block Island Race Week is also serving as the New England Championship for Swan 42 one designs, and Andrew and Melissa Fisher's Bandit topped that class with a 1-4 today.
"The first race felt like we couldn't do anything wrong," said Andew Fisher. "We were in our own breeze, which launched us. It's easier to keep the lead in a fleet of boats that go the same speed. The second race was more interesting; we were more in the mix. Jack [Slattery, tactician] made some good calls, and we had especially good downwind performance. All and all a good day, but just because we're in the lead now doesn't mean much. The winner of our last regatta averaged top-three every race."
Coincidentally, Ken Colburn's Apparition finished 3-3 today. Peter Stalkus, a four-time America's Cup navigator who is trimming mainsail for the team, said, "yes, if we can average top-three for the rest of the event, we can win it."
Results - top 3

IRC 1 (IRC - 7 Boats)
1. SPOOKIE, Carkeek HP 40, Steve & Heidi Benjamin , Norwalk, CT, USA - 1, 2, ; 3
2. Corsair, TP 52, Andy Beeler , Annapolis, MD, USA - 4, 1, ; 5
3. Catapult, Ker 40, Marc Glimcher , New York, NY, USA - 2, 3, ; 5
IRC 2 (IRC - 7 Boats)
1. DownTime, Summit 40, Ed Freitag / Molly Haley , Annapolis, MD, USA - 1, 2, ; 3
2. Convictus Maximus, Farr 42, Donald Nicholson , Scotch Plains, NJ, USA - 4, 1, ; 5
3. White Witch, King 40, Larry Landry , Newport, RI, USA - 3, 4, ; 7
IRC 3 (IRC - 11 Boats)
1. Avalanche, Farr 395, Craig Albrecht , Port Washington, NY, USA - 2, 1, ; 3
2. Dolphin, J 122, Neil McMillan , Annapolis, MD, USA - 3, 4, ; 7
3. Spectre , Tripp 40, Brian Prinz , East Haven, CT, USA - 1, 9, ; 10
IRC 4 (IRC - 8 Boats)
1. Shamrock Sensation, Nelson Marek 40, Ralph DiMattia , Quincy, Mass., USA - 1, 1.5, ; 2.5
2. Out of Reach III, X-35, Louis Nees , Lower Gwynedd, PA, USA - 2, 1.5, ; 3.5
3. Lora Ann, Express 37, Richard Du Moulin , Larchmont, NY, USA - 3, 4, ; 7
Swan 42 (One Design - 11 Boats)
1. Bandit, Swan 42, Andrew & Melissa Fisher , Greenwich, CT, USA - 1, 4, ; 5
2. Apparition, Swan 42, Ken Colburn , Dover, MA, USA - 3, 3, ; 6
3. Barleycorn, Swan 42, Brendan Brownyard , Bay Shore, NY, USA - 7, 2, ; 9
J 44 (One Design - 8 Boats)
1. Gold Digger, J 44, James D. Bishop , Jamestown, RI, USA - 3, 1, ; 4
2. Resolute, J 44, Don and Rick Rave , Huntington Bay, NY, USA - 1, 4, ; 5
3. Challenge IV, J 44, Jeffrey W. Willis , Huntington, NY, USA - 2, 3, ; 5
J 111 (One Design - 5 Boats)
1. Wicked 2.0, J 111, Douglas Curtiss , South Dartmouth, MA, USA - 1, 1, ; 2
2. Andiamo, J 111, Paul Strauch , Manhasset, NY, USA - 3, 2, ; 5
3. Partnership, J 111, David and Maryellen Tortorello , Bridgeport, CT, USA - 2, 5, ; 7
J 109 (One Design - 15 Boats)
1. Rush, J 109, Bill Sweetser , Annapolis, MD, USA - 2, 4, ; 6
2. Storm, J 109, Richard Lyall , Wilton, CT, USA - 6, 1, ; 7
3. Gossip, J 109, Group W , Wainscott, NY, USA - 5, 2, ; 7
J 105 (One Design - 14 Boats)
1. Eclipse, J 105, Damian Emery , Shoreham, NY, USA - 1, 1, ; 2
2. LouLou, J 105, Bruce Stone , San Francisco, CA, USA - 2, 2, ; 4
3. Distant Passion, J 105, James Macdonald , Smiths, BER - 3, 4, ; 7
J 29 (One Design - 6 Boats)
1. Hustler, J 29, John & Tony Esposito , Mohegan Lake, NY, USA - 1, 1, ; 2
2. Mighty Puffin, J 29, Steve Thurston , Bristol, RI, USA - 2, 3, ; 5
3. For Sail, J 29, Jim Mackevich , Edison, NJ, USA - 4, 2, ; 6
J 80 (One Design - 16 Boats)
1. Knee Deep, J 80, Clarke McKinney , Solomons, MD, USA - 1, 2, ; 3
2. Angry Chameleon, J 80, Thomas Bowen , Charleston, SC, USA - 4, 3, ; 7
3. R80, J 80, Will & Marie Crump / Thomas Klok , Annapolis, MD, USA - 3, 4, ; 7
PHRF 1 (PHRF - 13 Boats)
1. Celeritas, Melges 32, Malcolm Gefter , Newport, RI, USA - 1, 1, ; 2
2. Press Gang, Farr 30, Roland Van Hazel , Etobicoke, Ont, CAN - 4, 2, ; 6
3. Jammy Beggar, Melges 32, Thomas Lee , Westbrook, CT, USA - 2, 6, ; 8
PHRF 2 (PHRF - 9 Boats)
1. Bluto, Evelyn 32 (modified), Ben Hall / Bill Berges , Tiverton, RI, USA - 2, 1, ; 3
2. Afterglow, Express 37, Team Afterglow , Easton, CT, USA - 1, 6, ; 7
3. Zuma, J 109, Macrae Sykes/ Steve Chronert , Old Greenwich, CT, USA - 4, 3, ; 7
PHRF 3 (PHRF - 11 Boats)
1. XLR8, Evelyn 32, Brad Porter , Westbrook, CT, USA - 4, 1, ; 5
2. Whirlwind, Beneteau First 36.7, William Purdy , New York, NY, USA - 3, 2, ; 5
3. Scorpion, Evelyn 32, Larry Hennessy , Middlefield, CT, USA - 2, 3, ; 5
Cruising Spinnaker (PHRF - 13 Boats)
1. Fidelio, S&S 39, Charles Townsend , Middletown, RI, USA - 1, ; 1
2. SKYE, Swan 53, Ralph Worthington , New York, NY, USA - 2, ; 2
3. Orion , S2 10.3, Bryan Coon , Hicksville, NY, USA - 3, ; 3
Double Handed (PHRF - 8 Boats)
1. Skye, Farr 395, James T. Anderson , Riverside, CT, USA - 1, ; 1
2. RockIt, Elliott 770, Lance Ryley , Boston, MA, USA - 2, ; 2
3. Fin II, Olson 30, Thomas O'Connell , Riverside, CT, USA - 3, ; 3
Cruising Non-Spinnaker (PHRF - 10 Boats)
1. Acadia, Cat Ketch 49, Burt Keenan , Hiltoh Head, SC, USA - 1, ; 1
2. Testing Life, Tartan 46, Brian Mulhall , Boonton, NJ, USA - 2, ; 2
3. Rascal, Ericson 39, Christopher Schneider , Centerport, NY, USA - 3, ; 3
PHRF 4 (PHRF - 6 Boats)
1. Rival, Taylor 38, David Curtis , Marblehead, MA, USA - 1, 1, ; 2
2. Cymothoe, Sabre 362, David Alldian , Brick, NJ, USA - 2, 2, ; 4
3. Pirate, Abbott 33, William Baxter , Stuart, FL, USA - 3, 4, ; 7
PHRF 5 (PHRF - 4 Boats)
1. Air Express, San Juan 30 30, Chris Fesenmeyer , Norwalk, CT, USA - 2, 1, ; 3
2. Stealth, Evelyn 26, Jay Greenfield , Noank, CT, USA - 1, 2, ; 3
3. Leonessa, Finn Flyer 31, Raymond DeLeo , Bristol, RI, USA - 4, 3, ; 7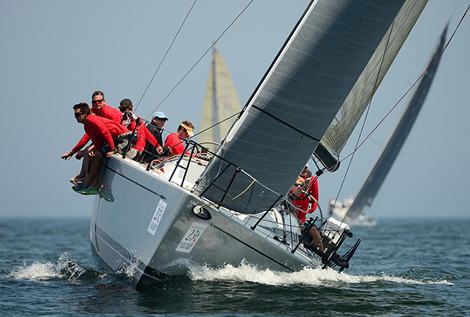 Back to top
Back to top