D35 reign ends
Sunday June 16th 2013, Author:
James Boyd
, Location: none selected
Shock, horror - the 75th anniversary Bol d'Or Mirabaud was won not by a D35, the dominant multihull class on the lake since 2004, but by the Ventilo M1 catamaran Zenith Fresh, skippered by Christophe Péclard.
The anniversary of Switzerland premier sailing event saw more than 3000 participants aboard 508 competing yachts (of which 336 finished).
The 35ft long Zenith Fresh catamaran, with Christophe Péclard on the helm, plus Jean-Philippe Bucher, Thierry Froidevaux, Nicolas Kauffmann and Daniel Schmaech, completed the lap of Lake Geneva in a time of 12h30'29'', almost two hours faster than the first D35, Team SUI 9, helmed by Christian Wahl, followed just 40 seconds later by the Ernesto Bertarelli-steered Alinghi.
Zenith Fresh pulled out her huge lead on the return leg from Bouveret, having rounded the turning mark just four minutes ahead of Team SUI 9.
"Our tactic out of Bouveret and the constant search for wind along the French coast paid off, because we were able to outpace our pursuers," said a delighted Jean-Philippe Bucher. "The dynamics on the boat were excellent, with good team cohesion and above
all a good atmosphere. This is a fantastic victory, a childhood dream come true. It took us four years to develop this boat before finally we have won the Bol d'Or Mirabaud."
Zenith Fresh finished eighth in 2011, but dismasted and abandoned the race last year. The Ventilo M1 has been designed and developed by Christian Favre, founder of C-System, builders of the Ventilo range of catamarans. It was felt that the newer Ventilo, being lighter than the D35s, better suited the lighter weather conditions.
Among the smaller M2 catamarans, Teamwork skippered by Antoine Thorens won arriving 9th overall after 14 hours and 33 minutes.
The Hungarian Libera class skiff Raffica successfully defended her title monohull, crossing the line at 15h01'44'', and subsequently awarded the Bol de Vermeil.
In the popular Surprise class more than 100 boats fought for first place but in the end it was Mirabaud 1 skippered by Antonio Palma claimed honours with Luna trailing 51 minutes behind.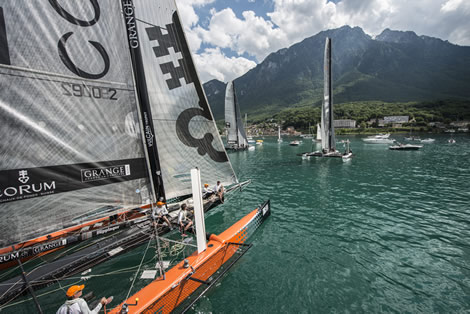 Back to top
Back to top