First Match Race Germany victory for Williams
Lake Constance left it right until the last moment to get uncooperative at Match Race Germany. An ominous-looking rain cloud was on its way across the third largest lake in Europe from Switzerland, sucking all the wind out of the vicinity and causing PRO Rudi Magg to draw proceedings to a close.
This handed victory at Match Race Germany to British helm Ian Williams and his American/Australian crew of Mal Parker and Bill Hardesty, supplemented on this occasion by stand-ins Graham Spence and Willem Van Waay. Williams' GAC Pindar crew won today's single Finals match against Adam Minoprio and his all-Kiwi Team Alpari FX crew of Nick Blackman, Chris Main, Tom Powrie and David Swete; reigning Alpari World Match Racing Tour champion (Williams), up against the 2009 champion (Minoprio).
A little slow out of the blocks in the Semi Finals yesterday, Williams was 1-2 down against Johnie Berntsson's Stena Sailing Team crew as proceedings came to a close last night. However the GAC Pindar crew fought back this morning to take the next two points, to gain their berth in the final.
In his Semi Final match Minoprio had less to do this morning, scoring a come-from-behind win against France's experienced Mathieu Richard and his GEFCO Match Racing Team to take him through on a 3-1 scoreline.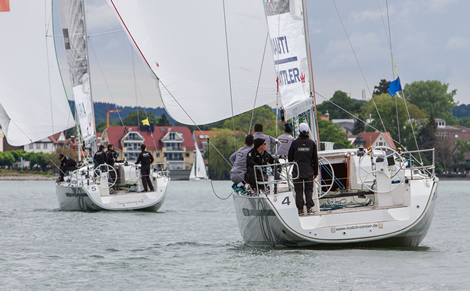 "We had a nice lead, maybe 8-10 boatlengths during the first run," explained Richard after a long team de-brief. "But then we ran out of wind, and completely stopped while they had a little breeze coming from behind. Often in those conditions it is not too bad to be behind and they showed us that today as they were able to overtake us. It is very disappointing and a bit frustrating, but that is how it is."
Otherwise the Frenchman, who heralds from La Baule on the Atlantic coast, was pleased with the performance of his GEFCO Match Racing Team in what is their first Tour event since St Moritz last year. Richard will be back for Korea Match Cup next week followed by Stena Match Cup Sweden at the beginning of July.
In this afternoon's only Finals race, held once again in very light winds, Minoprio held up his hand, acknowledging that he had made a meal of the pre-start. "I forgot how long these boats take to gybe and I wasted a minute doing two gybes so we were late for the line. It was my mistake, I was kicking myself at the start of the race."
From there all he could do was chase the GAC Pindar crew around the course, who in turn did an immaculate job of covering their Kiwi opponents.
Minoprio felt the Race Committee was correct to draw racing to a close prematurely and was gracious in defeat. "There is no wind at the moment," he observed. "Ian sailed better than us in the one race we had and he won Qualifying - he deserves the win here. We sailed very poorly in that final race against him and we didn't deserve it."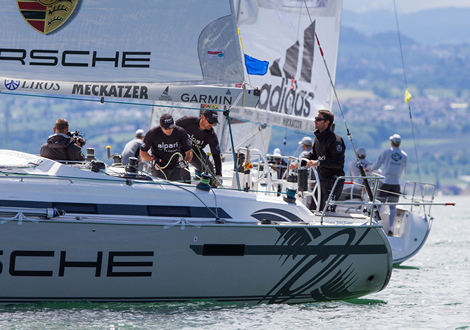 However Minoprio reckoned it was a solid start to his come-back season. "Second is good points for the overall Championship and puts the pressure on everyone else."
Williams was pleased with victory, a first in his lengthy match racing career at Match Race Germany, even if the last part of the event was curtailed. He felt he sailed the last race well.
"It was really light which meant manoeuvres were really costly. We did a nice job of keeping Adam down – he had to do a couple of gybes in the last minute before the start and that cost him a bit of speed which allowed us to be faster and closer to the line at start time. Then we did two less tacks on both beats and that is what allowed us to draw away by the finish."
Victory at Match Race Germany, makes for a solid start to Williams and the GAC Pindar team's campaign to win the Alpari World Match Racing Tour for a record setting fifth time.
"I haven't been here in Langenargen for a couple of years," admitted Williams. "They put on a great show here. The conditions are often difficult, but I like the big boats, they are impressive. Plus there is a good crowd turn-out here and the event works well for the local economy, so long may it continue."
James Pleasance, Executive Director of the Alpari World Match Racing Tour felt that the beginning of the 2013 season had gone well: "It has been a fantastic week for the first stage of the 2013 Alpari World Match Racing Tour, and a good shakedown event for all the teams. The boats here are bigger and heavier and the teams have really had to find their stride in the variable lake conditions. But a great win for Ian and GAC Pindar, and against a former Tour Champion in the final as well. This Tour season is going be very close indeed."
Final results: Ian Williams (GBR) GAC Pindar vs Adam Minoprio (NZL) Team Alpari FX 1-0
Petit Final results: Mathieu Richard (FRA) GEFCO Match Racing Team vs Johnie Berntsson (SWE) Stena Sailing Team 1-0
Semi Final results:
Mathieu Richard (FRA) GEFCO Match Racing Team vs Adam Minoprio (NZL) Team Alpari FX 1-3
Ian Williams (GBR) GAC Pindar v Johnie Berntsson (SWE) Stena Sailing Team 2-2
Overall results and championship points
1 Ian Williams (GBR) - Team GAC Pindar 25
2 Adam Minoprio (NZL) - Team Alpari FX 22
3 Mathieu Richard (FRA) - GEFCO Match Racing Team 19
4 Johnie Berntsson (SWE)- Stena Sailing Team 16
5 Taylor Canfield (ISV) - USone 14
6 Björn Hansen (SWE) - Mekonomen Sailing Team 12
7 Karol Jablonski (POL) - Jablonski Sailing Team 10
8 Pierre-Antoine Morvan (FRA) - Vannes Agglo Sailing Team 8
9 Phil Robertson (NZL) - WAKA Racing 4
10 Keith Swinton (AUS) - Black Swan Racing 2
11 Philip Buhl (GER) - STG/NRV Youth Team 0
12 Sven Erick-Horsch (GER) - NRV Match Race Team 0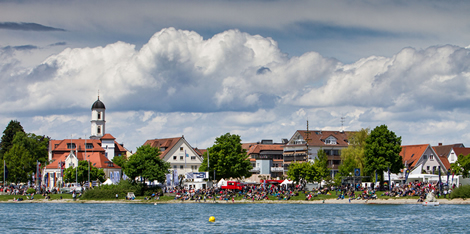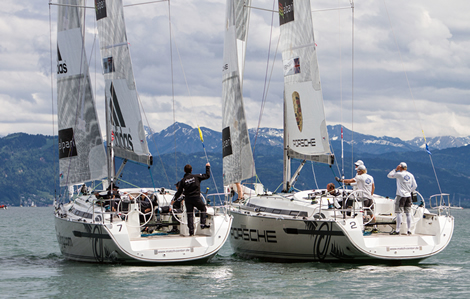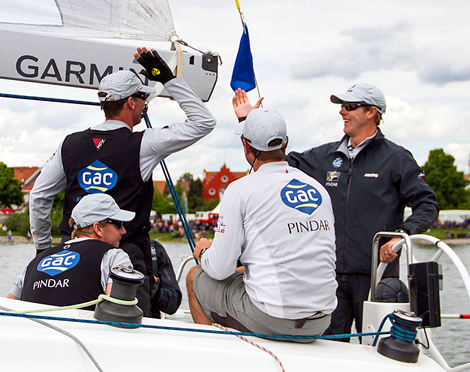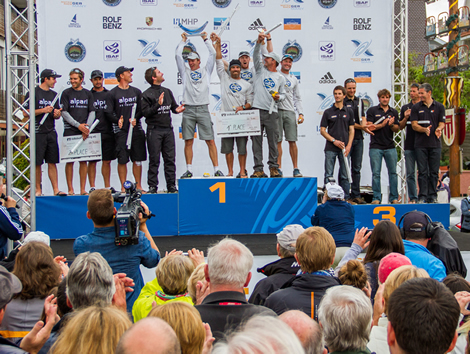 Back to top
Back to top