Shorter courses
Having been given plenty of time on yesterday's longer courses to sort out their crew work, sail selection, tactics and sunscreen, sailors took to the turquoise seas off the French West Indies island of St Barth for a second round of competition today at Les Voiles de St Barth. With the first day down and competition defined, now it was time to fine-tune and sort out standings.
The race committee selected three courses: 22 miles for Classics, Non-Spinnaker, Spinnaker 3 and Melges 24 classes; 27 nm for Spinnaker 1, Spinnaker 2, and Multihulls; and 29 nm for Maxis. All three courses took the boats out and around the northern end of St Barths and the outlying islands. The southeasterly breeze was more sustained today at around 18 knots, with gusts to 20, which on the windward-side of the island produced large swells.
Les Voiles de St Barth attracts a good mix of amateurs and professional sailors as well as some sailors who aren't often seen at "around the buoys" type racing. Vendee Globe skipper Marc Guillemot found himself in much less stressful conditions, sailing aboard Patrick Demarchelier's Swan 53 Puffy (USA). "Normally I am on very light boats that manoeuvre very easily," Guillemot said, "and today I was driving a boat that is roughly four times heavier than mine! (This one is roughly 28 tons while his IMOCA 60 Safran is 7.5 tons.)
"I have been lucky enough to have sailed here a few times and it helps to know where the winds are more or less favorable," continued Guillemot. "Knowing the lay of the land is important, as it also allows you to negotiate the best way round the course. Personally, this week I am here to enjoy the racing and have some fun, and if we finish first or second, it is not going to make a huge difference…well, maybe for the crew it will!"
Racing in Spinnaker 1 class is tight: the current leader is Steve Cucchiaro's Defiance, with James Blakemore's Swan 53 Music in second, and Phil and Wendy Lotz' Swan 42 Arethusa in third.
In the Spinnaker 2 class, the current leader is Sergio Saramoso's Lazy Dog (PUR), while in second place is the chartered First 40 Ramanessin (IRE). Nigel Young, owner of North Sails Ireland, is tactician onboard, and just as importantly, he is the program manager. He explained he was tasked with putting a charter together for a friend of a friend who is a motor racing enthusiast, new to sailing and interested in having a go at sailing.
Young wanted to find somewhere warm for the first event, he said: "We could have gone to Ireland which is where I am from, but I did not want to put everyone off as it can be pretty miserable. We looked at options of regattas and when I put forward Saint Barth, the decision was made in 20 seconds." The group seems to have gelled nicely, as they have gotten the boat around the race course in second place twice in two races.
"I have raced everywhere but never in the Caribbean and we definitely would like to come back next year," said Young. "Most of the sailing we would be doing now would be windward/leeward style on very accurate set race courses, so doing this kind or racing around natural objects is really interesting. The boat owner, Lucy, is actually a great navigator, so it is making my job on the tactics and strategy very easy. She is right on it."
Tonight is the crew party at Shell Beach, with video, music and fireworks. Tomorrow is layday for competitors, with stand up paddleboard races and other shoreside festivities at Nikki Beach on St Jean Bay.
Racing continues on Friday and Saturday, with the warning signal at 1000 on both days.
Overall (1st, 2nd, 3rd) after two races:
IRC 52: Vesper (USA), Varuna (GER)
Maxi: Selene (USA), Whisper (IRE), Idea (GBR)
Spinnaker 1: Defiance (USA), Arethusa (USA), Music (GBR)
Spinnaker 2: Lazy Dog (PUR), Ramanessin (IRE), Northern Child (GBR)
Spinnaker 3: Credit Mutuel Martinique Premiere (FRA), Maelia (SBH), Speedy Nemo (SBH)
Non-spinnaker: L'Esperance (SXM), High Tension (ANT) Shamrock VII (USA)
Melges 24: Budget Marine/Gill (SXM), Team Island Water World (SXM), French Connection (SBH)
Multihull: Paradox (CAY), Dauphin Telecom (SBH), Plan D'Enfer YCSF
Classics : Heroina (USA), Wild Horses (USA), Saphaedra (USA).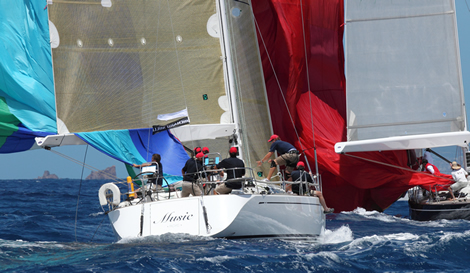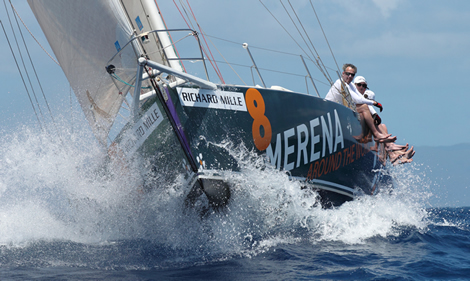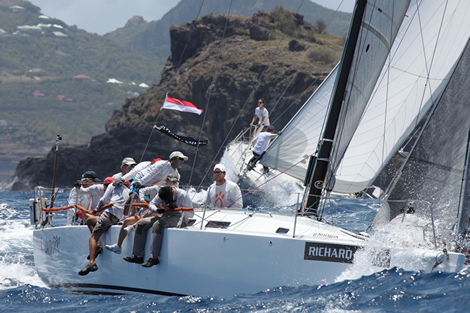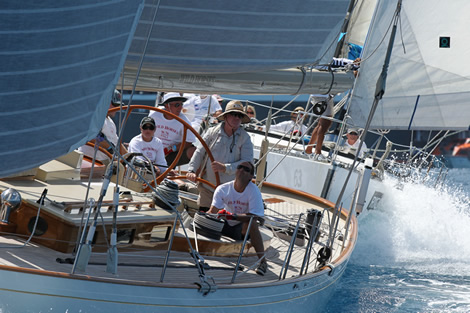 Back to top
Back to top