Sir Keith Mills back on the water
While TP52 racing in the UK may be on the wane, bucking this trend is Sir Keith Mills, who last weekend sailed his first regatta as an 'owner driver' at the RORC Easter Challenge.
His Juan K-designed TP52 remains an asset from TeamOrigin, initially launched for Ben Ainslie and the British all-star crew to train aboard during the 2010 Audi MedCup as preparation for the America's Cup. After Mills pulled the plug on TeamOrigin in October 2010 the boat was used at Cowes Week by Carphone Warehouse boss Charles Dunstone and then chartered to American Hap Fauth who sailed it at Key West last year as his new Bella Mente Mini Maxi was in build.
Significant for Mills is that having been bitten by the sailing bug as long ago as the 1998 Clipper Round the World Race in which he raced aboard the Alex Thomson-skippered winner Ariel, since then he has had little opportunity to go sailing for his own personal enjoyment. And this is despite his significant contributions the sport for more than a decade now, be it through his long term, unerring support of Alex Thomson's occasionally rocky IMOCA campaign or his three year long run with TeamOrigin.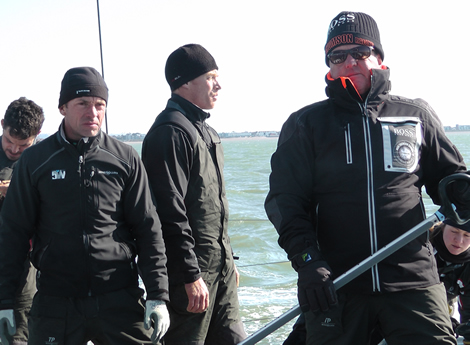 Taking the TP52 as a case, Mills says that they previously sailed the boat in the Round the Island Race, when he shared helming duties with Iain Percy, and on occasional moments down in the Mediterranean, but otherwise that was it. "Now the Olympics are over I have a bit more time and I thought I'd take on the season with the TP52 here and give it a go." In addition to having created Air Miles and the Nectar loyalty schemes, Mills was also instrumental in Britain winning the bid to host the London 2012 Olympic Games, for which he was awarded a knighthood and then in the 2013 New Year's Honours list a GBE. He continues: "It has been a long time coming. I spend a lot of money on sailing and do very little of it. It is nice now the Olympics are over to get back on the water."
The aim is to compete in a few key regattas in this UK over the course of this season. Following on from the RORC Easter Challenge, where Mills and his team won IRC One, the preliminary program follows with the Vice Admiral's Cup, JP Morgan Asset Management Round the Island Race and Aberdeen Asset Management Cowes Week.
Aside from being some fun, for Mills this program represents the opportunity to develop his skills as a helmsman: "I have done such little sailing in recent years, it is good for me to get out on the water again. I am on a steep learning curve, but I have some great guys on the boat who really know what they are doing. The objective of this weekend was to get better and these guys are great coaches. When you have a crew of this calibre driving is easy. I have really enjoyed this weekend and hopefully as the season progresses I'll learn a bit more and get a bit better."
In terms of manpower Rob Greenhalgh is skippering the boat with a fully pro crew including TeamOrigin veterans, bowman Matt Cornwell and rower turned America's Cup sailor Ian Weighell, Paul Goodison calling tactics and with Dave Lenz on mainsheet.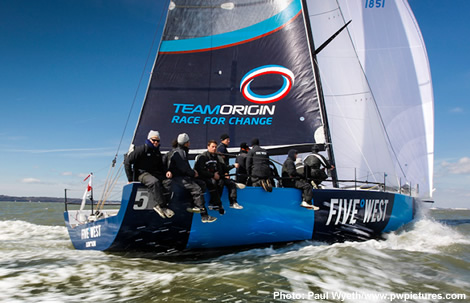 So if Mills wishes to go owner-driving and developing his skills as a helmsman – is the TP52 the best option? Why not, given that he already owns the TP52. "It is a great boat to sail," he says. "It is really responsive, but you need a really good crew which is what we have got."
Mills says he doesn't know where this season will lead him. He doesn't discount the possibility of this being the prelude to a 52 Super Series campaign for 2014, along the lines of what fellow UK-based TP52 owners Tony Langley and Niklas Zennstrom have been undertaking over the last couple of seasons. However he says that he will have to see how this season progresses and how much time he has, given the numerous commitments of his professional life, plus being a non-exec director at Tottenham Hotspur football club, plus his charity work that includes Sported, which he set up in 2007 to inspire disadvantaged young people from around the world to use sport as a means of improving their lives.
While the possibility of campaigning the TP52 this season was being contemplated by Mills last autumn, he only pushed the button on getting her recommissioned just over a month ago, requiring boat captain Simon Clarke to race to get the boat dug out of Williams Shipping in Southampton (where all the remaining TeamOrigin gear resides) and back on the water, and race-ready.
A fair amount of work has been carried out on the TP52 since her first Audi MedCup regatta in Cascais in 2010. The winglets on her keel were loped off early on (they still reside as a memento in the boat's container...) and she was also fitted with a new fin, while her flat Star boat-like forefoot to her bow was also filled in.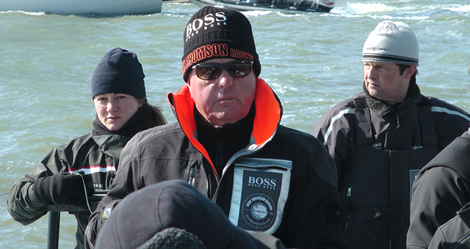 According to Clarke (above right), the boat was always a little heavy and so all the hydraulics have since come off save for those for the headstay and jib tack.
With little time to get the boat sailing again, they haven't done much to the boat as yet, other than a small rebranding – the boat is now called 5°West after one of Mills' sports marketing companies. However a new larger section rudder is currently in build, and Lou Varney's famous 'Reelers' are to be fitted to suck the spinnaker sheets out of the cockpit during manoeuvres.
They are also investigating fitting halyard locks to her Southern Spars rig (the boat was originally built for a MedCup season when the coastal races had been dispensed with).
At present the boat is in class as a TP52, but they are soon to fit a bowsprit that is 0.3m longer, for, as ever, the boat is a rocketship upwind but still struggles downwind, despite the bulb having been moved as far aft as possible. There is also talk about changing the boat's very long but slender bulb that is said to work well in flat water, but less well in waves.
It is great to see Sir Keith Mills getting some personal enjoyment out of our sport.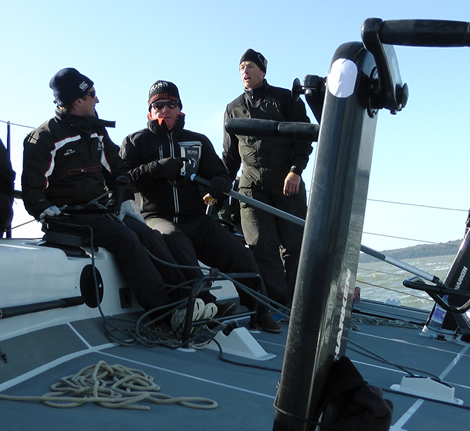 Back to top
Back to top