First Melges 32 victory for Dalton DeVos
The final day of racing at the International Rolex Regatta, the second in the OtterBox Melges 32 Virgin Islands Sailing Series, hosted by the St Thomas YC saw 21-year old Dalton DeVos on Delta take honours. In addition to winning his first ever Melges 32 regatta, he also went home with one of four Rolex watches presented as International Rolex Regatta trophies.
DeVos first sailed in the Melges 32 fleet at the raw age of 18, alongside of his father Doug. Now, some three years later, Dalton has driven his own Delta to victory accompanied by world famous tactican Jonathan McKee and a crew comprising Morgan Reeser, Zach Hurst, Cody Schlup, William Sleeman, Linda Lindquist-Bishop and Nate Smith.
Finishing a proud second overall was Jason Carroll aboard Argo, followed by Richard Goransson's Inga From Sweden in third.
The last triptych of races were held offshore in comparison to the previous days' 'bay style' racing. Windward-leeward configurations, 2-3ft of chop and a near perfect 12-15 knots greeted the nine boats for the final Sunday afternoon showdown.
Ryan DeVos on Volpe came out with all guns firing upwind. After a great start, he took an immediate lead to round the mark in first, chased by Roberto Tomasini Grinover's Robertissima and Mark Plaxton on INTAC. Ryan extended throughout the race taking the win, Tomasini Grinover was second while Plaxton settled for third.
In race two Carroll punched it on the starting line extending almost instantly. Ryan DeVos tried chasing him down, but his effort was futile despite his own separation from the fleet in an effort to catch Carroll. Carroll easily took the win, followed by Ryan DeVos, with Tomasini Grinover third.
The stage was now set for a grande finale style face-off. Dalton DeVos had finished a disappointing sixth in the second race of the day. This result, combined with Carroll's bullet meant the two were tied in points - on 24 each. It was going to be do or die...
Carroll was hot off the pin end, while DeVos took to the committee boat side, splitting the difference from the outset - Carroll heading left, DeVos right. Tomasini Grinover beat the fleet to the top mark to take a solid lead ahead of Goransson in second. Carroll and Dalton DeVos battled hard as the two rounded almost dead last. DeVos found some clean air on the first run to the gate eventually leaving Carroll behind. Tomasini triumphed to take the race bullet, Goransson claimed second while DeVos rallied to finish third and won the overall regatta title and trophy.
The International Rolex Regatta marks the second stop on the OtterBox Virgin Island Sailing Series. With two events complete, Jason Carroll is now the new series leader, ahead of Roberto Tomasini Grinover by one little point.
Results:
| | | | | | | | | | | | | | | | |
| --- | --- | --- | --- | --- | --- | --- | --- | --- | --- | --- | --- | --- | --- | --- | --- |
| Pos | Sail no | Yacht | Owner/Skipper | R1 | R2 | R3 | R4 | R5 | R6 | R7 | R8 | R9 | R10 | Dis | Net |
| 1 | USA 1215 | Delta | Dalton DeVos | 1 | 2 | 3 | 6 | 1 | 5 | 1 | 5 | 6 | 3 | [6] | 27 |
| 2 | USA 128 | ARGO | Jason Carroll | 7 | 4 | 1 | 3 | 6 | 2 | 3 | 4 | 1 | 10/RAF | [10] | 31 |
| 3 | SWE 321 | Inga From Sweden 3 | Richard Goransson | 3 | 5 | 2 | 4 | 5 | 1 | 6 | 7 | 8 | 2 | [8] | 35 |
| 4 | USA 180 | Volpe | Ryan DeVos | 8 | 3 | 5 | 5 | 3 | 3 | 7 | 1 | 2 | 7 | [8] | 36 |
| 5 | SUI 1 | Robertissima 1 | Roberto Tomasini Grinover | 6 | 6 | 4 | 9 | 2 | 6 | 8 | 2 | 3 | 1 | [9] | 38 |
| 6 | IVB 007 | INTAC | James Mark Plaxton | 2 | 9 | 6 | 1 | 7 | 7 | 5 | 3 | 5 | 8 | [9] | 44 |
| 7 | RUS 13 | Synergy GT | Valentine Zavadnikov | 9 | 1 | 9 | 8 | 4 | 4 | 9 | 8 | 4 | 4 | [9] | 51 |
| 8 | GBR 5839 | ngoni | Tony Buckingham | 4 | 7 | 7 | 2 | 8 | 9 | 2 | 9 | 9 | 6 | [9] | 54 |
| 9 | PUR 11 | Smile and Wave | Jaime Torres | 5 | 8 | 8 | 7 | 9 | 8 | 4 | 6 | 7 | 5 | [9] | 58 |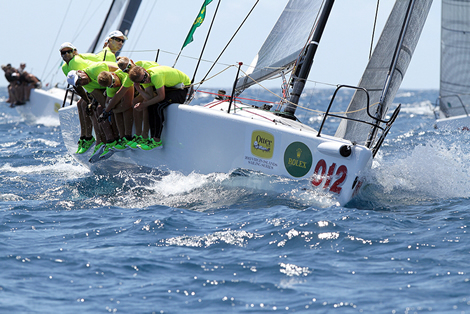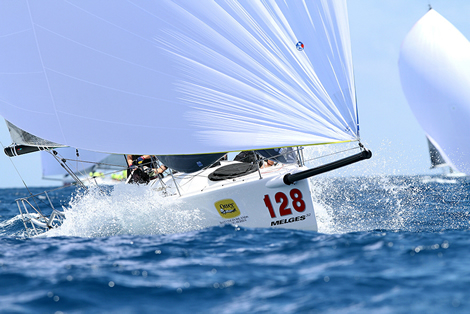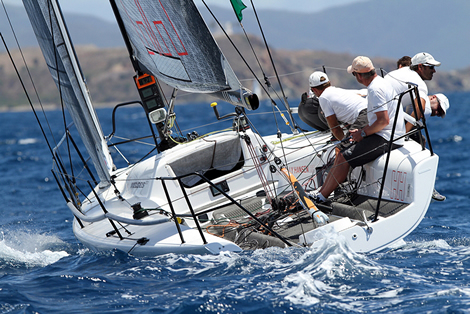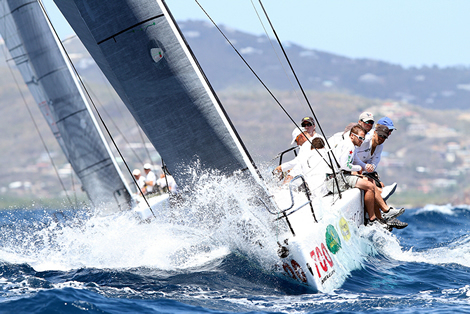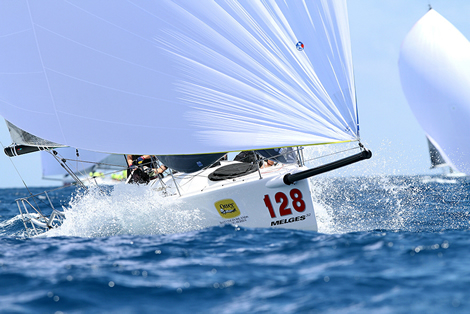 Back to top
Back to top