Getting the races in
Organisers of the fourth annual Bacardi Miami Sailing Week presented by EFG Bank made the most of conditions on the penultimate day of racing as all five classes – Star, Audi Melges 20, Melges 24, Viper 640 and J/70 – completed multiple races on Biscayne Bay where a northeast breeze of 8-11 knots was accompanied by a light chop.
Two races were sailed by the 56 Star teams, competing for the 86th Bacardi Cup. The first win of the day went to defending champions Xavier Rohart and Pierre-Alexis Ponsot (FRA), while the second race was won by 2012 Olympians Mark Mendelblatt and Brian Fatih.
"We're happy of the win and we're surprised to be in it for the Cup," said Mendelblatt who won the Bacardi Cup in 2005. "We're very happy! We had light conditions at the start with eight to nine knots; we had a decent start and got swallowed out there by other boats. We were fortunate to get moving again and with some luck we ended up going the right way. At one point we were pinned by other boats and forced to go straight which ended up being the best way. There are five or six boats within a few points and tomorrow we will try to put some of them in between and try again to win the race. Having a shot at the Cup is such an honour!"
Lars Grael and Mario Lagoa (BRA), who have led the overall Star standings throughout the series, retain the top position despite finishes of 6-32 today for a net 23 points. Mendelblatt and Fatih are second overall with 25 points, followed by Rohart and Ponsot with 26. Diego Negri and Frithjof Kleen (ITA) are fourth with 28 points, followed by 2003 Rolex Yachtsman of the Year Augie Diaz (Miami, Fla.) and Arnis Baltins with 29 points. The tight point spread among the top-five teams will surely set the stage for an intense final day of racing.
In both Melges fleets, with three races completed today, four races have been scored with no repeat winners – an indication of the tough competition in both fleets.
"Good wind, good courses, very competitive and close racing to the very end," said James Wilson who leads the 45-boat Audi Melges 20 standings after two days of competition. "Today the key difference ended up being able to do little things right. Tomorrow we will take it race by race and don't think about overall too much because there are too many competitive boats. Everyone can win; therefore our approach is to do as best we can."
Wilson has 23 points and is followed in the overall standings by Paul Reilly with 28 and Russell Lucas with 29. Richard Davis, winner of the day's final race, has 30 points, Michael Kiss has 31 and Alessandro Rombelli sits in sixth with 32 points. A big shake-up in the standings looms as once six races have been scored each boat can drop her worst finish. Baring disaster on the final day of racing, that scenario would most benefit Marcus Eagan who picked up 51 points in the first race today for being over early. He followed that with a win of race two, and with a fifth-place finish in the day's final race he currently stands 11th overall with 60 points.
"I'm blessed with my entire crew and my tactician [Steve Hunt] who was able to find the pressure," said Alan Field who leads the 18-strong Melges 24 standings with 11 points after finishes of 2-2-1-6. "Happy with the race committee; they did a fantastic job and I must admit we were a bit fortunate as well. We had a reasonable start … we were at the right place at the right time. It's nice to be in the lead in such tight racing. For tomorrow the plan is, as usual, to do well in each individual race and keep an eye on the direct competition, but most of all we're very confident on our abilities."
Italy's Riccardo Simoneschi won the opening race of the day and is second in the Melges 24 overall standings with 15 points. He is followed by Don Wilson with 18 points, Cary Siegler with 24, and Catherine Evans with 25. Alec Cutler (BER) won the final race of the day and stands 10th overall with 35 points.
Five races were completed on day two of the series in the 18-boat Viper 640 fleet, which now allows each boat to drop her worst score in figuring the total points. Day one leader Canada's Brad Boston won the first and last race of the day, with two-time BMSW class champion Britain's Glynn Locke also winning two races. With, respectively, 15 and 16 points, Boston and Locke sit second and third overall behind Pieter Taselaar who leads the standings with 13 points.
"Today was a fantastic day out there," said Taselaar, who was "happy to be on top of the chart," having posted finishes of 2-2-3-2-4 today. "The Race Committee did a great job making up lost races from yesterday. It was close racing with shifty winds. The Viper class is a difficult fleet to race against and we will keep doing the same tomorrow and we'll see what happens. We'd like to bring home top-three results and still be at the top tomorrow night."
Jason Carroll won the third Viper 640 race of the day and is tied for third in the standings on 16 points. Phil Lotz, with 18 points, rounds out the top-five. Andrew Weiss, who won the lone race contested on the first day of the series, did not finish the second race of the day and added 26 points to his scoreline. He is currently eighth overall with 38 points.
The 20-boat J/70 class also sailed five races today, allowing them to drop their worst race in calculating the overall points. Briane Keane has sailed consistently thus far in the series, and, with two wins today, has nine points and the top position in the overall standings after finishes of 2-3-3-1-1-2. Will Welles won the final race of the day and has 13 points for second overall and a nine-point cushion over Torquay's Joe Woods. Brian Elliott also won a race today, and is fourth overall with 25 points, followed by Peter Duncan with 26 points. Mark Ploch won the opening race of the day -- a strong recovery after not making the time limit in the first race of the series. He is sixth overall with 30 points.
Racing for all classes will conclude tomorrow, Saturday, 9 March.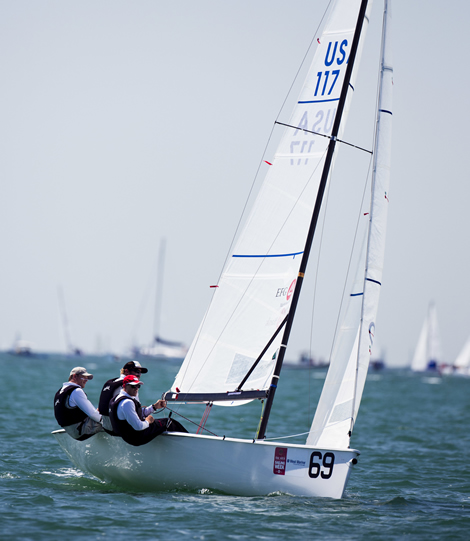 Back to top
Back to top