Robertissimo fights back
Roberto Tomasini Grinover and Robertissima with tactician Vasco Vascotto and crew comprised of Gaetano Figlia di Granara, Giovanni Cassinari, Gunnar Bahr, Armin Raderbauer, Pablo Torrado and Nevio Sabadin reclaimed the lead to claim the OtterBox Melges 32 Virgin Islands Sailing Series regatta in Virgin Gorda.
In second overall is Alex Jackson's Leenabarca and rounding out the top three, after a truly hard day of racing is Jason Carroll on Argo.
Carroll won the last race of the day and the series earning third place on countback. Fourth place finisher Ryan DeVos on Volpe and Carroll shared an equal 32 points each. Richard Goransson's Inga From Sweden was fifth overall.
The final day of racing in Virgin Gorda, hosted by Yacht Club Costa Smeralda was unequivocally the best racing the Melges 32 Class has seen in a long, long time. Teams perhaps have never worked harder as the 'inside' or North Sound racing proved to be not only tactically challenging, but it clearly put some of the world's greatest tacticians on notice. It was the ultimate brain test where each team was pushed to their limits regarding boat speed and handling. North Sound provided great match racing conditions. Combine that with glorious sunshine, a steady breeze out of 100 degrees, it was really all about where to go and most of all, when. Timing in the confined area of where air funneled in fast along the shoreline and choosing the best lane off the start and to the finish meant everything.
Race ten presented a seriously heated and intense battle for the lead between Carroll, Goransson and Dalton DeVos on Delta, Ryan's younger cousin. Carroll grabbed the lead early, holding off Goransson and DeVos right up until the gate. Gorannson powered up and challenged for the lead on the second beat winning the top mark and holding on right up until the last mark rounding. It was a fierce fight as Carroll refused to let Goransson keep the lead position. Carroll barely took the lead at the mark, half-a-boat length in front of Goransson and DeVos on his hip. The three took it to the mark and back downwind for a screaming good finish. Spectators held their breath as DeVos looked to be passing Goransson, while Carroll fired up his Melges 32 to maximium speed. In a couple of quick and simple gybes, Carroll took the win easily, with Goransson out-pacing DeVos for second. Dalton took third.
Approximately one hour after racing concluded and teams hit the docks, a lavish awards ceremony was held to recognized and award Robertissima with trophies and lots of products and prizes from title sponsor OtterBox.
Tomasini Grinover received an iPad mini and matching OtterBox Defender Series case. The entire team were awarded OtterBox Armor Series cases for iPhone and other accessories. Every team received one bottle of complimentary champagne for attending.
Full results:
| | | | | | | | | | | | | | | |
| --- | --- | --- | --- | --- | --- | --- | --- | --- | --- | --- | --- | --- | --- | --- |
| Pos | Sail no | Yacht | Owner/Skipper | R1 | R2 | R3 | R4 | R5 | R6 | R7 | R8 | R9 | R10 | Net |
| 1 | SUI 1 | Robertissima 1 | Roberto Tomasini Grinover | 1 | 4 | 1 | 4 | 8 | 6 | 1 | 1 | 1 | 5 | 24 |
| 2 | USA 174 | Leenabarca | Alex Jackson | 4 | 2 | 2 | 2 | 7 | 5 | 3 | 5 | 2 | 4 | 29 |
| 3 | USA 128 | ARGO | Jason Carroll | 5 | 7 | 8 | 1 | 1 | 1 | 4 | 4 | 8 | 1 | 32 |
| 4 | USA 180 | Volpe | Ryan DeVos | 6 | 1 | 5 | 3 | 4 | 4 | 2 | 3 | 4 | 7 | 32 |
| 5 | SWE 321 | Inga From Sweden 3 | Richard Goransson | 3 | 5 | 4 | 9 | 6 | 2 | 5 | 2 | 6 | 3 | 36 |
| 6 | RUS 13 | Synergy GT | Valentine Zavadnikov | 7 | 3 | 7 | 6 | 5 | 3 | 6 | 6 | 5 | 6 | 47 |
| 7 | IVB 007 | INTAC | James Mark Plaxton | 2 | 8 | 3 | 5 | 2 | 7 | 7 | 7 | 9 | 9 | 50 |
| 8 | USA 1215 | Delta | Dalton DeVos | 8 | 6 | 6 | 8 | 3 | 8 | 8 | 8 | 3 | 2 | 52 |
| 9 | PUR 11 | Smile and Wave | Jaime Torres | 9 | 9 | 9 | 7 | 9 | 9 | 9 | 9 | 7 | 8 | 76 |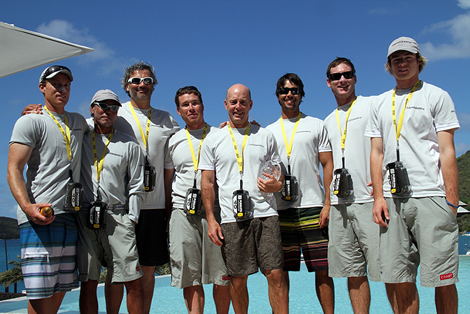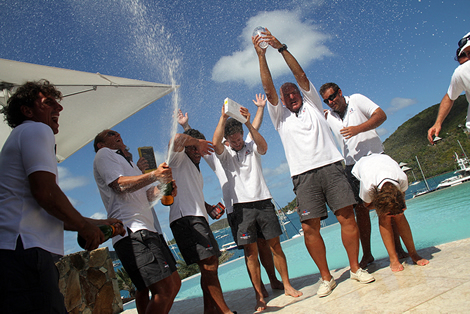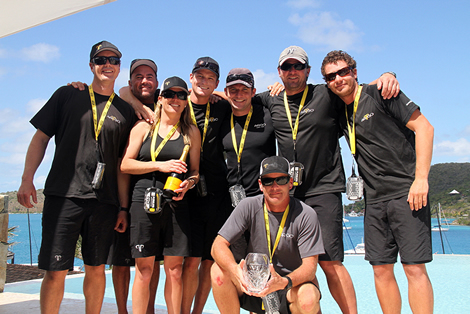 Back to top
Back to top