New recruit for the Extreme Sailing Series
Friday February 22nd 2013, Author:
James Boyd
, Location: none selected
A new team will compete in the opening event of the 2013 Extreme Sailing Series due to take place in Muscat, Oman in just over one week.
Team Korea, the America's Cup challenger, skippered by Peter Burling, Olympic 49er silver medallist from London 2012, will make its Extreme 40 debut.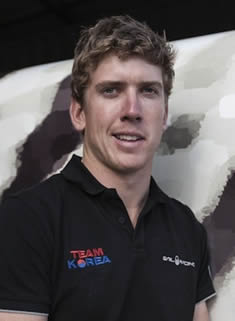 At 22 years of age, Burling is the youngest skipper in the Extreme 40 fleet, but age aside, the Kiwi has already earned his stripes in the international sailing arena. Not only does he already have two Olympic Games and a 40er silver to his name, Burling is hoping his experience as skipper of Team Korea in the AC World Series will help him adapt to the short course stadium format of the Extreme Sailing Series quickly.
"I'm really excited about getting into the circuit, the racing looks really tough and I'm sure it will take a bit to find our feet," the young Kiwi said. "However the 49er and AC racing I have done in the past should hold us in good stead. I'm lucky to have a few very experienced crew on board to help fast track things."
Calling tactics on board will be Burling's London 2012 silver medal winning 49er crew Blair Tuke (NZL), while Extreme 40 veteran and British Tornado Olympian, Mark Bulkeley, who is now entering his fifth season in the Extreme Sailing Series will be on main sheet, a role he fulfilled in 2012 with GAC Pindar. British bowman Matt Cornwall also makes the move from the AC45.
In another first for Korea, the fifth crew member, who will be announced shortly, will be a Korean national, as part of Team Korea's long term goal to develop a national sailing team.
Team Korea was founded by Kim Dong Young, Team Principal and CEO, with the ambition of boosting public interest and attracting new people to take up the sport of sailing.
Young commented: "We are realistic that it will be challenging for Team Korea to adapt to a new class, however we have put together an extremely strong team and a team we believe can be competitive within this world class fleet. Over time we aim to grow a national team of Korean sailors who can compete internationally and feel the Extreme 40 is the right boat for us to do that on and introduce our sailors to multihull racing."
Back to top
Back to top