Early lead for Robertissima
The first day of racing at the opening event of the 2013 OtterBox Melges 32 Virgin Islands Sailing Series in Virgin Gorda was held in sunny and warm island conditions, out of the Yacht Club Costa Smeralda's new clubhouse.
PRO Hank Stuart fired off three races, providing ample opportunity for overall leader Roberto Tomasini Grinover aboard Robertissima 1 and tactician Vasco Vascotto to submit a 1-4-1 score line.
"What more can I say. We had a great day of racing. A beautiful regatta, in a beautiful location. This is amazing," said Grinover after a long day of aggressive racing.
Vascotto added: "We had a good day, but I feel as though we still made some mistakes. We did well in the first race and last race today, which is great. Roberto is so happy. But, mistakes in this class can be so costly. So, we have to continue to work hard and go fast."
Race one of the weekend's scheduled series of ten commenced on time under glorious sunshine and light, yet quite comfortable breeze. The sea state was a lot calmer than the teams were expecting.
Tomasini Grinover got an immediate jump on the competition right off the line. With a pleasant 9-12 knots of breeze, a clean pin end start and stiff competition from Mark Plaxton's INTAC and Richard Goransson's Inga from Sweden, Tomasini Grinover took an early lead, pushing his team to the forefront of the fleet. As the race progressed, he extended nicely followed by a vicious battle between Plaxton and Gorannson for second. The two fought hard on the final run with Plaxton proving he had the speed to hold on for second. Goransson finished third.
The second race of the day went to Dick DeVos at the helm of Volpe. From line-to-line, DeVos alongside of tactician Ed Baird poured on the speed, keeping just ahead of a strong Tomasini Grinover. DeVos worked hard taking the win in front of Alex Jackson's Leenabarca in second. Valentin Zavadinkov aboard Team Synergy had a great race to finish third.
The final heat was a key race with big moves for both Tomasini Grinover and Jackson. Both grabbed nice starts off the boat end of the starting line. About half way up the first beat it was obvious the two had struck a massive deal with the wind gods. Tomasini Grinover was launched several boat lengths ahead of the fleet. Jackson, running in second offered up some separation of his own rounding second by a sizable margin. The two campaigned nothing but speed finishing respectively first and second. Plaxton maintained position taking third.
More racing is scheduled for Friday with the first warning is at 11.00 local time.
Results:

| | | | | | | | |
| --- | --- | --- | --- | --- | --- | --- | --- |
| Pos | Sail no | Yacht | Owner/Skipper | R1 | R2 | R3 | Tot |
| 1 | SUI 1 | Robertissima 1 | Roberto Tomasini Grinover | 1 | 4 | 1 | 6 |
| 2 | USA 174 | Leenabarca | Alex Jackson | 4 | 2 | 2 | 8 |
| 3 | USA 180 | Volpe | Ryan DeVos | 6 | 1 | 5 | 12 |
| 4 | SWE 321 | Inga From Sweden 3 | Richard Goransson | 3 | 5 | 4 | 12 |
| 5 | IVB 007 | INTAC | James Mark Plaxton | 2 | 8 | 3 | 13 |
| 6 | RUS 13 | Synergy GT | Valentine Zavadnikov | 7 | 3 | 7 | 17 |
| 7 | USA 128 | ARGO | Jason Carroll | 5 | 7 | 8 | 20 |
| 8 | USA 1215 | Delta | Dalton DeVos | 8 | 6 | 6 | 20 |
| 9 | PUR 11 | Smile and Wave | Jaime Torres | 9 | 9 | 9 | 27 |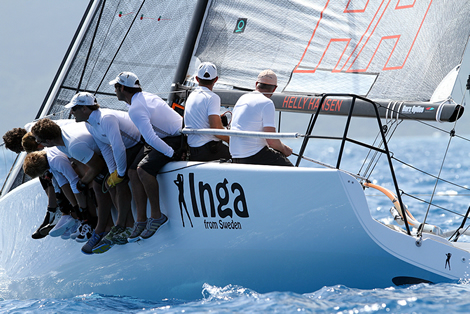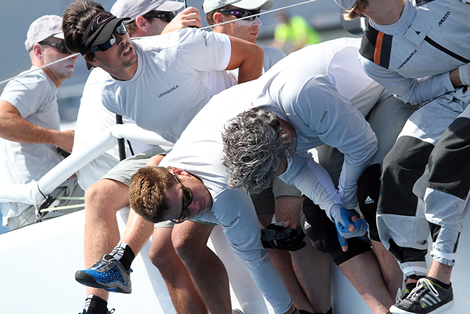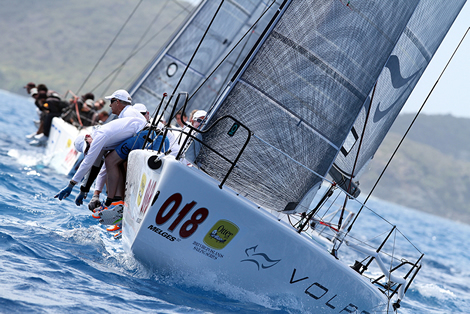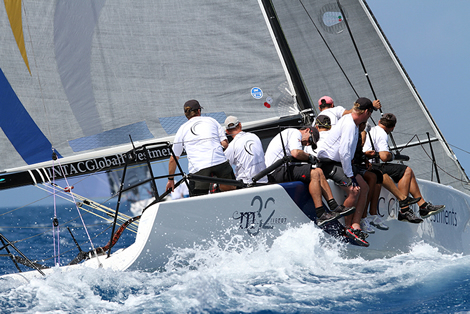 Back to top
Back to top