Quantum Racing a nose ahead
With winds of five knots of less forecast, the opening day of Quantum Key West 2013 got off to a fine start today in winds that proved stronger and more stable than expected. With a 6-9 knot NNWerly organisers, Premiere Racing, were able to conduct two good races for all three divisions, getting the 26th annual regatta off to a strong start.
Quantum Racing, with owner Doug DeVos on the helm, emerge from the first day of the 52 Super Series taking the overall lead thanks to a well executed victory in the second of two windward-leeward races sailed for the six boat class. Quantum Racing was never passed at any point during the second race, leading from the first windward turn of the five legs contest to the finish, to partner their win to a modest fourth place which they rescued from what had looked earlier like a pretty lacklustre Race 1.
Skipper Ed Baird commented: "I am very excited for Doug DeVos, he is always asking us what he can do better. We are trying to ask the same questions of ourselves, but I think that is the light weather day and it will be different from here on. We will see how it goes. But it was a beautiful day on the water."

If their fourth and first places reflect something of an up and down opening day for the team which finished second overall on the 2012 52 Super Series and are twice past MedCup and World Champions, in fact it was the defending champions Azzurra whose results were more so. The Yacht Club Costa Smeralda team led by skipper-helm Guillermo Parada looked to have seamlessly returned to winning ways when they nailed a perfect start and chose the favoured left side of the first upwind leg. At the windward mark they led Tony Langley's Gladiator and stayed ahead to take the first winning gun of the season.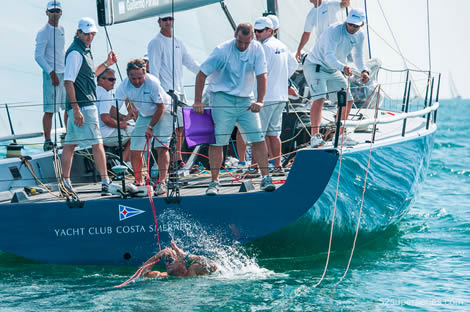 But in the second race Azzurra mistimed their starting move when they tried to tack underneath and slow Quantum Racing. They ended up squeezed between Quantum Racing and Rio and so were forced away. But it was within metres of the windward mark that their problems really started. Azzurra was nearly halted. when they hooked a lobster pot line. It took two attempts with a crewman, David Vera, going off the bow and all the way under the boat to clear the offending line. Even so it was slickly undertaken, reflecting a contingency they had practiced as a team only a few days ago. Azzurra dropped to sixth, losing 400-500m. They were unable to improve from there, but still finish their first day with a share of third place overall.
Vascotto recalled: "We lost about 400m to everybody and from there is was very difficult to come back. This is the way of class, sometimes you win sometimes you lose. But tonight we have risotto with lobster, very good, very Italian.
"The first race was just perfect though, good crew work, good wind shifts, Guillermo drove the boat very well and so overall we know that we have the possibility to win races. But we need to stay away from trouble, to start clean, away from lobster pots, stay away from crazy stuff and we are confident tomorrow we make a better job."

While Quantum Racing's first and fourth ensures they lead only on tiebreak, Tony Langley's Gladiator team sailed a very astute and smooth opening day. With Chris Larson calling tactics, Gladiator was impressive in the way she stayed out of trouble, but equally was nicely placed to take every opportunity which came their way. When there threatened to be a little mix up at the first mark of the second race with Interlodge and Azzurra opening the door slightly, Gladiator was smartly into third place which she held to the finish.

Langley may pay tribute to new trimmer Ross Halcrow and a new keel as part of their renewed competitive edge, but the owner-driver did a nice job of keeping the boat moving in the slightly streaky breeze.
Of Rán's performance today Adrian Stead commented: "It was a tricky day. We put ourselves a bit behind off the start line on the first race and we did not get back into it. The second race was better we did not quite manage to lead Quantum at the windward mark. There was potential to do that but we did not just get bow forward on them enough to do so and they just managed to stop us from tacking at the mark and then they lead us all the way around. We are pleased to get that second. We have a few things to work on after the first race. We needed to be bit more prepared for the start. Overall for us there were some opportunities missed today. But it just goes to show, we did not need much more to have equalled Quantum as boat of the day."
Among the biggest boats competing at Key Wet, Hap Fauth's Mini Maxi Bella Mente also snagged a crab pot while match racing with fellow 72-footer Shockwave in IRC 2. "We couldn't shake it so we dropped the chute and backed off," skipper Hap Fauth said.

Bella Mente had better luck in Race 2, hitting the line with perfect timing and top speed to leeward of Shockwave. Tactician Dee Smith called the shifts correctly and the newer Judel-Vrolijk design crossed the Reichel-Pugh design with plenty of room to spare by the fourth tack.

"It's going to be a good battle all week. The boats are very close in performance," said Fauth, whose Bella Mente holds the overall lead via tiebreaker.

Steve Benjamin said today's single digit winds did not favour his Carkeek 40 in the High Performance Class. However, the Connecticut-based North Sails professional did just fine in those moderate conditions on Monday, winning both races over Stephen Murray's Carkeek 40 Decision.

"I'm pleasantly surprised. Our boat was going better than ever before in that wind range," said Benjamin, who praised wife Heidi for an outstanding job of reading the wind shifts. "We went left most of the day and it usually paid off."

In the five-strong Farr 400 fleet racing within the High Performance class Santa, steered by ex-America's Cup skipper Jesper Bank, led the field in both races to finish the day in third overall in the handicap fleet.

But the Farr 400 class has an owner/driver rule, which excludes Bank and his team from the One Design results. So at the end of Day 1 it was Hannes Waimer's Team Premier that leads the overall results scoring a first and second in the two races of the day.
California skipper John Demourkas and his crew aboard Groovederci lead the Farr 40 class after posting a pair of seconds on opening day. Jim Richardson's Barking Mad and German Wolfgang Schaefer's Struntje Light were the day's winners, but Groovederci, with Cameron Appleton calling tactics, showed the most consistency. "We got good starts at the pin end and had success going left in both races," Demourkas said.
In the eleven-strong Melges 32 fleet, Italy's Lanfranco Cirillo helming Fantastica holds the overall lead after day one. Cirillo, a former Audi Melges 32 Sailing Series Champion, is tied for points with Roberto Tomasini Grinover's Robertissima 1 in second.
The points remain tight at the top with third and fourth occupied by Andrea Pozzi's Bombarda and Japan's Keisuke Suzuki on Swing, also tied with nine points each. "We've made some changes in our crew this year, in particular we have Chris Nicolson as our new tactician." commented Suzuki prior to racing. "We did well last year and hope to do even better this week. This is a tough fleet. We'll just have to wait and see." Deneen Demourkas' Groovederci rounded out the top five.
Pozzi delivered a command performance in the light air conditions to win the first race of the day, with Grinover constantly challenging for the lead to land second. Demourkas came third.
With the breeze on the increase, Cirillo got the upperhand at the start of race two as Pozzi suffered a setback being called OCS along with Terry McSweeney's Flat Stanley, Vincenzo Onorato's Mascalzone Latino and Joel Ronning's Catapult. Cirillo and Grinover battled fiercely into the last mark of the day, neck-and-neck with the final run making all the difference for Cirillo to take the win. Valentin Zavadinkov at the helm of Team Synergy GT got in on the action, overtaking Grinover for second. Grinover settled for third.
Skipper Philip Williamson got Hoss off to a strong start in Swan 42 class, placing third in Race 1 then winning Race 2 to build a three-point lead over Jon Halbert's Vitesse and James Madden's Stark Raving Mad VI.

"Patience was key today in picking a side, making a commitment and pressing the boat in the light stuff, which is very tough," Williamson said. "We didn't have a great start in the second race, but had the advantage of being behind some of the bigger boats to be able to see what was happening in front and be able to incorporate that into our strategy."

J/70 is the largest class at Quantum Key West 2013 with 39 boats and California professional Dave Ullman is the early leader after placing second in both races. Greg Koski and Tom Lihan are crewing for Ullman, who said owner Joseph Colling is out for the week after injuring ribs during a practice session.

"We had a very nice day and are very pleased. Our boat was quite quick today," said Ullman, whose team on USA 69 holds a seven-point lead over Brian Elliott's B Squared.

Helmsman Alec Cutler and his Hedgehog team have seized control of the Melges 24 class, second-largest of the regatta with 24 boats. Richard Clarke, who has represented Canada in multiple Olympics, called tactics as Cutler took second in both races on Monday.

Skipper Bill Sweetser has been a runner-up in Key West more times than he cares to count, often leading the regatta at some point in the week and not being able to close it out. Rush, a J/109 from Annapolis, is atop the standings after Day 1 thanks to an impressive 2-1 score line.

"This was the perfect wind range for our boat," Rush's tactician Tad Hutchins said. "The deal today was more about velocity than shifts. The wind was hard to see on the water. If you were smart enough to scope out the velocity you did well."
Back to top
Back to top