Williams wins RYA National Match Racing title
Ian Williams has this weekend confirmed his calibre as the best in Britain as the reigning ISAF Match Racing World Champion secured the RYA National Match Racing Championship title at Queen Mary Sailing Club.
The three-time World Champion wrapped up the RYA National Match Racing crown for a fourth time, matching the record of last year's winner Nick Cherry and fellow match racer Mark Campbell-James, in an event which was overshadowed by frustrating sailing conditions only allowing for ten flights of round robin races and one flight of the quarter finals to take place.
The regatta got off to a slow start on Friday, the opening day with fog and very little wind allowing for only three flights to take place. Saturday was slightly more promising with 10 knots of breeze allowing for seven flights and the first bout of the quarter finals to take place. Bright sunshine, but no wind whatsoever, on the Sunday meant racing was canned with Williams being awarded the prestigious title on winning his group and one vital race in the quarter finals.
"It is great to win our fourth RYA National Championship, it's been a full 10 years since our last win and it is also a great confidence boost for us leading into the Monsoon Cup", said Williams who now heads to Malaysia next week to bid for a record-equalling fourth world title in the final event of Alpari World Match Racing Tour.
"The event was plagued by light winds unfortunately, but I feel that all the racing completed represented fair racing. I think that it was really our boat handling that won us the regatta as we were able to accelerate out of manoeuvres better than our opposition but it was a shame that we did not get to race the other favourites, Nick Cherry and Mark Campbell-James. We entered the event with a view to getting some practice in before Malaysia, but of course we had high hopes that we could win."
Williams and his GAC Pindar team demonstrated there quality across the five races which were completed at QMSC with every race proving crucial in the final standings. The only race in which the triple world champion was up against it off the start line was in his round robin race against Philip Bendon, however with his superior boat handling in the tricky conditions Williams soon reaffirmed his credentials to take the race win.
Williams continued: "We generally dominated from start to finish but in one race we were behind off the line, but were able to use our superiority with the boat handling to pass up the first beat. I have a very strong crew including Richard Sydenham, Gerry Mitchell and Mark Williams, all of whom have won World Championship Titles with me in the past, Gerry winning two. They are undoubtedly a very experienced crew and were the strongest at the event. We now go to Malaysia for the Monsoon Cup in 10 days' time where we hope to win our 4th World Championship in Match Racing."
In additions to Williams collecting the RYA National Match Racing crown, John Burgoine was awarded the Paul Banner Trophy, awarded for an individual's outstanding contribution to UK match racing. Burgoine retired as the RYA Match Racing Chair this year and has continued to support UK match racing as a race officer at many events as well as at the London 2012 Olympic Games.
Results:
| | | |
| --- | --- | --- |
| Pos | Skipper | Crew |
| 1 | Ian Williams | Gerry Mitchell, Richard Sydenham, Mark Williams |
| 2 | Mark Campbell-James | David Mason, Andy Clark, Luke Cross |
| 3 | Ali Hall | Simon Skinner, Tudur Owen, Gareth Owen. |
| 4 | Sam Pearson | Thomas Dawson, Tristan Jacques, Aaron Cooper |
| 5 | Mark Lees | Toby Yeabsley, Tom Forrester-Coles, Kelvin Matthews |
| 6 | Nick Cherry | Mark Bulkley, Connor Myant, Jeremy Fowke |
| 7 | James Goss | Richard Mason, Nick Blevins, Olly Sloper |
| 8 | Dan Wray | Piers Strong, Jack Kilburn, Katherine Colvin & Matthew Haslam |
| 9 | Nicole McPherson | Mark Greenhalgh, David Fradipe, Craig MacDonald |
| 10 | Nick Wilkinson | Bleddyn Mon, Romain Szyjan, Toby Mumford |
| 11 | Charlotte Lawrence | Lauren Martell, Annabel Vose, Lavinnia Patenoster, Lizzie Shawcroft |
| 12 | Philip Bendon | Bruno Van Dyke, Wesley Scott, Alex Church |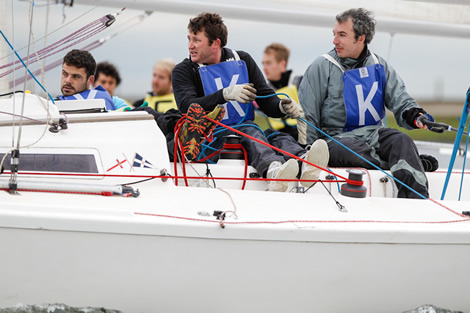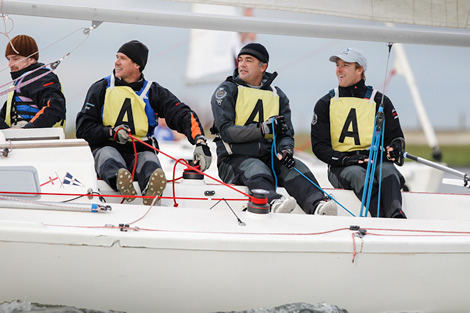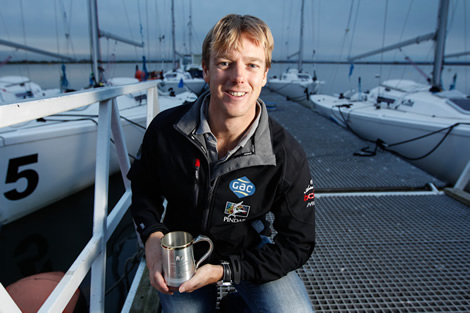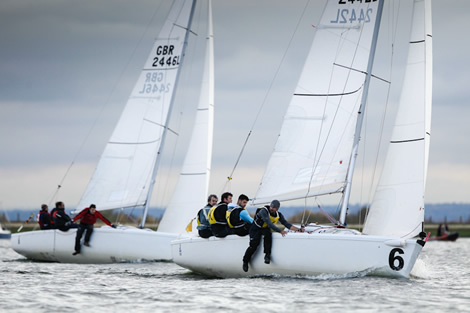 Back to top
Back to top