Eleven AC45s to contest ACWS San Francisco
The 2012-13 America's Cup World Series sets sail in San Francisco tomorrow, the first of two show case events that will give the city a taste of the treat awaiting its inhabitants come the America's Cup proper next summer.
The ACWS San Francisco will feature 11 AC45s, with eight teams with three fielding two boats, including 55 sailors from 12 countries:
Boat
Nat
Helm
Crew
Artemis Racing White
SWE
Terry Hutchinson (USA)
Sean Clarkson (NZL), Thierry Fouchier (FRA), Andy Fethers (AUS), Julien Cressant (FRA)
Artemis Racing

Red
SWE
Santiago Lange (ARG)
Santiago Lange (ARG), Rodney Ardern (NZL), Morgan Trubovich (NZL), Kevin Hall (USA), Curtis Blewett (CAN)
China Team
CHN
Phil Robertson (NZL)
Garth Ellingham (NZL), David Swete (NZL), YingKit Cheng (CHN), Nick Catley (NZL)
Emirates Team New Zealand
NZL
Dean Barker (NZL)
Ray Davies (NZL), Glen Ashby (AUS), James Dagg (NZL), Derek Saward (NZL)
Energy Team
FRA
Yann Guichard (FRA)
Arnaud Jarlegan (FRA), Devan le Bihan (FRA), Arnaud Psarofaghis (SUI), Christophe Andre (FRA)
J.P. Morgan BAR
GBR
Ben Ainslie (GBR)
Kyle Langford (AUS), Simon Daubney (NZL), Matt Mitchell (NZL), Simeon Tienpont (NED)
Luna Rossa Piranha
ITA
Chris Draper (GBR)
Francesco Bruni (ITA), Pierluigi de Felice (ITA), Nick Hutton (GBR), Dave Carr (GBR)
Luna Rossa Swordfish
ITA
Paul Campbell-James (GBR)
Max Sirena (ITA), Alistair Richardson (ITA), Manuel Modena (ITA), Emanuele Marino (ITA)
Oracle Team USA Spithill
USA
James Spithill (AUS)
John Kostecki (USA), Dirk de Ridder (NED), Joey Newton (AUS), Piet van Nieuwenhuijzen (NED)
Oracle Team USA Coutts
USA
Russell Coutts (NZL)
Murray Jones (NZL), Kinley Fowler (AUS), Sam Newton (AUS), Shannon Falcone (ANT)
Team Korea
KOR
Nathan Outteridge (AUS)
Giles Scott (GBR), Troy Tindill (NZL), Mark Bulkeley (GBR), Matt Cornwell (GBR)

"With a new team, more boats and more sailors, ACWS San Francisco should be an outstanding regatta," said America's Cup Regatta Director Iain Murray. "The race course will certainly be more intense than we've seen before, and the consistent strong winds and current-driven chop will keep the competitors on their toes. We've already seen a few capsizes in training, but we know everyone will be on their game when the starting gun fires."

The first day of the new season will see six of the teams contesting a series of match racing qualifiers with the three winners advancing to the Quarterfinal Round, scheduled Thursday and Friday, where they'll meet the top five seeds based on the standings from the 2011-12 ACWS Match Racing Championship.

One of the qualifier teams is newcomer J.P. Morgan BAR, skippered by Ben Ainslie. Ainslie comes fresh from winning his fourth consecutive Olympic gold medal in the Finn at London 2012 and joins the ACWS fleet with the long-term goal of leading a British America's Cup challenge.

"As a kid growing up I really wanted to be part of the Olympics and do well at that and also to be part of an America's Cup team that could win," said Ainslie. "This is the next stage in my career and I'm really excited to be a part of the Cup."

ACWS San Francisco will also see the debut of a second yacht from Artemis Racing, the Swedish Challenger of Record for the America's Cup. Artemis Racing Red will be helmed by Santiago Lange , a two-time Olympic Tornado bronze medalist,entered alongside stablemate Artemis Racing White, led by team skipper Terry Hutchinson.

Hutchinson's crew is the No. 1 seed based on last season's match racing championship.

"We were certainly happy to win last season, but that's done and dusted," said Hutchinson. "Racing on San Francisco Bay might be the most challenging of all the venues we've visited."

Wednesday's racing schedule features:
No. 6-seed Team Korea vs. No. 11 J.P. Morgan BAR,
No. 7 Luna Rossa – Piranha vs. No. 10 Artemis Racing Red
No. 8 Luna Rossa – Swordfish vs. No. 9 China Team.
Each match is a best-of-three.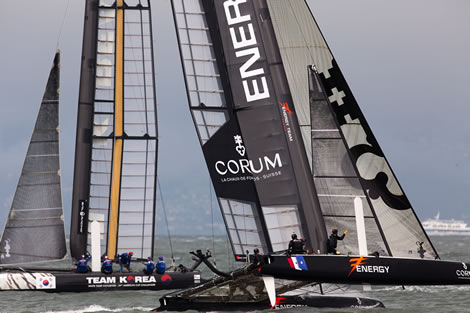 Back to top
Back to top