Argo on top
Two final races on Sunday deliver intense competition as teams prepare for Worlds, hosted by the New York Yacht Club in late September 2012.
The 2012 Melges 32 U.S. National Champion Jason Carroll and his Argo Team comprised of tactician Cameron Appleton and crew members Peter Crawford, Scott Norris, Andy Koch, Charles Swanson and Lindsay Bartel. With this win, Carroll becomes the first owner to hold the U.S. National Championship title for a second consecutive time. "This was not easy. It was light and the conditions were tricky. Cameron was scratching his head all three days," Carroll commented just before the awards ceremony on Sunday afternoon. "It was not until the very last race, that we finally got ahead."
"We are very happy to be in Newport now and will be doing a lot of sailing here in August, especially with Pre-Worlds and Worlds coming up in September," says Carroll. "We have a lot of people on the boat that know the area and the waters well, so with this we feel pretty good. Now, we just have to keep our nose to the grindstone, continue to work very hard and hopefully, we can come up with a nice result at Worlds."
Despite the light air conditions and overcast skies, it was an exciting day of yacht racing in Newport. The day commenced with second-runner up Ryan DeVos on Volpe leading the overalls, tied with Steve Howe on Warpath in points. Carroll was seated third just a shy three points behind.
Spectators were firmly poised on the edge of their seats for the last two races of the eight-part series. Carroll came on strong early, taking the lead at the top mark chased by John Kilroy's Samba Pa Ti. Kilroy remained strong overtaking the lead position about a hundred yards from the finish line. Carroll slipped to finish second, Pieter Taselaar on Bliksem came third, Italian Lanfranco Cirillo's Fantastica was fourth, while DeVos remained close finishing fifth.
Going into the final race, teams were on edge. At this stage, DeVos was still leading the event yet tied in points with Carroll in second, Howe third. The first start resulted in a general recall, with PRO Bruce Golison announcing an I-Flag start for the next warning. Alec Cutler's Hedgehog battled into the mark, fighting off Mark Plaxton's INTAC and Phil Lotz's Arethusa. As the race progressed, Plaxton eventually took the lead with Cutler following. At the final weather mark, with an awesome F-16 fighter jet giving the fleet a little fly-by action (afterburners and all), INTAC proceeded to extend their lead for the win, leaving Cutler in second. Taselaar pulled up to finish third just ahead of Carroll in fourth. DeVos finished tenth, while Howe scored a disappointing 18th.
The 2012 Melges 32 U.S. National Championship, hosted by Sail Newport can easily be categorised as one of the greatest Nationals ever. By far it delivered some of the most competitive, performance yacht racing the fleet has ever seen. With the World Championship, hosted by the New York Yacht Club on 20-29 September, surely many of the rivalries won and lost at this event will carry over.
Results:

| | | | | | | | | | | | |
| --- | --- | --- | --- | --- | --- | --- | --- | --- | --- | --- | --- |
| Pos | Yacht | Owner/Skipper | R1 | R2 | R3 | R4 | R5 | R6 | R62 | R7 | Net |
| 1 | Argo | Jason Carroll | 11 | 4 | 5 | 17 | 3 | 4 | 2 | 4 | 33 |
| 2 | Volpe | Ryan DeVos | 5 | 2 | 10 | 2 | 5 | 15 | 5 | 10 | 39 |
| 3 | Warpath | Stephen Howe | 8 | 10 | 4 | 4 | 6 | 2 | 6 | 18 | 40 |
| 4 | Bliksem | Pieter Taselaar | 1 | 1 | 13 | 10 | 13 | 8 | 3 | 5 | 41 |
| 5 | Pisces | Benjamin Schwartz | 6 | 7 | 9 | 8 | 7 | 9 | 12 | 6 | 52 |
| 6 | Arethusa | Philip Lotz | 10 | 6 | 6 | 7 | 11 | 18 | 14 | 2 | 56 |
| 7 | Catapult | Joel Ronning | 13 | 9 | 11 | 1 | 1 | 20 | 16 | 7 | 58 |
| 8 | Delta | Dalton DeVos | 12 | 14 | 18 | 11 | 2 | 5 | 8 | 8 | 60 |
| 9 | Samba Pa Ti | John Kilroy | 7 | 11 | 7 | 9 | 15 | 16 | 1 | 13 | 63 |
| 10 | INTAC | Mark Plaxton | 4 | 16 | 20 | 14 | 12 | 11 | 11 | 1 | 69 |
| 11 | Leenabarca | Alex Jackson | 17 | 12 | 2 | 12 | 4 | 17 | 9 | 15 | 71 |
| 12 | Bronco | Michael Dominguez | 15 | 20 | 3 | 3 | 19 | 3 | 13 | 17 | 73 |
| 13 | Hedgehog | Alec Cutler | 22 | 8 | 1 | 18 | 16 | 13 | 15 | 3 | 74 |
| 14 | Ninkasi | John Taylor | 2 | 3 | 23 | 13 | 9 | 7 | 21 | 21 | 76 |
| 15 | Fantastica | Lanfranco Cirillo | 9 | 15 | 17 | 15 | 10 | 14 | 4 | 9 | 76 |
| 16 | Goombay Smash | William Douglass | 14 | 13 | 16 | 6 | 14 | 23 | 7 | 11 | 81 |
| 17 | Swing | Keisuke Suzuki | 16 | 5 | 15 | 5 | 21 | 12 | 22 | 14 | 88 |
| 18 | Mojo | Steve Rhyne | 3 | 21 | 8 | 16 | 18 | 10 | 18 | 19 | 92 |
| 19 | Zetiana | Alexis Michas | 20 | 19 | 12 | 20 | 17 | 1 | 20 | 22 | 109 |
| 20 | Celeritas | Malcolm Gefter | 19 | 17 | 21 | 22 | 8 | 19 | 10 | 16 | 110 |
| 21 | Esmeralda | Makoto Uematsu | 18 | 22 | 14 | 19 | 20 | 21 | 19 | 12 | 123 |
| 22 | New Wave | Bill Whiston | 23 | 23 | 22 | 23 | 23 | 6 | 23 | 20 | 140 |
| 23 | Sicktrix32 | Geoffrey Pierini | 21 | 18 | 19 | 21 | 22 | 22 | 17 | 23 | 140 |
| 24 | Wicked One | Tyler and Hilary Davidson | 24 | 24 | 24 | 24 | 24 | 24 | 24 | 24 | 168 |
| 25 | Dark N'Stormy | Edward Tillinghast | 26/DNC | 26/DNC | 26/DNC | 26/DNC | 26/DNC | 26/DNC | 26/DNC | 26/DNC | 182 |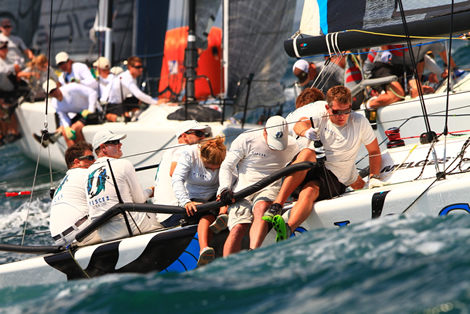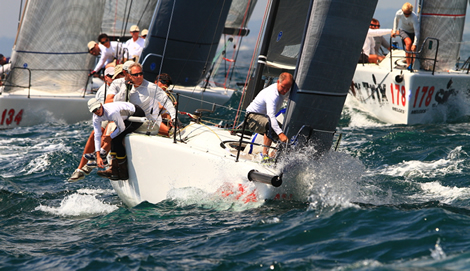 Back to top
Back to top