Early lead for The Wave, Muscat
Thursday July 5th 2012, Author:
Nicky Moore
, Location: none selected
The Extreme Sailing Series in Porto opened today with big sea swells and strong winds.
New faces on the circuit, Fred Le Peutrec and Andrew Walsh, showed they can mix it up with the more experienced skippers with both leading their teams to race wins, but ultimately it was Leigh McMillan who came out on top, alongside a familiar top three at the end of day one including Groupe Edmond de Rothschild and Red Bull Sailing Team, in what McMillan predicted "will be the toughest event so far this year."
Seven races were sailed in the open water racing in tricky conditions with the forecasted sea breeze building throughout the day to reach a peak of 17 knots. The eight Extreme 40s had to face three metres of rolling Atlantic swell and at times it looked like it wouldn't have taken much to trip them up.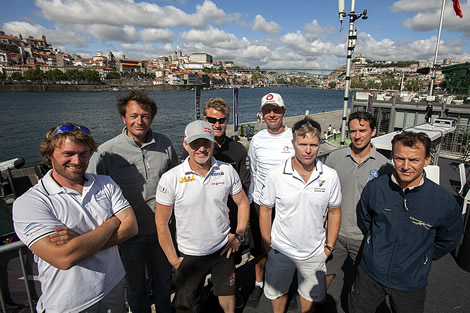 McMillan and his team on The Wave, Muscat must surely be becoming accustomed to podium positions having won the previous events in Qingdao and Istanbul, and two race wins today was enough for them to finish day one in pole position. But as McMillan explained, in this game nothing is a certainty: "We have had a good start but we need to not get carried away with today's results. We have won two events on the trot and it is becoming harder and harder to do that every time. We have lot of races still to go in Porto including offshore racing and racing in this very small confined harbour here in Porto, so it is going to be very exciting but there are a lot of challenges. I think we can expect lots of action." Close behind McMillan is Pierre Pennec and Groupe Edmond de Rothschild in second place.
The British team GAC Pindar, and in particular their new skipper Andrew Walsh, made everyone sit up and take note from the start today, posting an impressive win in the opening race in what was Walsh's first day in charge of an Extreme 40 since he skippered BT in 2010. The British team finish the day in a respectable fourth place, tied on points with the Austrian Red Bull Sailing Team in third place. A humble, but clearly determined, Walsh said after racing: "It has been a good day for us. It is a lot like riding a bike, you remember some of it but I feel very rusty on some of the manoeuvres and I was making mistakes. We have a great team and hopefully I can do a good job for them. This boat is ready for the podium."
Another new skipper in Porto, ZouLou's Fred Le Peutrec – one of the most experienced multihull skippers in the world and current holder of the Jules Verne Trophy as part of Loick Peyron's Banque Populaire crew – got to grips with the Extreme 40 quickly, posting wins in races two and three. But the French team ultimately lost out to the consistency of the more experienced skippers leaving Le Peutrec to settle for seventh overall, as he explained: "The team is really experienced and I am confident with them onboard. That is why we won two races today. It's a big fight out there especially after my experience this winter sailing around the world which is a very different discipline. When you are fighting with other teams around the marks and in a small place like this there is a lot of adrenaline. I like it."
The public was treated to a sneak preview of tomorrow stadium format today with the Extreme 40s finishing the day's racing within the reaches of Porto's River Douro. From tomorrow they will get the full show with stadium sailing on the river each afternoon, following the morning's offshore races.
Extreme Sailing Series 2012 Porto, standings after day 1
Position / Team / Points

1st The Wave, Muscat (OMA) Leigh McMillan / Ed Smyth / Pete Greenhalgh / Hashim Al Rashdi / Bleddyn Mon 44 points


2nd Groupe Edmond de Rothschild (FRA) Pierre Pennec / Arnaud Psarofaghis/ Hervé Cunningham / Bernard Labro / Romain Petit 37 points

3rd Red Bull Sailing Team (AUT) Roman Hagara / Hans Peter Steinacher / Matthew Adams / Graeme Spence, Pierre Le Clainche 34 points

4th GAC Pindar (GBR) Andrew Walsh / Nick Rogers/ Mark Bulkeley / Adam Piggot / Jono Macbeth 34 points
 

5th Alinghi (SUI), Ernesto Bertarelli / Jean-Christophe Mourniac / Pierre Yves Jorand / Nils Frei / Yves Detrey 32 points
6th Oman Air (OMA) Morgan Larson / Will Howden / Charlie Ogletree / Nasser Al Mashari / Andy Maloney 30 points
7th ZouLou (FRA) Fred Le Peutrec / Philippe Mourniac / Jean-Sébastien Ponce / Bruno Jeanjean / Patrick Aucour 27 points
8th SAP Extreme Sailing Team (DEN) Jes Gram‐Hansen / Rasmus Kostner / Pete Cumming / Mikkel Rossberg / Jonas Hviid 14 points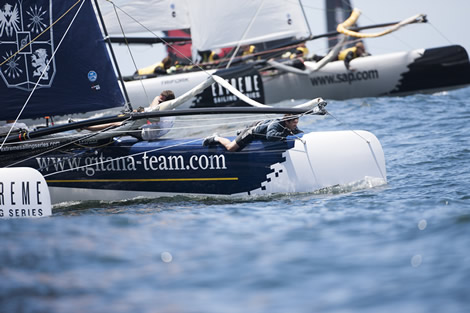 Back to top
Back to top