Realstone Sailing again
Following on from Friday's racing, only one race has been sailed the Open de Versoix today in very light wind conditions. Realstone Sailing confirmed their dominance again following their victory yesterday in the Genève-Rolle-Genève. After today's racing overall in the Open de Versoix, there is a Bertarelli 2-3 with sister Dona on Ladycat second ahead of brother Ernesto helming Alinghi.
Today was tricky for the race committee at the Club Nautique de Versoix thanks to the light conditions this morning. The one race took place in only 2-5 knots of wind which however is sufficient for the D35 catamarans and their light 1200 kg weight and giant sail area.
Realstone Sailing won victory today's race ahead of Veltigroup and Artemis Racing skippered by Torbjorn Tornqvist, with Paul Cayard calling tactics. For Marco Simeoni's Veltigroup team, this came after a great Geneva-Rolle-Geneva race yesterday. Helmsman Boris Lerch commented: "We are better in light air because we have to make fewer manoeuvres. This year we have a new team that has had little opportunity to sail together and we suffer as soon as we need good coordination, like in quick manoeuvres."
Okalys-Corum was back in action today after dismasted in the Genève-Rolle-Genève and came home fourth in today's race. The mast was replaced overnight. Skipper Nicolas Grange said: "It was a mixed weekend. We're a little frustrated because we did a very good first half of the race yesterday at the Genève-Rolle-Genève, but we have been pleased to sail at least one race with the new mast before the Bol d'Or Mirabaud. We are now reassured that we can participate!"
The D35 crews can now prepare their boats for the most important race of the season, the Bol d'Or Mirabaud, which will start on Saturday, 16 June with a 1000 start. As ever the start line is expected to be packed with over 600 boats taking part.
Results Open de Versoix:
1. Realstone Sailing (J. Clerc) - 6 points
2. Ladycat (D. Bertarelli) - 7 points
3. Alinghi (E. Bertarelli) - 8 points
4. De Rham - Sotheby's (Ph. Cardis) - 10 points
5. Artemis Racing (P. Cayard - T. Tornqvist) - 10 points
6. Veltigroup (B. Lerch - M. Simeoni) - 16 points
7. Okalys-Corum (N. Grange) - 16 points
8. Zen Too (F. Le Peutrec - G. de Picciotto) - 17 points
9. Nickel (F. Moura) - 22 points
Vulcain Trophy presented by Business and Decision overall results after four events:
1. Realstone Sailing (J. Clerc) - 3 points
2. Alinghi (E. Bertarelli) - 8 points
3. Ladycat (D. Bertarelli) - 8 points
4. Artemis Racing (T. Tornqvist) - 10 points
5. De Rham Sotheby's (Ph. Cardis) - 10 points
6. Veltigroup (M. Simeoni) - 17 points
7. Zen Too (G. de Picciotto) - 18 points
8. Okalys (N. Grange) - 19 points
9. Nickel (F. Moura) - 24 points

Paul Cayard reports from Artemis Racing:
The D35 fleet was racing this past weekend on Lake Geneva. The three day event consisted of windward-leeward buoy racing on Friday and Sunday with the classic "long distance" race Geneve-Rolle-Geneve on Saturday.
As usual, the winds were pretty light for the most part all weekend. The Artemis team tied for 4th place over the weekend and we are now in 4th place for the season. The "Kids" on Realstone dominated the weekend winning the buoy racing, as well as the distance race.
280 boats participated in the Geneve-Rolle-Geneve. The starting line is about 2 miles long and divided into three parts. The multihulls, of which there are several classes amounting to about 50 boats, start on their own line. As last year, the going was quite light in the early part of the race up to Rolle. In fact, the wind was so light that up at Rolle, we drifted into the mark and had to make a penalty turn. On the return, a squall arrived and suddenly the boats were making 20 knots. The 32 mile race took about 5 hours and Artemis finished 6th.
Yesterday, the racing was delayed one hour and we finally got underway around 1230 in four knots of wind. Artemis Racing, with Torbjorn Tornqvist at the the helm, finished third in the one and only race of the day in as the wind dropped to two knots at the finish.
Next for the D35s is the Bol d' Or next Saturday, 16 June. This is the big event on Lake Geneva and about 400 boats participate in the 90 mile circumnavigation of the Lake.
Paul

Photo below by Chris Schmid/www.schmidchris.com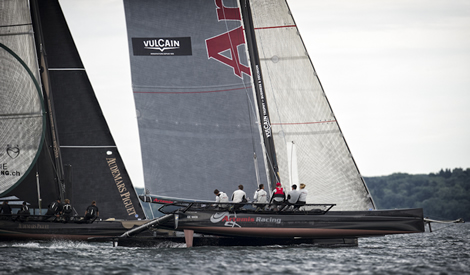 Back to top
Back to top