Ran and Ngoni ahead
After two great races in a sea breeze that peaked at over 20 knots, Niklas Zennström's Rán now leads the Trofeo de Vela Conde de Godo, but only on countback from Audi Azzurra Sailing Team.
After five races not only do the top two boats share the same 9pts aggregate, but the new Azzurra and the boat which finished the 2011 season on a high by winning the TP52's Conde de Godo regatta here, actually have identical score lines – two wins apiece, two second places and a third.
Quantum Racing, skippered and helmed by Ed Baird, bounced back today, nailing the first race after a well timed start. They were able to extend comfortably, winning their first 52 Super Series race, but Rán added their second win of the regatta when their small downwind speed edge and sharp tactics – staying further offshore for extra breeze on the first run - helped them again as the breeze peaked around 20 knots.
Quantum Racing the defending Audi MedCup Circuit and World Champions, now with four ex-Alinghi America's Cup winners on board – Baird, Juan Vila, Warwick Fleury and trimmer Lorenzo Mazza - scored best of the 52 Super Series fleet today. They came back from their modest 3,3,3 opening day with a 1,2 today leaving them three points of the regatta leaders.
After racing Ed Reynolds, Director of the Quantum Racing Team, observed that their team are improving – but so are their rivals. As ever it will be the team which hits their best level earliest which can build themselves a season winning cushion: "We are still leaving a lot of boatlengths on the race course. But we are getting better but integrating is not easy. One of the things perhaps the sport does not get the credit is deserves is the team sport it is, and the nuances of the decision making, and the expectation and timing of how each manoeuvre is pulled. There are challenges with the new crew. They are all incredibly talented, but integrating to the level where they can click off, I have never been a level of sailing like this where you pay so dearly for every metre you lose on the race course."
Navigator Juan Vila added: "It was much better than yesterday. We had two good starts on the line and went the way we wanted and that helps. First race worked out well. Second race we went round the top mark in first place, but Rán did a good job on the first run. There was not much difference from yesterday to be honest. But that metre extra on the beat makes the difference. That was getting out of the starts and doing the first upwinds well. Then when you are first boat on the upwind, you can control and extend. It is an amazing fleet. It is really, really great with these boats, it comes down to a few mistakes. Doing a few things well makes a difference."
Audi Azzurra Sailing Team were not able to dominate quite the way they did over the first two races of the season yesterday, but their second and third ensures they share the top tally so far, along with Rán.
The Italian team's tactician Vasco Vascotto said: "Compared to yesterday we made some mistakes in all areas, and so you pay. But it is quite clear that when Quantum are ahead of us they try to slow us much as they can. And that will be the game from now until the end of the season. Rán is a little more clear of that, nobody is watching for them right now, but later on we will need to pay attention because they are quick, especially downwind, and they are sailing well. They have good sailors on board and that is why they are leading. It is long season."
Adrian Stead tactician on Rán shared his assessment of the day: "We are really pleased. We had an opportunity to get through but were really well. third in the end. But I think the four boats finished within ten seconds of each other on the line – with a Wally in there too which made things interesting. The breeze built for the second race and we had our first go with our Code 3.5 jib and that worked. That is something Quantum had last year. It works well for us. We sailed a good run when we got offshore, finding more pressure where we could let the boat do the work. So we are really pleased to be leading the 52 Super Series after today."
On board Rán, navigator Steve Hayles unfortunately took a tumble during a gybe:
The Franco-German Audi Sailing Team powered by ALL4ONE started for the first time today after repairing the crack in their hull and proved competitive in the fresher breeze, trading a fourth and fifth with Gladiator.
All through this season the 52s will race carrying a memorial tribute to John Cook, the popular British owner-skipper of Cristabella who passed away in late April. Each boat will have a small sticker 'John Cook, Cristabella' placed adjacent to the guest's position at the back of the boat.
Results:
| | | | | | | | | | | |
| --- | --- | --- | --- | --- | --- | --- | --- | --- | --- | --- |
| Pos | Sail no | Yacht | Owner | Helmsman | R1 | R2 | R3 | R4 | R5 | Tot |
| 1 | SWE5211 | RAN | NIKLAS ZENNSTROM | NIKLAS ZENNSTROM | 2 | 2 | 1 | 3 | 1 | 9 |
| 2 | ITA280 | AUDI AZZURRA | ALBERTO ROEMMERS | GUILLERMO PARADA | 1 | 1 | 2 | 2 | 3 | 9 |
| 3 | 52011 | QUANTUM RACING | DOUG DEVOS | ED BAIRD | 3 | 3 | 3 | 1 | 2 | 12 |
| 4 | GBR11152 | GLADIATOR | TONY LANGLEY | TOM WILSON | 4 | 4 | 4 | 4 | 5 | 21 |
| 5 | GERA40 | ALL4ONE | ALL4ONE RACING TEAM SL | STEPHANE KANDLER | 6 | 6 | 6 | 5 | 4 | 27 |
Soto 40s

As expected, the 2011 Audi MedCup champions on Iberdrola came into their own today, winning both races in the Soto 40 class. However after their poor day yesterday it is Kevin Sproul and the posse on board Tony Buckingham's Ngoni that still lead after coming home second in both today's races.
"We were pretty happy, because it was a bit breezier than we were expecting today," said Sproul. "We had 22 knots at the end of the last race, so full on. We were downwind and we were flat out – it was pretty wet on the last run. But we got the rig sorted out quite well, so we were fast again."
Sproul admitted that his start in today's first race hadn't been the prettiest and they ended up coming off the line in last place a situation that hadn't improved at the first mark. "The guys did a good job, we were pretty good downwind, so we managed to sneak our way through and we got two boats right on the finish line, so we made a nice jump there and got a second instead of a fifth. That was a big thing."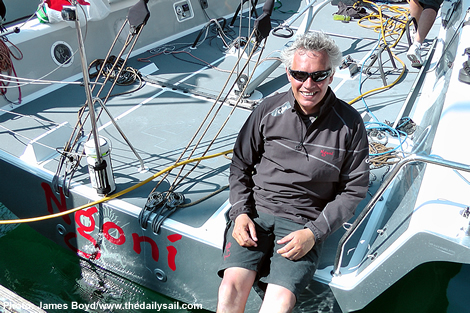 In the second race Sproul said they had been a bit "too nice" to Iberdrola at the start. "We had them pinned out, but we let them come back in because we just wanted to race against them to see how good we were. If they were the boat that was closest to the regatta we probably would have [kept them pinned out], but because they didn't have such a good day yesterday and they got disqualified in one race we thought it would be good to race against them a bit. But of course we ended up letting them get in front of us right at the windward mark. We went around the mark bow to bow but they have done much more practice and they did a much better hoist than us and we ended up not being able to hang on to them after that."
In race two their problems were hampered by ripping their A4.
Results:
| | | | | | | | | | | |
| --- | --- | --- | --- | --- | --- | --- | --- | --- | --- | --- |
| Pos | Sail no | Yacht | Owner | Helmsman | R1 | R2 | R3 | R4 | R5 | Tot |
| 1 | GBR20 | NGONI | TONY BUCKINGHAM | KEVIN SPRONL | 1 | 1 | 1 | 2 | 2 | 7 |
| 2 | ESP21 | NOTICIA IV | LUIS MARTIN CABIEDES | IÑAKI CASTAÑER | 2 | 2 | 2 | 3 | 3 | 12 |
| 3 | ESP19 | IBERDROLA TEAM | AGUSTIN ZULUETA | JOSE MARIA TORCIDA | 3 | 5 | 8 | 1 | 1 | 18 |
| 4 | ARG002 | GRAMONA GESEME | ROMAN TURRO | ROMAN TURRO | 4 | 3 | 3 | 5 | 5 | 20 |
| 5 | IVB033 | ALEGRE | GOLDEN HEW, LTD | ANDRES SORIANO | 5 | 4 | 4 | 4 | 4 | 21 |
| 6 | GER27 | BLACK PEARL | STEFAN JENTZSCH | STEFAN JENTZSCH | 7 | 6 | 5 | 6 | 8 | 32 |
| 7 | ESP22 | GUNTER XXII | JAVIER SCHERK / INYACHTS SL | JAVIER SCHERK | 6 | 7 | 6 | 7 | 6 | 32 |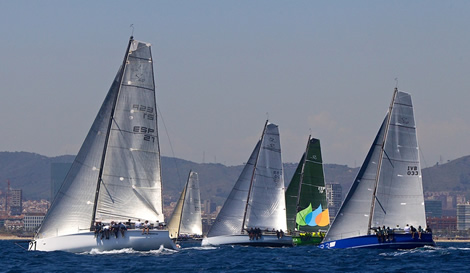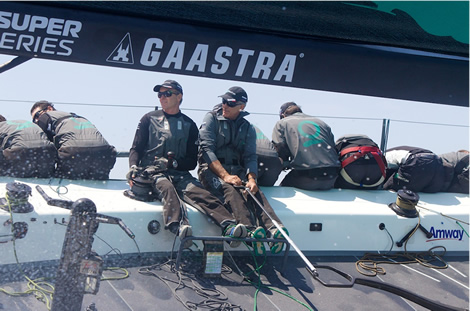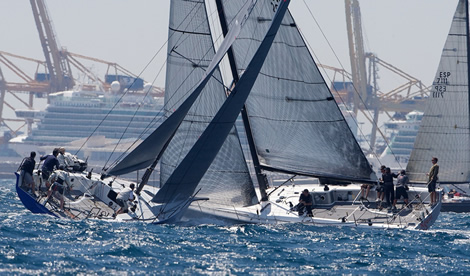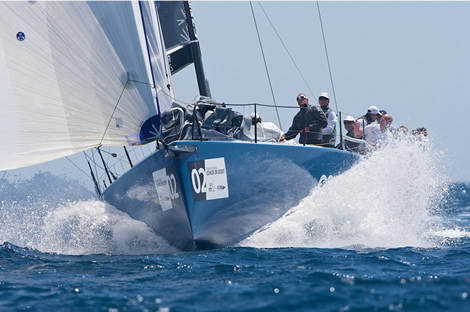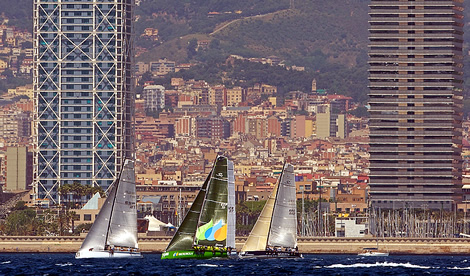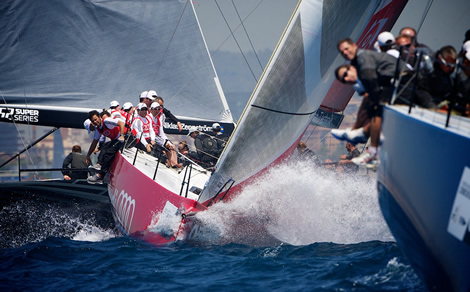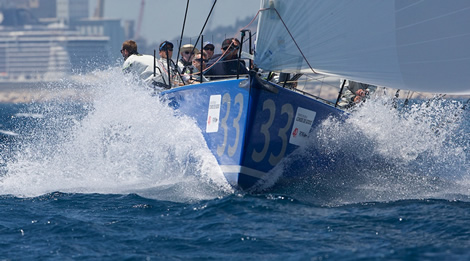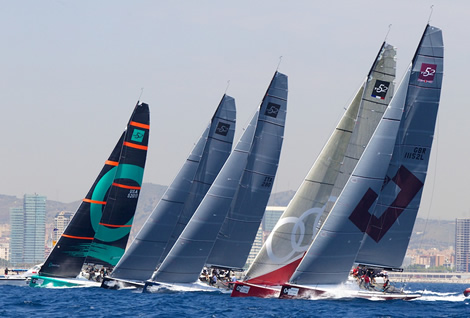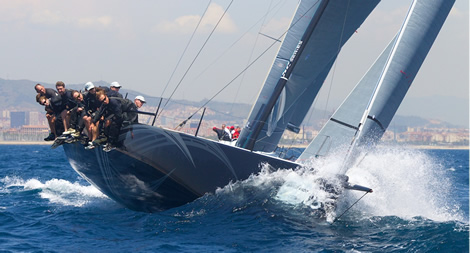 Back to top
Back to top