Victory for Volpe in Palm Beach
Two more crazy races were conducted in Palm Beach, Florida on Sunday leaving Ryan DeVos on Volpe, with winning America's Cup helmsman Ed Baird as tactician and crew of Scott Nixon, Sam Rogers, Mike Hill, Drew Weirda and Scott Martins, as 2012 Melges 32 East Coast Champions. In second overall, Jason Carroll on Argo finished with equal points, yet lost the tiebreaker to DeVos. From Italy, Lanfranco Cirillo's Fantastica remained in the hunt all day to finish third overall.
The 2012 East Coast Championship was graciously hosted by the Sailfish Club of Florida in conjunction with Rybovich Marina, consisting of eight races over three days.
Sunday marked the final showdown with only five points separating the overnight leaders. The first race was key as DeVos came on strong, loving the big 18-20 knots of breeze, most notably on the last downwind run to win. John Kilroy's Samba Pa Ti led for most of the race, but was overtaken right at the line by DeVos. Mark Plaxton's INTAC had a great race to finish third and Cirillo was fourth. Carroll, who was OCS at the start recovered well to take fifth.
The last race brought on rain showers and a building breeze. Big waves made for great planing conditions downwind. Plaxton took an early lead only to be overtaken by Alec Cutler on Hedgehog late in the game. Cutler found just the right groove in race two commanding the lead at the final top mark to extend for the win. DeVos was fast upwind, rounding second, chasing Cutler to the finish. They finished first and second, while Carroll grabbed third ahead of Kilroy in fourth and Cirillo in fifth.
Results:
| | | | | | | | | | | | | |
| --- | --- | --- | --- | --- | --- | --- | --- | --- | --- | --- | --- | --- |
| Pos | Sail no | Yacht | Owner | R1 | R2 | R3 | R4 | R5 | R6 | R7 | R8 | Net |
| | | 1 | 3 | | 5 | 6 | 7 | 8 | O | | | |
| 1 | USA 180 | Volpe | Ryan DeVos | 1 | 14 | 2 | 11 | 9 | 2 | 1 | 2 | 28 |
| 2 | USA 128 | Argo | Jason Carroll | 5 | 3 | 14 | 1 | 10 | 1 | 5 | 3 | 28 |
| 3 | ITA 212 | Fantastica | Lanfranco Cirillo | 2 | 5 | 16 | 5 | 6 | 5 | 4 | 5 | 32 |
| 4 | IVB 007 | INTAC | Mark Plaxton | 8 | 1 | 13 | 6.5/RDG | 8 | 14 | 3 | 6 | 45.5 |
| 5 | USA 157 | Mojo | Steve Rhyne | 4 | 12 | 13/ZFP | 7 | 1 | 3 | 15 | 10 | 50 |
| 6 | USA 1315 | Ninkasi | John Taylor | 6 | 4 | 9/ZFP | 7.3/RDG | 3 | 15 | 10 | 12 | 51.3 |
| 7 | USA 174 | Leenabarca | Alex Jackson | 12 | 2 | 3 | 3 | 14 | 12 | 9 | 11 | 52 |
| 8 | BER 1 | Hedgehog | Alec Cutler | 16/ZFP | 13 | 12/ZFP | 4 | 2 | 10 | 11 | 1 | 53 |
| 9 | USA 169 | Bliksem | Pieter Taselaar | 9 | 17/RAF | 1 | 2 | 11 | 16 | 7 | 7 | 53 |
| 10 | USA 134 | Catapult | Joel Ronning | 7 | 6 | 15/ZFP | 9.3/RDG | 9.3/RDG | 9.3/RDG | 6 | 9 | 55.9 |
| 11 | USA 13131 | Samba Pa Ti | John Kilroy | 17/ZFP | 9 | 11 | 10 | 12 | 11 | 2 | 4 | 59 |
| 12 | AUT 1 | Robertissima 1 | Roberto Tomasini Grinover | 10 | 7 | 5 | 6 | 15 | 8 | 8 | 15 | 59 |
| 13 | USA 184 | Bronco | Michael Dominguez | 15 | 11 | 7 | 8 | 4 | 9 | 13 | 13 | 65 |
| 14 | USA 1215 | Delta | Dalton DeVos | 3 | 10 | 4 | 17/RAF | 16 | 4 | 16 | 14 | 67 |
| 15 | USA 130 | Element | Jim Grundy | 11 | 8 | 8 | 12 | 7 | 7 | 14 | 16 | 67 |
| 16 | USA 211 | Arethusa | Philip Lotz | 14 | 17/RAF | 17/ZFP | 9 | 5 | 6 | 12 | 8 | 71 |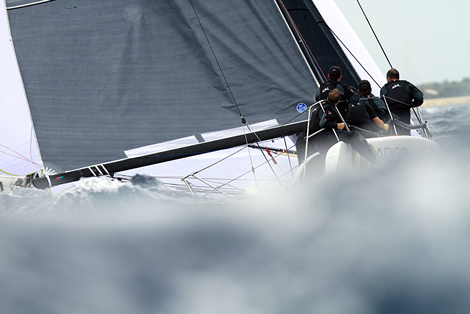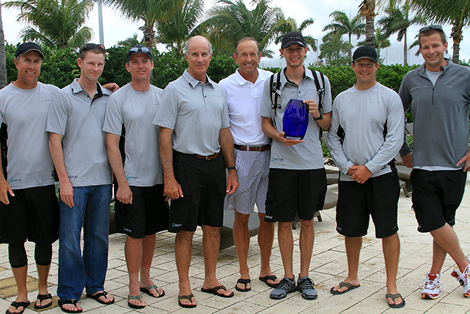 Back to top
Back to top