Mixed conditions tighten up fleet
Nearly 260 racing teams hit the docks this morning, ready to battle their opponents on the second day of racing for Sperry Top-Sider Charleston Race Week 2012.
Instead of Charleston's usually reliable sea breeze, the offshore courses faced unstable, patchy winds that allowed only two races over the course of the day.
"The wind never kicked in, but there was enough for some very tricky racing," said Joe Gibbs from the Farr 400 Team Premier. Canadians Rob and Sandy Butler continued to dominate the PHRF A fleet aboard their McConaghy 38 Carbonado, scoring two more victories to cement a six-point lead over John Cooper's teak-decked racer Cool Breeze. "We couldn't be happier with the conditions and with the awesome speed of this boat," said program manager and pro racer Marty Kullman. "Though we did find the one downside to this new design; I emailed designer Harry Dunning today to tell him that it doesn't make a great powerboat."

A fierce battle has broken out in the B Fleet, with Greg Manning's Rhode Island-based X-41 Sarah tied on points with Bob Moran's Annapolis-based J/111 Ragin'. Two-time Charleston Race Week champ Robin Team (J/122 Teamwork) had a disappointing day, dropping to third place, with another J/111, Wicked 2.0 from Dartmouth, Mass, breathing down his crew's neck.

Charleston Native Bill Hanckel's team on board his J/120 Emocean was nearly unbeatable in today's shifty wind, though not quite: Gary Weisburg's J/109 Heat Wave corrected to the identical time as Hanckel's crew – down to the hundredth of a second in Race 5. "We thought we lost to Heat Wave in that race," said Bill Hanckel. "Pretty amazing to see an hour-long race come down to a hundredth of a second, and it's a sign of how tight the racing is out there." Despite a recent leg injury, Hanckel is sailing hard, with son Will on the helm. "Surgery on my leg would've cost the same as getting the bottom of Emocean into race shape. You can guess what I spent the money on."
In the Tartan 10 fleet, a new leader emerged today for the Midwinter Championship trophy and Sperry Top-Sider Charleston Race Week honors. Lake Erie's Team IBall is tied with yesterday's leader from Chicago, Leif Sigmond's Norboy, though the Ohio team wins the tiebreaker at the moment.
The Cruising Class sailed an exciting and challenging course, which included beating upwind the length of the Charleston Harbor jetties and out into the Atlantic. Mt. Pleasant resident Francisco Davila and the crew of Houzee is enjoying the all-new race format immensely. "My boat isn't so happy sailing around the buoys, but this course keeps a heavier boat like ours moving all the time, and we really liked it," Davila said. "The pursuit start is a great idea too – different, but a great idea." At the top of the fleet is Daniel Island's Joseph Hanna and the crew of his Jenneau 45 Alexandria, who lead the Mt Pleasant-based Suwannee by the tie break only – they are both on four points after two races. The Class 40 Campagne De France revelLed on the longer course, her massive sails helping catch the light air that heavier cruisers were less able to harness.
Sail Magazine's Best-Around-The-Buoys contest winner Grant Dumas finally showed a chink in his armor after four first-place finishes, with locals Ken King's Saber 38 Quintette and Dave and Christie Kowert's Beneteau 35S5 Andiamo finally beating Dumas on the final race. Another visiting team, Daniel Rossi's Bandit forged ahead of yet another highly successful local team, Robert Hibdon's SR33 Temptress.
The inshore courses saw consistently higher breeze than offshore, allowing another four races to be completed across all three circles. Considering the shifty conditions and unpredictable wind velocity, it was a surprise to see the leaders remain the same across four of the seven inshore classes. College of Charleston Sailing Director Greg Fisher continues his stranglehold on the J/22 fleet, Bill Rose aboard Kicks extended his lead over the J/80 Class to 8 points, and in the J/24 Class, Annapolis sailor Travis Odenback's Honey Badger holds a four-point lead over the surging Mike Ingham and his team on board US 4558, who won the day with a 1,1,2,2 scorecard, while Michigan racer Keith Ziegler scored a near perfect day to lead the Ultimate 20 fleet by a slim margin.

Both Melges classes saw lead changes, with 2011 Charleston winner Kristin Lane squeaking ahead of 2010 champ Bora Gulari to lead by two points. "We're getting some sleep tonight," said Gulari. "Tomorrow is our day." A disqualification in Race 5 saw Melges 20 overnight leader Michael Kiss on Bacio Kiss lose his lead to Russ Lucas's well-sailed Shimmer with Harry and Hans Melges on board.
The largest fleet at 2012 Sperry Top-Sider Charleston Race Week, the Viper 640s, also saw a new top three emerge today, with Northeastern racers owning the podium after 8 races. Connecticut racer Steve Girling is sailing his first-ever Viper regatta, though with the help of sailmaker and professional racer Ched Proctor, he scored a strong 4,2,3,3 to lead by 10 points over New York's Jason Carroll aboard Argo. "What's great about this fleet is the number of new sailors it has attracted, and how much improvement they're making," said Carroll, a frequent competitor on the ultra-competitive Audi Melges 32 Sailing Series in Italy. "It's a constant challenge out there – as soon as you figure out the race course, the tide changes, giving you an entirely new set of variables to deal with," he said.
The evening's beach party had an extremely special guest on Saturday, and over 1,500 sailors crowded around the big stage to welcome the America's Cup to South Carolina for the first time in its 161-year old history. Representatives of America's Cup Defender Golden Gate Yacht Club flew the prestigious trophy to Charleston to share their vision for the 34th America's Cup with the huge crowds of passionate sailors attending Sperry Top-Sider Charleston Race Week. "What an unbelievable reception!" said GGYC Commodore Norbert Bajurin. "We really are bowled over by the welcome we've received here, and the level of interest from Charleston Race Week sailors in the next America's Cup competition." GGYC's Vice Commodore is long-time Cup veteran Tom Ehman, who delivered an exciting multi-media presentation for the crowd. "We're hugely grateful to Norbert and Tom for working so hard to get the Cup here, and to our sailors for turning out in such incredible numbers," said Randy Draftz, Event Director. "We just hope they bring it back next year!"
Winners in every class will be decided tomorrow on the final day of 2012 Sperry Top-Sider Charleston Race Week, and with a forecast including thunderstorms and possible high winds, anything can happen.
Top three results in each class after two days of racing:

Ultimate 20 (One Design - 5 Boats)
1. Dream Killer, Keith Ziegler , USA - 2, 2, 1, 1, 1, 1, 1, 2, [2] ; 9
2. Rumbullion, BJ Jones , USA - 1, 1, 2, 2, 2, 2, 2, 1, [2] ; 11
3. Running With Scirrors, Jim Ulatowski , USA - 4, 3, 3, 3, 3, 4, 4, 3, [4] ; 23
J/24 (One Design - 23 Boats)
1. Honey Badger, Travis Odenbach , USA - 4, 3, 1, 1, 2, 2, 12, 1, [12] ; 14
2. USA 5448, Mike Ingham , USA - 3, 7, 2, 8, 1, 1, 2, 2, [8] ; 18
3. FYC Campaign for the Invitational Cup, Greg Griffin , USA - 10, 2, 8, 2, 5, 4, 3, 4, [10] ; 28
J/22 (One Design - 15 Boats)
1. USA 1586, Greg Fisher , USA - 2, 2, 1, 1, 4, 8, 3, 1, [8] ; 14
2. USA 710, Jackson Benvenutti , USA - 1, 3, 5, 4, 3, 5, 1, 5, [5] ; 22
3. Wharf Rat, Mike Marshall , USA - 7, 4, 3, 7, 1, 3, 4, 2, [7] ; 24
J/80 (One Design - 16 Boats)
1. Kicks, Bill Rose , USA - 1, 1, 2, 4, 1, 3, 4, 5, [5] ; 16
2. Savasana, Brian Keane , USA - 3, 2, 5, 1, 5, 11, 2, 6, [11] ; 24
3. CoolJ, Alexander Kraus , USA - 6, 8, 10, 2, 3, 6, 1, 7, [10] ; 33
Viper 640 (One Design - 40 Boats)
1. Argo, Jason Carroll , USA - 0/ABD, 41/DNF, 1, 9, 11, 1, 3, 2, [41] ; 27
2. Live Wire, Joseph E Healey , USA - 0/ABD, 1, 11, 15, 1, 5, 11, 6, [15] ; 35
3. Kitsune, Sara Fox, Luke Lawrence, Scott Fox , USA - 0/ABD, 4, 3, 11, 10, 7, 41/DSQ, 1, [41] ; 36
Melges 24 (One Design - 33 Boats)
1. Brick House 812, Kristen Lane , USA - 13, 1, 1, 7, 4, 5, 1, 3, [13] ; 22
2. West Marine Rigging/New England Ropes, Bora Gulari , USA - 7, 2, 6, 1, 5, 1, 3, 6, [7] ; 24
3. WTF, Alan Field , USA - 1, 15, 2, 5, 1, 3, 16, 7, [16] ; 34
Melges 20 (One Design - 30 Boats)
1. Shimmer, Russell Lucas , USA - 9, 7, 3, 3, 6, 1, 2, 14, [14] ; 31
2. Layline Race Team, Travis Weisleder , USA - 2, 2, 2, 8, 7, 12, 5, 7, [12] ; 33
3. Red Sky, Paul Reilly , USA - 20, 3, 8, 4, 5, 6, 9, 2, [20] ; 37
IRC (IRC - 5 Boats)
1. Shockwave, George Sakellaris , USA - 1, 1, 1, 1, 1, [1] ; 4
2. Flying Jenny 7, David & Sandra Askew , USA - 2, 2, 2, 2, 3, [3] ; 8
3. Interlodge, Austin and Gwen Fragomen , USA - 4, 3, 3, 4, 2, [4] ; 12
PHRF A (PHRF - 6 Boats)
1. Carbonado, Rob & Sandy Butler , CAN - 1, 1, 1, 1, 1, [1] ; 4
2. Cool Breeze, John Cooper , USA - 2, 2, 3, 4, 3, [4] ; 10
3. Team Premier, Ian Gordon , USA - 4, 3, 2, 3, 5, [5] ; 12
PHRF B (PHRF - 12 Boats)
1. Ragin', Bob Moran , USA - 2, 7, 5, 3, 1, [7] ; 11
2. Sarah, Greg Manning , USA - 4, 1, 3, 9, 3, [9] ; 11
3. Teamwork, Robin Team , USA - 1, 3, 4, 5, 6, [6] ; 13
PHRF C (PHRF - 8 Boats)
1. Emocean, Bill Hanckel , USA - 3, 1, 1, 1, 1.5, [3] ; 4.5
2. Rock Star, Tim Tucker , USA - 2, 2, 2, 4, 5, [5] ; 10
3. Heat Wave, Gary Weisberg , USA - 4, 8, 3, 2, 1.5, [8] ; 10.5
PHRF D (PHRF - 12 Boats)
1. L'Outrage, Bruce Gardner , USA - 1, 2, 2, 3, 3, [3] ; 8
2. Perfect Ten, Joe/Jeff Pawlowski , USA - 5, 4, 3, 2, 1, [5] ; 10
3. Tangent, Gerald Taylor , USA - 3, 1, 1, 8, 6, [8] ; 11
J/111 Sub Class (PHRF - 5 Boats)
1. Ragin' (J), Bob Moran , USA - 1, 2, 2, 3, 1, [3] ; 6
2. Wicked 2.0 (J), Douglas Curtiss , USA - 3, 1, 3, 1, 2, [3] ; 7
3. Fleetwing (J), Henry Brauer , USA - 2, 3, 1, 4, 3, [4] ; 9
Tartan 10 (One Design - 6 Boats)
1. Team IBall, Scott Irwin , USA - 1, 2, 3, 3, 1, [3] ; 7
2. Norboy, Leif Sigmond , USA - 2, 3, 1, 1, 4, [4] ; 7
3. Silver Surfer, Simon Beemsterboer , USA - 3, 1, 5, 5, 3, [5] ; 12
PHRF E (PHRF - 5 Boats)
1. Bandit, Daniel Rossi , USA - 1, 4, 1, 2, 1, [4] ; 5
2. Wairere, Pete HunterPeteH , USA - 4, 3, 4, 1, 2, [4] ; 10
3. Temptress, Robert Hibdon , USA - 3, 1, 2, 5/SCP, 4, [5] ; 10
PHRF F (PHRF - 10 Boats)
1. Seefest, Ira Perry , USA - 2, 2, 3, 2, 3, [3] ; 9
2. For Sail, Jim Mackevich , USA - 6, 4, 2, 3, 2, [6] ; 11
3. Mighty Puffin, Steve Thurston , USA - 1, 1, 6, 6, 4, [6] ; 12
PHRF G (PHRF - 9 Boats)
1. Beneround, Grant Dumas , USA - 1, 1, 1, 1, 3, [3] ; 4
2. Quintette, Kenneth King , USA - 2.5, 2, 2, 2, 2, [2.5] ; 8
3. Old School, Paul Jacques , USA - 5, 4, 3, 3, 4.5, [5] ; 14.5
Cruising Class (One Design - 13 Boats)
1. Alexandria, Joseph Hanna , USA - 1, 3, ; 4
2. Suwannee, Donald Michael , USA - 2, 2, ; 4
3. Campagne de France, Halvard Mabire , FRA - 6, 1, ; 7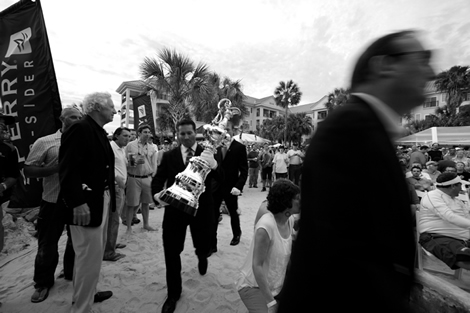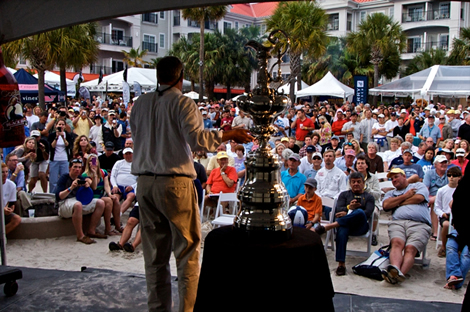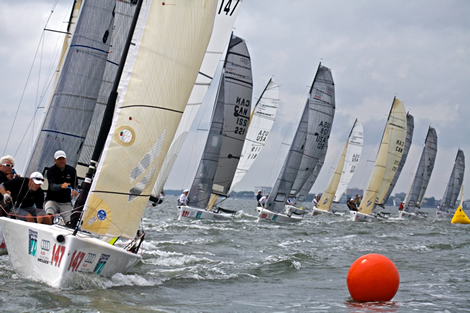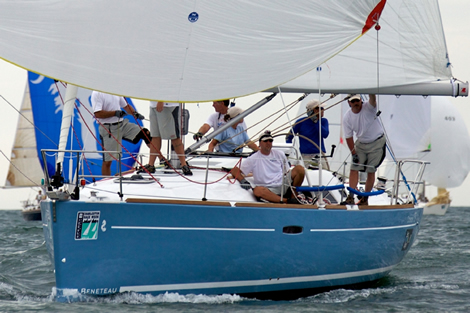 Back to top
Back to top