Victory goes to Oman Air
The two Oman Sail boats Oman Air and The Wave, Muscat managed to squeeze out Groupe Edmond de Rothschild on the final day of racing at the Extreme Sailing Series in Muscat.
The Groupe Edmond de Rothschild team, skippered by Pierre Pennec led going into the final day of racing and as race favourites, they seemed likely to continue their forward momentum, whereas it seems unlikely that the fledgling team on Oman Air, skippered by Morgan Larson, would prevail.
In fact four teams were in contention for the podium going into the final double-points race and in the event it was the new Danish entry, Team Trifork, that won the race. But Oman Air did enough to secure victory after an intense battle with the favourites. Leigh McMillan's team on The Wave, Muscat muscled their way into the two way fight and performed consistently throughout day to finish second overall ahead of Groupe Edmond de Rothschild with Austria's Roman Hagara and his Red Bull team in fourth, having been just one point behind the French going into the final race.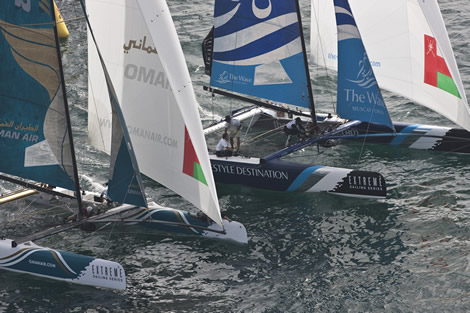 "It's an amazing feeling!" said Larson. "It was a challenging week and obviously our learning curve was quite steep, but this was really hard racing and any team could have won going into those last couple of races and we were just lucky they went well for us. I'm sure there was a bit of beginner's luck to this one and we just dug in and focused hard but I know its going to be a challenging season and we'll get tougher conditions thrown at us and for sure we're going to have to eat a few of them and we're just need to keep enjoying the sailing as I think that was the key to our success working together. We knew if we held our position things would be good but in these boats you never know what can happen so you just have to keep on pushing all the way to the finish."
Larson and his crew of Olympic Tornado silver medallist Charlie Ogletree and Max Bulger from the States, Britain's Will Howden and Omani Nasser Al Mashari had eased into the lead early on today but in today's fourth race they were OCS and had to restart a seventh placed finish leaving them on equal points with The Wave, Muscat and two points behind Groupe Edmond de Rothschild.
In the next race, won by Loick Peyron's team on ZouLou, McMillan's team finished ahead of their Oman Sail teammates and pulled ahead by 1 point. By the end of the penultimate race the two Oman Sail teams were back on equal points going into the final double points decider, while to claim the regatta win Groupe Edmond de Rothschild had to win the final race with neither Oman Air nor The Wave, Muscat finishing better than sixth place. It was too tall an order for the French favourites who managed to get ahead of their rivals to finish the race in second, but Oman Air crossed the finish line in third to clinch overall victory with 29 races sailed.
"Sure - I feel disappointed about not having sailed well today," said Groupe Edmond de Rothschild skipper, Pierre Pennec. "But this is the nature of the sport and even if this sounds strange, I feel very happy about this week's competition. I really enjoyed being on the water and despite the fact that this is my fourth year in the Extreme Sailing Series, we have learned a lot in these last few days. My new crew sailed here for the first time and they have shown great human, mental and technical potential. I think it's fantastic that the two top crews here in Muscat are the local teams. They are going to be seriously competitive this season."
Leigh McMillan, skipper of The Wave, Muscat commented: "All day long – we had some really great races, posted a win and some second places, but we couldn't get away as they all just putting in good results as well. It was really tight and we're very happy to get second, it came down to a very close light wind race and we got sucked in to a fight mid-fleet and Oman Air got away. But we're really happy they got their win and it's great for Oman as a whole."
Ian Williams, skipper of GAC Pindar, which finished fifth: "We're a bit disappointed with the overall result of fifth as I think maybe we deserve better. We were way off the pace on day two and those were the 20 points we gave away to pretty much everybody and after that it was very tough to get back."
Alinghi's Ernesto Bertarelli ended the regatta in seventh: "It was fantastic, fantastic. For me it's great, a different format but I learnt so much every day, every race, it's what I'm here for. I'm here to experience something different, something the excitement of this format and I really enjoyed myself. It's close, it's not very different from a normal regatta, it's just that everything happens so much faster. In a normal regatta you have close contact or tactical situation with a boat maybe every 10 minutes, here it is every 15 seconds!"
Next stop on the Extreme Sailing Series is Qingdao over 17-20 April.
Extreme Sailing Series 2012 Muscat, Oman standings after 29 races
1st Oman Air (OMA) Morgan Larson / Will Howden / Charlie Ogletree, Nasser Al Mashari, Max Bulger 165 points
2nd The Wave, Muscat (OMA) Leigh McMillan, Ed Smyth, Pete Greenhalgh, Hashim Al Rashdi, Rachel Williamson 159 points
3rd Groupe Edmond de Rothschild (FRA) Pierre Pennec / Jean-Christophe Mourniac / Hervé Cunningham / Bernard Labro / Adeline Chatenet 155 points
4th Red Bull Sailing Team (AUT) Roman Hagara, Hans Peter Steinacher, Matthew Adams, Graeme Spence, Pierre Le Clainche 148 points
5th GAC Pindar (GBR) Ian Williams / Mark Ivey / Mark Bulkeley, Adam Piggot / Andrew Walsh 138 points
6th ZouLou (FRA) Loick Peyron, Philippe Mourniac, Jean-Sébastien Ponce, Bruno Jeanjean, Antoine Joubert 111 points
7th Alinghi (SUI), Ernesto Bertarelli, Tanguy Cariou, Nils Frei, Yves Detrey, Pierre-Yves Jorand 109 points
8th Team Trifork (DEN) Jes Gram-Hansen, Rasmus Kostner, Pete Cumming, Simon Hiscocks, Jonas Hviid 95 points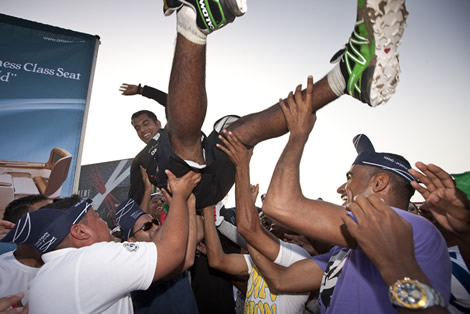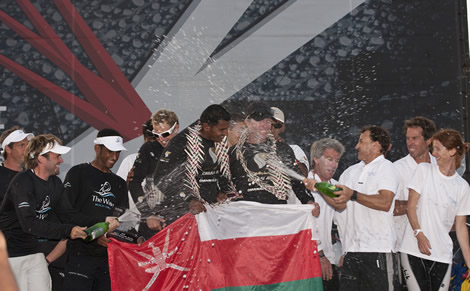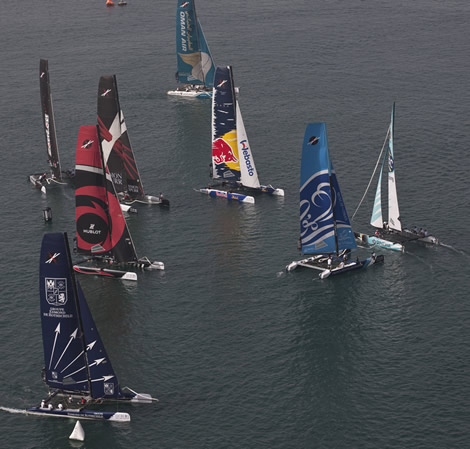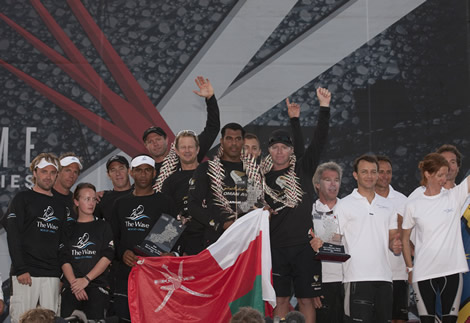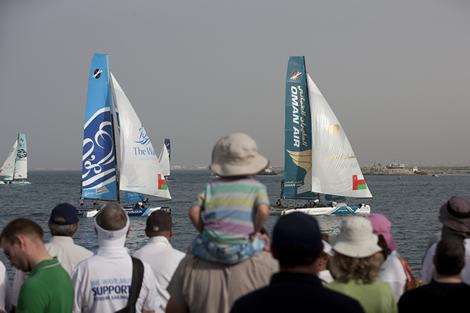 Back to top
Back to top