Bruno Peyron on the America's Cup and Jules Verne Trophy
Bruno Peyron was one proud brother recently when his younger sibling Loick continued the Peyron legacy arriving into Brest on board the 40m trimaran Banque Populaire to become the latest skipper to claim the Jules Verne Trophy. Bruno was of course the first person ever to set the Jules Verne Trophy record when, back over the winter of 1992-3, his five strong crew successfully sailed their 26m long catamaran Commodore Explorer around the world in 79 days 6 hours and 15 minutes – the first time a multihull had completed a lap of the planet non-stop. He has since won back the Jules Verne Trophy on two occasions – on Orange 1 in 2002 and on the purpose-built Orange 2 in 2005, the last time a catamaran held the record.
Banque Populaire's lap was the seventh time since Commodore Explorer's inaugural voyage that the Jules Verne Trophy record has been bettered, although this doesn't include the hiatus in 2004 when Steve Fossett's maxi catamaran Cheyenne sailed around the world non-stop in a record time but wasn't awarded the trophy as Fossett had refused to pay the Jules Verne Trophy entry fee.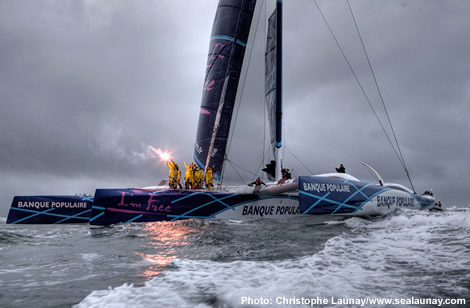 "18 years on – and now we are here! It is incredible! It is a really nice story. I didn't know at the beginning it would end up this way, but it is very cool," an elated Bruno Peyron confided to us.
The time for the non-stop round the world lap has plummeted incredibly over the last 18 years. When Commodore Explorer set out (along with ENZA New Zealand and Olivier de Kersauson's Charal) it was uncertain whether a maxi-multihull could even sail around the world non-stop let alone in under the required 80 days to qualify for the Jules Verne Trophy. 18 years on and Banque Populaire's time was 57% of what Commodore Explorer managed. While Commodore Explorer's average speed around the world was 11.35 knots for Banque Populaire it was 19.75 knots.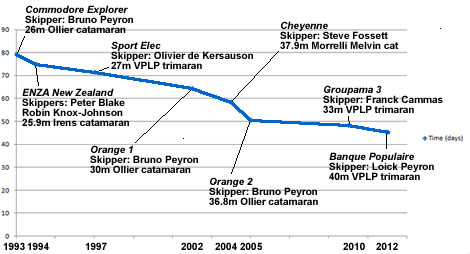 The question is – now that Banque Populaire holds the Jules Verne Trophy record, what next? No new maxi-multihulls are currently in build which might beat her.
"I think it will go on forever," says Bruno Peyron. "We will have some progress each time with the same level of difficulty and a new generation [of boats]. Even this generation, a little bit optimised, can do it a little bit better."
Peyron adds that a mistake they made with the Jules Verne Trophy was not to encourage more international crews to make attempts. Saying this, over the last two decades there have been several non-French attempts - some successful, some not - that were non-French, most notably the late Peter Blake and Robin Knox-Johnson on ENZA New Zealand and Steve Fossett on Cheyenne. In addition Tracy Edwards and her all-female crew made an unsuccessful attempt on Royal & SunAlliance in 1997 while Ellen MacArthur attempted it in 2003 aboard Kingfisher 2 – both attempts prematurely coming to an end through dismasting.
"The only other one I know who is keen to come is Grant [Dalton] and I'm sure he will do it one day, this or The Race, around the world in big multihulls," Peyron continues. "But this record has to become more international. Maybe with the Cup in multihulls, it will open some eyes."
It seems likely that in the short term the most best bet to break the Jules Verne Trophy would be for another campaign to buy Banque Populaire and attempt to better their time.
"This generation still has some potential. Everyone noticed that they [Banque Populaire] managed the level very well and they slowed down sometimes and I think it was the right thing to do. But if the boat is in good shape now, they could have the feeling - like we had [on Orange 2] - that they could push it a bit more and that could gain them a couple of days. So this generation has the potential to be three days less I think. So the 40 day barrier will be done by the next generation [of boats]."
So what will the next generation be? Even bigger maxi-multihulls? Or a foiler like the proposed new version of L'Hydroptère. "I don't know when, if it doesn't break, if they can fly 60% of the time, if it is fast in light winds as well," says Peyron of the latter option. "Or it could be with wings, if they can reduce the wing over 30 knots, it could be L'Hydroptère with a wing. It could also be a boat 5m longer - very classical and at a very high level of technology. But everyone knows the game – the big difference between this [large multihulls] and car and plane production is that they spend a lot of money testing and we can't. So we are obliged to go with just the test machine on the real program."
Peyron also derives some satisfaction from the fact that development of the 'G-Class' maxi-multihulls that contest the Jules Verne Trophy having been as much through empirical progress as it has scientific research. "It is interesting because it gives some room for the sailors and their experience and feeling, not just the facts and I like that. Otherwise you put this machine [Banque Populaire] in the hands of some very fast stupid guys and they have great fun for three weeks and...finito. That is the beauty of this I think. I wouldn't like it better to have a red light and an orange light." He refers to the traffic lights that feature on the AC catamarans.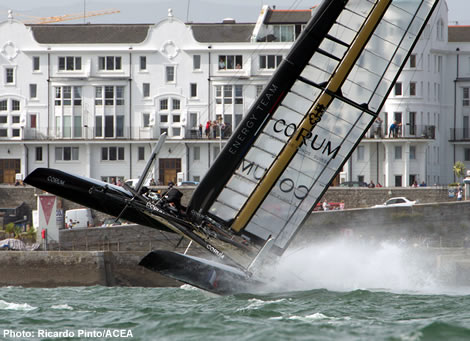 America's Cup

Meanwhile both the Peyrons are forging on with Energy Team, their campaign for the 34th America's Cup.
A recent addition to their sailing team has been Olivier Backes, the French F18 World Champion, who's crew Arnaud Jarlegan was already on board with them. "He is also a very high level engineer. He was unable to join us in 2011, but he will join us now," says Peyron.
The big headache at present for Peyron is of course raising the necessary backing to build an AC72. He was one of the main figures behind the drive by the potential challengers not only to create more separation between AC45 and AC72 campaigns (ie it is now possible to run an AC45 campaign without entering the America's Cup proper – a la Ainslie), but also extending the deadlines when entry fees for the 34th America's Cup had to be paid.
However another deadline is looming for the 34th America's Cup this year – how late a one-boat team can leave building their AC72. If they go ahead, Energy Team will be a one boat team. "Building two boats isn't the same advantage it was before the last Cup," Peyron says. "It is an advantage but not as much, especially because the number of sailing days is limited. So you have to be ready in San Francisco on 4 July 2013 and then [working back] you have six months of building - the yard is already booked at Multiplast - and then you need to train. So the real deadline is more like July-September 2012."
In the meantime Peyron says he has been trying to span the giant leap in fiscal terms between an AC45 campaign and an AC72 campaign.
"We are trying to build a long term project, because you can't win the Cup in one go." Energy Team is not in the fortunate position of having a billionaire backing their campaign, so they are forging ahead in their search of sponsors. But this approach takes time and puts them at a disadvantage as it means they haven't been able to launch into a full scale campaign from the outset as the bigger teams have.
With Energy Team, Peyron says he is attempting to build their campaign slowly, 'in balance' with their partners. "The first step was to secure our AC45 for two seasons at the highest level. That is done - we are the only one of the smaller teams to have done that. Of course trying to reach the highest level as soon as possible – we are already there, which is good news.
"The second step is that if we have another sponsor at the same level [as Corum], it is still not yet enough to start the 72, so it would be stupid to do that. So my plan is to have a second AC45 in order to be at the highest level as an AC45 team, whatever happens, like Oracle Racing Coutts and Oracle Racing Spithill. And that will also allow us to maximise the value for each of the two first sponsors. So we will have Energy Team – Corum and Energy Team – whatever. Having two AC45s at the highest level also means that we have 12 guys, which is enough crew for the 72."
Peyron reckons that they could be in a position to go ahead with their second AC45 imminently, although he says he isn't certain whether they will be able to get it in time for the next America's Cup World Series event Naples in mid-April. But between now and then they will use their existing AC45 for training and promotion for as he says: "It is the only time this season when we have access to the boat."
The Energy Team AC45 is currently in Valencia (along with most of the others) and Peyron points out that it would be straightforward enough to put it on a truck and get the boat to France. "There are a number of teams in Valencia so we might stay there or we can go to Brittany or Marseille."
He bemoans there being two ACWS regattas this year in Italy, but none in France. "The bad image of the America's Cup has a lot of inertia, so you have to prove to potential sponsors that it is not like it was before. And you have very few places in the world where you can do that. Marseille is one of them. If it was like The Race [finish], you can have 500,000 people screaming. That would prove that the AC is becoming popular and becoming a good economic product."
So he suggests the possibility of a small event in Marseille, possibly between two boats. "Two 45s in the old harbour between the two castles. It may not get 500,000 people but still it would be a good event."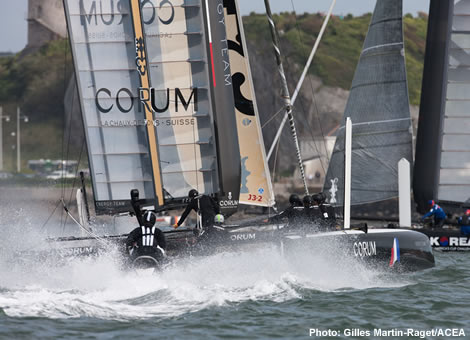 What remains in the balance is if Energy Team will get the backing to go ahead with their AC72. Peyron says he will forge on until the absolute deadline with this, but says that if they are too late for the 34th America's Cup then he will have to resort to 'Plan B'. "We can say we are late for this one, but we are a bit early for the one after. In the worst case, if we can succeed to be in the top four teams in the AC45, with two boats, it is already a first very good result and it helps us. If we get the money for an AC72 we already have the crew and the team. If we decide it is not enough, we can make a deal with the potential winning team because everyone will realise that we could be helpful and it is a win-win and that will help us prepare for the next one."
Peyron says that with their AC72 campaign they also have to put a value on the marketing that could be achieved if they only managed to make it to the semi-finals of the Louis Vuitton Cup. "Otherwise two years later your sponsor says 'thank you, goodbye' and then you will never achieve the main goal. So I want to protect the sponsors as well. In other words I would prefer to have less money with a happy sponsor than more money but stop, because then I would have to restart everything and then there would be the old story of the sponsor who has been disappointed."
Back to top
Back to top