Ran unbeatable
After Wednesday when there was no wind on the race course, allowing crews some time to sample the delights of Key West, so today, after a short delay on the water waiting for the wind to build, three races were completed. In contrast to the radiant sunshine of the first two days of competition, these were held in overcast English Channel-like conditions but in flat water with the northerly wind initially building to 15 knots but slowly dropping to below 10 over the course of the afternoon.
On board the Farr 400 Red, chartered for this regatta by Torquay's Joe Woods, the consistent string of bullets from the first two days or racing sadly came to an end. Sailing with a crack British crew including Beijing Laser gold medallist Paul Goodison on tactics and sailmakers Simon Fry and Dave Lenz, in the first race Red led into the top mark, but as she attempted to squeeze around, she touched the mark and had to carry out a penalty turn. This was followed by an average start in the second race and what appeared to be a slight speed disadvantage in the third. Nonetheless with two races to go in the series, Red still leads the fledgling Farr 400 class with a six point advantage over Skip Shapiro and Buzz Blackett's Team Premier NorCal.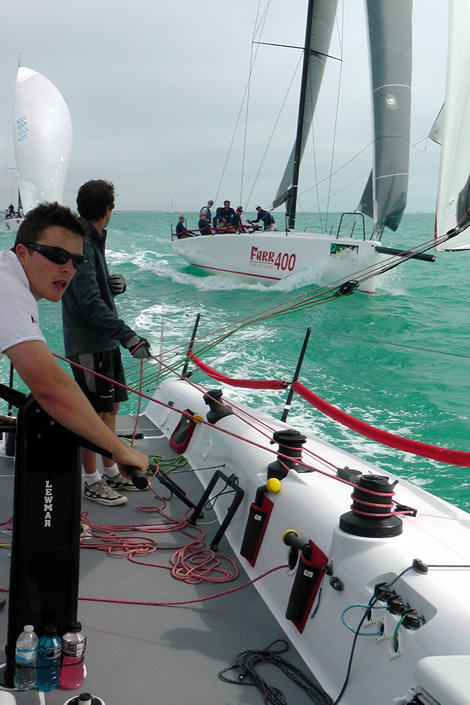 Still unbeaten – and with the regatta now in the bag for them – is Niklas Zennstrom's J-V 72 Rán in the IRC 1 Mini Maxi class, and Deneen Demourkas' Groovederci in the Farr 30 class. With seven bullets, Rán's scoreline make her appear to have blitzed this regatta but it has been close. In today's first race, Rán squeaked home to beat Dan Meyers' J-V 66 Numbers, where Brad Butterworth is running the show, by just eight seconds on corrected time.
Deneen Demourkas' domination of the Farr 30 has been absolute. "I just think we are so many regattas ahead of the people that are here," she said. "We have got that many more miles. And Philippe [Mourniac, tactician] did a great job today in really shifty conditions and we have got a great set up. We are able to change gears and nice crew work."
She added that today they had experienced wind shifts of 30-40 degrees. She also praised the work of trimmers Darren Jones and Cameron Biehl, who along with bowman Andy Hudson are holdovers from the world championship crew.

The lighter, flat water conditions, not surprisingly, seemed to be to the liking of Doug DeVos' Audi MedCup winner, Quantum Racing. She posted three bullets today and also has the regatta sewn up with a day to spare.
"It was a great team performance all day," commented Terry Hutchinson, back on board with his old team as he takes a busman's holiday from the Artemis Racing AC team where he is skipper. "We had good starts in all three races and great boat-handling. We were a bit fortunate in the second race. We went to the right side of the course, found a little more pressure and moved from seventh to first."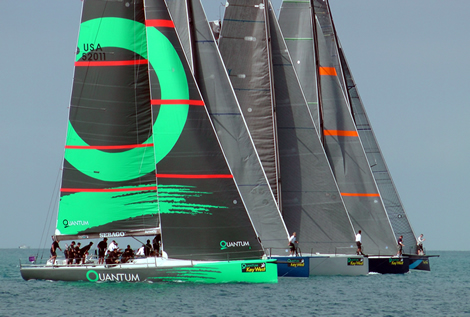 Second placed PowerPlay, owned by Peter Cunningham, cannot mathematically overtake Quantum in two races tomorrow. However Hutchinson confirmed that Quantum Racing will sail regardless. "To be honest, I wasn't expecting us to have this kind of scorecard at the beginning of the week. It's just been one of those events when a lot of things have gone our way."

The most competitive and biggest one design class competing at Quantum Key West Race Week is the Melges 32 class, where after three races today John Kilroy's Samba Pa Ti holds a four-point lead over Benjamin Schwartz' Pisces.
"Like most good regattas, it comes down to the last day and probably the last race," Kilroy said. "We just have to relax and minimize our mistakes. We're going to go out there and sail the way we normally do."
Kilroy said Italian professional Lorenzo Bressani has done a superb job of calling tactics while the sail program has been well organised by Fuzz Foster, owner of the North loft in Hawaii. "The guys are sailing really well, the boat is going really well and we've giving ourselves opportunities to make gains."

Second placed Pisces is a relatively new team to the Melges 32, Swartz, from Long Island, only acquiring his boat a year ago having previously owned a J/80, in which he finished sixth at one world championship.
Pisces' performance is certainly being boosted by having Ed Baird, Alinghi's winning helmsman from the 32nd America's Cup, on board as tactician.

"We had a really good day today in the sense that we were consistently in the top third of the class," said Swartz. "We went into the day tied for first and are now second, four points out of first, but we feel we are still in contention, still in the hunt. There were really challenging conditions where it seems like the boats were much closer together at all the mark roundings, so just keeping in clear lanes was more challenging today than it was in the bigger breeze.
"For us, in this class to be still in contention to win the regatta is a really great place to be and hats off to Kilroy and his crew for having such a great day and the better sailed boat is in first place. We feel like we have more work to do but that we're still in it."
Swartz adds that the Melges 32 class in the US has a great year ahead of them with regattas running up the east coast of the USA culminating in the World Championship in Newport, RI in September.
The Farr 40 is another class that won't be decided until the fifth and final day of the regatta. Here Wolfgang Schaefer's Struntje Light leads Nico Poons' Charisma by four points after today. They were tied going into today's final race, but Struntje Light placed second while Charisma finished sixth.

Barking Mad got the gun in two races today and might well be winning the class had she not lost a man overboard and failed to finish Race 2. Skipper Jim Richardson is still only seven boats out of the lead despite taking eight points for the DNF.

"We haven't been sailing to our usual level," veteran trimmer Morgan Trubovich said. "Today was the closest to feeling like the old Barking Mad."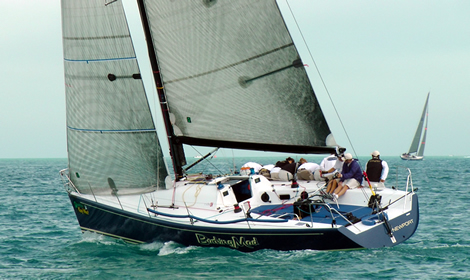 In the High Performance Class, Rob and Sandy Butler's McConaghy 38 Carbonium has finally taken the lead, after posting a 3-2-1 today, their black low-freeboard flier enjoying the flat water conditions.
"It was a bit up and down," commented Rob Butler. "The first race was a little challenging for us but it got better thereafter. Things are improving. We are still learning the boat. We only sailed it for three days before we even came to Key West. It is a learning experience and every day is a bit different conditions. One day you are dealing with waves and 10 knots and the next day you are dealing with flat water and 10 knots. We are just getting the boat dialled in and working on that and boat handling. It is the first time this crew has sailed together."
Racing alongside the largest boats in IRC 3, where the leader is Willem Wester's Grand Soleil 46 Antilope, the shortly McConaghy 38 is often outgunning by the larger boats going into the weather mark, but subsequently takes off down the runs. "In flat water in the 8-11 knot range today we were going well against all the other boats," confirmed Butler.
There is a good battle brewing in PHRF 1 as well where Teamwork and Tres Hombres have been exchanging blows all week. Skipper Robin Team and his crew aboard the J/122 beat the 1D35 by one point on Thursday and that is also the difference in the overall standings.

Tres Hombres, owned by Steve Ghormley, Mike Tyer and Jeff Kitterman, has notched three bullets and finished second or third in three other races. Quantum pro Terry Flynn is calling tactics on the Texas boat

"This regatta starts tomorrow," Flynn declared. "I was hoping we'd have it locked up by now, but there is still work to do. The Teamwork guys are sailing really well and we still have to worry about the J/111 because it's only three points behind us."

Flynn said Tres Hombres, Teamwork and Mental have been so close with one another that it mimics one-design racing. "It's almost boat-for-boat, which makes for great racing."

In the 18-boat J/80 class as Glenn Darden has steered Le Tigre to a steady stream of first, second and third place results. John Gluek is serving as tactician on Le Tigre, which holds an 18-point lead over second placed Rocad Racing.

Le Tigre was named Mount Gay Rum Boat of the Day for winning the class which had the closest, most competitive racing for the day. The boat is co-owned by Reese Hillard, who works the bow while Karl Anderson trims the jib aboard the Fort Worth, Texas entry. They captured the class world championship in 2006 and are seeking to three-peat at Key West.

"Our team is really meshing well. We've had a lot of time in the boat and that makes a big difference," Darden said. "John has done a great job of keeping us in phase and everyone else is just doing their job at a high level."

Bora Gulari and the West Marine Rigging/New England Ropes team continue to cruise along in Melges 24 class, counting all first place results after being able to drop the sixth it took in Race 6. That gives the Detroit entry a healthy 10-point lead over runner-up WTF (Alan Field, Los Angeles).

L'Outrage, a Beneteau 10-metre owned by Bruce Gardner , has finished first or second in all eight races and appears headed to its third class victory at Key West. North pro Kenny Saylor is calling tactics on L'Outrage, which earned PHRF Boat of the Week honors in 2000, leads fellow Annapolis boat Tangent by six points in PHRF 2.

"I'm pleasantly surprised. We knew it would be good competition and were kind of worried about how we would do in the lighter air," Gardner said. "We worked hard to adjust the rig to fit the lighter conditions and it seems to have paid off."
Results:
Mini Maxi (IRC 1)
1. Rán, GBR7236R, Niklas Zennstrom - 1, 1, 1, 1, 1, 1, 1, 1, ; 8
2. Numbers, USA119, Daniel Meyers - 3, 2, 2, 2, 2, 2, 2, 3, ; 18
3. Shockwave, USA60272, George Sakellaris - 2, 3, 3, 3, 3, 3, 3, 2, ; 22
52 Class (IRC 2)
1. Quantum Racing, USA52011, Doug DeVos - 1, 1, 2, 1, 2, 1, 1, 1, ; 10
2. PowerPlay, CAY52, Peter Cunningham - 3, 2, 1, 3, 4, 2, 6.5, 3, ; 24.5
3. TeamOrigin 1851/ Team Bella Mente, GBR1851N, Hap Fauth - 4, 4, 5, 2, 1, 4, 5, 8, ; 33
4. Vesper, USA52007, Jim Swartz - 2, 6, 3, 8, 3, 3, 6.5, 6, ; 37.5
5. Anema & Core, USA38008, Ennio Staffini - 5, 5, 7, 7, 5, 5, 3, 4, ; 41
6. Mayhem, USA2241, Ashley Wolfe - 6, 3, 4, 6, 7, 8, 2, 7, ; 43
7. Interlodge, USA5210, Austin and Gwen Fragomen - 8, 9/DNS, 6, 5, 8, 7, 4, 2, ; 49
8. Highland Fling XII, MON888, Irvine Laidlaw - 7, 9/DNF, 8, 4, 6, 6, 8, 5, ; 53
IRC 3 (Shared start with High Performance)
1. Antilope, GBR46N, Willem Wester - 1, 1, 2, 1, 1, 1, 2, 3, ; 12
2. Vitesse, USA4240, Jon Halbert - 5, 6/DNF, 1, 3, 3, 4, 3, 1, ; 26
3. Sarah, USA52756, Greg Manning - 2, 4, 5, 5, 4, 2, 1, 4, ; 27
4. White Gold, USA4994, James D. Bishop Sr. - 4, 3, 4, 2, 5, 3, 5, 2, ; 28
5. Cool Breeze, USA60432, John Cooper - 3, 2, 3, 4, 2, 5, 4, 5, ; 28
Farr 40
1. Struntje light, GER40, Wolfgang Schaefer - 2, 3, 4, 2, 4, 3, 3, 2, ; 23
2. Charisma, MON69, Nico Poons - 5, 4, 2, 3, 1, 2, 4, 6, ; 27
3. Barking Mad, USA50955, James Richardson - 3, 8/DNF, 5, 5, 2, 1, 1, 5, ; 30
4. Enfant Terrible, ITA29141, Rossi Alberto - 7, 2, 1, 4, 7, 7, 2, 1, ; 31
5. Groovederci, USA7289, John Demourkas - 4, 1, 6, 1, 6, 4, 5, 7, ; 34
6. Flash Gordon, USA60002, Helmut Jahn - 1, 5, 3, 6, 5, 5, 6, 3, ; 34
7. Provezza 8, TUR1211, Ergin Imre - 6, 6, 7, 7, 3, 6, 7, 4, ; 46
Farr 400
1. Red, UAE400, Joe Woods - 1, 1, 1, 1, 1, 2, 2, 3, ; 12
2. Team Premier NorCal, USA403, H. Blackett & S. Shapiro - 3, 2, 3, 2, 3, 1, 3, 1, ; 18
3. Meridian X, USA404, W.S. Shelhorse - 2, 3, 4, 5, 2, 4, 1, 2, ; 23
4. BLADE, USA407, Mick Shlens - 4, 5, 2, 3, 5, 3, 4, 4, ; 30
5. Spaceman Spiff, USA406, Rob Ruhlman - 5, 4, 5, 4, 4, 5, 5, 5, ; 37
High Performance (Shared start with IRC 3)
1. Carbonado, CAN5, Rob & Sandy Butler - 1, 3, 2, 2, 3, 4, 2, 1, ; 18
2. Big Booty, USA60208, Pat Eudy - 2, 1, 4, 4, 2, 1, 3, 3, ; 20
3. Stray Dog, USA8668, Charles Engh - 3, 2, 3, 1, 1, 2, 4, 4, ; 20
4. XS, USA41204, Douglas Fisher - 4, 5/DNS, 1, 3, 4, 3, 1, 2, ; 23
Melges 32
1. Samba Pa Ti, USA13131, John Kilroy, Jr. - 1, 1, 5, 3, 4, 2, 4, 3, [5] ; 18
2. Pisces, USA230, Benjamin Schwartz - 3, 3, 1, 1, 6, 6, 8, 2, [8] ; 22
3. Heartbreaker , USA201, Robert Hughes - 10, 13, 6, 8, 2, 1, 3, 4, [13] ; 34
4. Warpath, USA32917, Stephen Howe - 12, 5, 15, 5, 3, 4, 6, 1, [15] ; 36
5. Hedgehog, BER1, Alec Cutler - 4, 2, 8, 4, 7, 13, 1, 13, [13] ; 39
6. Mascalzone Latino, ITA2121, Vincenzo Onorato - 2, 4, 2, 11, 9, 11, 2, 9, [11] ; 39
7. Mojo, USA157, Steve Rhyne - 6, 12, 10, 6, 8, 9, 14, 6, [14] ; 57
8. Swing, JPN233, Keisuke Suzuki - 11, 9, 4, 12, 5, 10, 7, 15, [15] ; 58
9. Catapult, USA134, Joel Ronning - 5, 6, 13, 14, 13, 12, 5, 7, [14] ; 61
10. Flat Stanley, USA126, T. Sheehan / T. McSweeney - 15, 16, 12, 9, 12, 3, 9, 8, [16] ; 68
11. Sicktrix32, USA178, Geoffrey Pierini - 9, 8, 3, 19, 10, 15, 20/RAF, 5, [20] ; 69
12. Celeritas, USA208, Malcolm Gefter - 8, 10, 17, 10, 1, 17, 11, 14, [17] ; 71
13. Robertissima 1, AUT1, Roberto Tomasini Grinover - 7, 14, 7, 7, 14, 8, 16, 17, [17] ; 73
14. Arethusa, USA211, Phil Lotz - 13, 18, 11, 13, 11, 5, 12, 11, [18] ; 76
15. Esmeralda, JPN218, Makoto Uematsu - 16, 19, 9, 2, 18, 14, 18, 10, [19] ; 87
16. Intac, IVB007, Mark Plaxton - 18, 7, 16, 16, 16, 7, 15, 16, [18] ; 93
17. SLED, JPN5095, Takashi Okura - 14, 11, 19, 18, 17, 18, 13, 12, [19] ; 103
18. Dark N'Stormy, USA151, Edward Tillinghast - 17, 15, 18, 15, 15, 16, 10, 18, [18] ; 106
19. Roxanne, USA77, Dario Galvão - 19, 17, 14, 17, 19, 20/OCS, 17, 20/BFD, [20] ; 123
Melges 24
1. West Marine Rigging/New England Ropes, USA820, Bora Gulari - 1, 1, 1, 1, 1, 6, 1, 1, [6] ; 7
2. WTF, USA811, Alan Field - 3, 2, 5, 3, 2, 1, 3, 3, [5] ; 17
3. Blu Moon, SUI825, Franco Rossini - 2, 3, 2, 8, 3, 3, 2, 2, [8] ; 17
4. Monsoon, USA747, Bruce Ayres - 5, 4, 3, 4, 4, 4, 4, 5, [5] ; 28
5. Convexity, USA619, Don Wilson - 6, 5, 4, 2, 6, 5, 6, 4, [6] ; 32
6. Navega Racing, USA829, Kurt Winkelmann - 8, 6, 6, 10, 5, 2, 5, 16/DSQ, [16] ; 42
7. Battle Rhythm, USA786, Guy Mossman - 4, 7, 7, 6, 9, 9, 10, 7, [10] ; 49
8. Party Girl, NOR800, Jens Altern Wathne - 7, 8, 8, 11, 12, 7, 7, 8, [12] ; 56
9. Zingara, CAN629, Richard Reid - 13, 11, 10, 5, 7, 10, 12, 6, [13] ; 61
10. Black Seal, GBR830, Richard Thompson - 9, 12, 9, 7, 11, 11, 8, 11, [12] ; 66
11. Hot Mess, USA118, Rob Britts - 10, 9, 11, 13, 8, 12, 9, 10, [13] ; 69
12. Tramp, USA708, Thomas Ritter - 11, 10, 12, 9, 10, 14, 11, 9, [14] ; 72
13. Mojito, USA12, Catharine Evans - 12, 13, 13, 12, 15, 13, 13, 13, [15] ; 89
14. Shockwave, USA312, Steven Boho - 14, 14, 14, 14, 14, 8, 14, 16/DSQ, [16] ; 92
15. Bologney Blowout!, USA106, Nate Duer - 15, 16/DNS, 15, 15, 13, 15, 15, 12, [16] ; 100
Farr 30
1. Groovederci, USA706, Deneen Demourkas - 1, 1, 1, 1, 1, 1, 1, 1, ; 8
2. Theend, USA316, Richard Goransson - 2, 2, 5, 2, 3, 2, 3, 6, ; 25
3. Mummbles, USA704, Brad Kauffman - 4, 4, 2, 3, 2, 3, 4, 5, ; 27
4. Gotcha, USA32, Nate Tower - 3, 3, 6, 5, 4, 5, 2, 4, ; 32
5. Rhumb Punch, USA41, John and Linda Edwards - 5, 5, 4, 4, 6, 6, 6, 2, ; 38
6. Just Plain Nutz, USA21, Norm Dean - 6, 6, 3, 6, 5, 4, 5, 3, ; 38
7. Farr 2 Tangley, CAN29, Ron Switzer - 8/DNC, 8/DNC, 8/DNC, 8/DNC, 8/DNC, 7, 7, 7, ; 61
J/80
1. Le Tigre, USA1152, Darden Hillard - 1, 2, 1, 3, 1, 2, 3, 1, ; 14
2. Rocad Racing, SWE243, Mikael Lindqvist - 8, 1, 4, 4, 6, 4, 1, 4, ; 32
3. Church Key, USA59, Chris & Liz Chadwick - 9, 8, 2, 2, 5, 1, 5, 3, ; 35
4. Vayu 2, USA156, Ron Buzil - 5, 4, 5, 5, 7, 5, 2, 5, ; 38
5. Rumor, USA19, John Storck Jr - 7, 7, 9, 1, 3, 6, 4, 2, ; 39
6. BAB - Team Gringo, USA1328, Ryan Glaze - 2, 3, 6, 7, 2, 3, 10, 12, ; 45
7. Savasana, USA1123, Brian Keane - 4, 5, 7, 6, 8, 7, 11, 9, ; 57
8. Tiamo, USA554, Bruno Pasquinelli - 6, 11, 3, 9, 9, 11, 9, 7, ; 65
9. Bob Dylan, USA176, Mike Sudofsky - 3, 6, 11, 12, 10, 9, 6, 10, ; 67
10. Andale, USA336, Al Poindexter - 10, 10, 10, 8, 11, 8, 8, 8, ; 73
11. CoolJ, USA1150, Alexander Kraus - 11, 9, 12, 10, 4, 12, 7, 11, ; 76
12. USA 11, USA11, Bert Carp - 12, 13, 8, 11, 12, 10, 12, 14, ; 92
13. Courageous, USA1313, Gary Panariello - 13, 12, 16, 14, 13, 13, 14, 6, ; 101
14. Blind Faith, USA153, Kristen Berry - 17, 14, 17, 13, 16, 16, 13, 13, ; 119
15. Bear Instinct, USA152 , Dave Manheimer - 16, 15, 13, 16, 18, 14, 16, 15, ; 123
16. Confederate Ram, USA120, Joe Corriher - 14, 17, 14, 15, 15, 17, 15, 17, ; 124
17. Frivolous, USA294, Daniel Goldberg - 18, 19/DNS, 15, 17, 14, 15, 18, 16, ; 132
18. Willy T, USA182, Jeff Jordan - 15, 16, 18, 18, 17, 18, 17, 18, ; 137
PHRF 1 (ToD)
1. Teamwork, USA52939, Robin Team - 2, 1, 3, 3, 1, 4, 3, 2, ; 19
2. Tres Hombres, USA35029, Kitterman, Tyer, Ghormley - 1, 3, 1, 2, 3, 1, 5, 4, ; 20
3. Mental, USA022, Paul Stahlberg - 3, 2, 6, 4, 4, 2, 1, 1, ; 23
4. Rush, USA51, Bill Sweetser - 5, 5, 2, 1, 2, 3, 4, 6, ; 28
5. Wicked 2.0, USA30, Douglas Curtiss - 4, 4, 5, 5, 5, 5, 2, 3, ; 33
6. Revolution, USA35037, Prelle, Buckner, Womack - 6, 6, 7, 6, 8, 10, 9, 5, ; 57
7. Heat Wave, USA144, Gary Weisberg - 10, 9, 4, 7, 9, 6, 6, 8, ; 59
8. Hot Ticket, USA25328, Mike Kirkman - 7, 8, 8, 8, 7, 7, 7, 10, ; 62
9. GameChanger, CAN35006, Marcie & Dave Smith - 9, 7, 10, 9, 10, 8, 8, 9, ; 70
10. Warlock, USA37, Tom Hickey - 8, 11/DNF, 9, 11/DNF, 6, 9, 10, 7, ; 71
PHRF 2 (ToD)
1. L'Outrage, USA73456, Bruce Gardner - 1, 2, 2, 1, 2, 1, 1, 1, ; 11
2. Tangent, USA53228, Gerry Taylor - 2, 1, 1, 2, 1, 12/DSQ, 3, 2, ; 24
3. Kalevala II, USA52439, Tapio Saavalainen - 3, 4, 3.5, 3, 3, 2, 2, 4.5, ; 25
4. Max Power, USA90, Gerrit Schulze - 4, 3, 5, 4, 4, 5, 5, 4.5, ; 34.5
5. Renegade, USA69329, Jim & Julia Graham - 5, 6, 3.5, 6, 5, 12/DSQ, 4, 3, ; 44.5
6. Still Crazy, USA18, Ed Palm - 7, 7, 6, 5, 7, 4, 7, 6, ; 49
7. Caribbean Soul 2, USA30157, David McAleer - 9, 11, 8, 7, 6, 4, 6, 7, ; 58
8. Island Flyer, USA96, Denny Manrique - 6, 5, 7, 8, 8, 9, 11, 11, ; 65
9. Bond ...James Bond, USA1007, Dave Whealon - 8, 10, 11, 10, 9, 6, 8, 8, ; 70
10. Nanuq, USA93555, Glenn Doncaster - 12/DNF, 9, 9, 9, 10, 7, 9, 9, ; 74
11. Waco Kid, USA60121, Martin Grow - 10, 8, 10, 11, 11, 8, 10, 10, ; 78
J Boats Subclass (ToT)
1. Teamwork (J), USA52939, Robin Team - 1, 1, 2, 2, 1, 3, 4, 2, ; 16
2. Rush (J), USA51, Bill Sweetser - 4, 4, 1, 1, 2, 1, 1, 4, ; 18
3. Mental (J), USA022, Paul Stahlberg - 2, 2, 5, 3, 3, 2, 2, 1, ; 20
4. Wicked 2.0 (J), USA30, Douglas Curtiss - 3, 3, 4, 4, 4, 4, 3, 3, ; 28
5. Heat Wave (J), USA144, Gary Weisberg - 7, 6, 3, 5, 5, 5, 5, 5, ; 41
6. Hot Ticket (J), USA25328, Mike Kirkman - 5, 5, 6, 6, 6, 6, 6, 7, ; 47
7. Warlock (J), USA37, Tom Hickey - 6, 8/DNF, 7, 8/DNF, 7, 7, 7, 6, ; 56
Back to top
Back to top