Wild Oats out of earshot
The crew of Wild Oats XI and Investec Loyal were well within shouting distance as they hit the line side by side for the start of the SOLAS Big Boat Challenge on Sydney Harbour today, but by the finish, Oats was well out of earshot.

In a lightning quick race, Bob Oatley's Wild Oats XI took the finish gun off the Opera House three minutes ahead of Anthony Bell's Investec Loyal. Grant Wharington's revamped 98 footer, Wild Thing, placed third; despite being late to leave the dock after making repairs to damage incurred during yesterday's storm in Sydney.

Oatley's prizewinning 100 footer, skippered by Mark Richards, shook out a reef in its new North 3Di mainsail in the pre-start, showing they meant business in the ongoing chest beating between them and same sized super maxi Investec Loyal.
With five Rolex Sydney Hobart line honours wins and now five SOLAS Big Boat Challenge bullets under their belts, Richards and the rest of the crew can feel confident they are as well prepared as ever for the looming start of the great race, the Rolex Sydney Hobart.

"It's a good, tight knit team and they back each other really well," said Wild Oats XI skipper Mark Richards of his experienced crew.

The 14 nautical mile SOLAS Big Boat Challenge is a spectacular, adrenaline charged spin around the block whereas the 628 nautical mile Rolex Sydney Hobart is nothing short of an endurance test, but a win is a win and Bob Oatley has walked away content.

"We are getting very good at coming second to Wild Oats," conceded Investec Loyal owner/skipper Anthony Bell, sighting issues with their furling spinnaker as one of their time wasting on board dramas.

For the upcoming blue water classic Bell admits, "Wild Oats is the benchmark of Australian yachting. We have to be within striking distance [of them] and we are doing everything we can to do that".

Kurt Fearnley, Olympic wheelchair racer and crewman on Investec Loyal, gave his take on today's Harbour sprint, admitting "it was good to be on the boat while it's angry".
On Sydney Harbour south sou'westerly winds averaged 18 knots with gusts up to 23 knots out of Rose Bay and Rushcutters Bay as the fleet screamed up and down the course, side on to the prevailing breeze.

Marcus Blackmore's TP52 Hooligan won the day on overall handicap. Stephen Ainsworth's RP63 Loki, which is again a favourite for a Rolex Sydney Hobart overall win, was second overall.

Peter Millard and John Honan's 98 foot maxi, Lahana, showed its IRC handicap potential in a decent wind with a third place overall.
The SOLAS Big Boat Challenge marks the start of the busy lead up to the Rolex Sydney Hobart and is one of the Cruising Yacht Club of Australia's major fundraising events for its Safety of Life at Sea Trusts.

A number of guests who successfully bid on eBay as part of SOLAS fundraising efforts enjoyed today's whirl around the harbour as guests on competing yachts.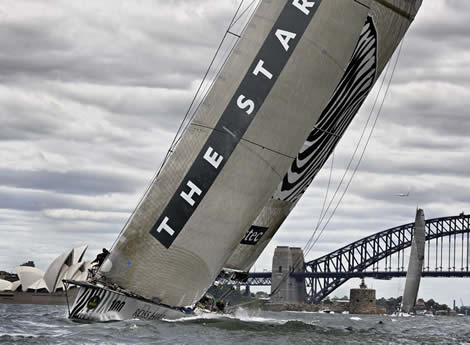 Back to top
Back to top