French teams come good
Ideal racing conditions returned to San Diego on Sunday, with 6-10 knot westerlies and bright sunny skies. Four races – one of approximately 40 minutes and three at 18-20 minutes – were held with the wind topping out around 14 knots in some puffs.
Crowds poured into the America's Cup Village to watch the racing which at time brought the boats just a few yards from the viewing points along Broadway and Navy Piers.
Emirates Team New Zealand may have been the last crew to arrive in town on Friday and skipper Dean Barker had never sailed in San Diego ahead of Saturday's first race, but his team didn't miss a beat, winning the Port Cities Challenge on this opening preliminary weekend of the America's Cup World Series.
"The teams are doing more and more sailing, so the standard is getting higher and higher," said Barker. "I think in a venue like this that's quite tricky you'll see a lot of place changes. So it's going to be about staying consistent."
The Kiwis were certainly that. Despite winning just one of the six races, and being squeezed out of the start in race four, they had five finishes in the top three to win by a comfortable seven points over Oracle Racing Spithill. Artemis Racing was third, one point further back
On Saturday, China Team won a race for the first time at AC World Series and on Sunday it was the French teams in the spotlight. First it was Aleph with new skipper Pierre Pennec at the helm, who took a win in race four. But not to be outdone, Energy Team sailed a flawless race six with skipper Yann Guichard to claim their first team win.
"It's a fantastic day for Aleph," said Pennec after racing. "The wind was very shifty, but it was sunny, there was enough wind to fly the hull and we won our first race so a great day for us."
"By the fourth race the crew was very tired," said Guichard, describing his winning race. "But we didn't make any mistakes and to get a first bullet for our team is really perfect."
Oracle Racing Spithill ended up second. "We never nailed a start," said Spithill. "We were okay, conservative, mid-pack. I thought the guys sailed very well in the pack. Every time we were able to climb forward and get out of it. Boathandling was really physical today and JK did good job on the wind. I was happy with our damage control but we have to do a better job on the line to win races."
Oracle Racing Coutts finished the regatta in seventh place with 33 points. New skipper Darren Bundock, an accomplished multihull sailor, said it was an average day where nothing seemed to go their way. "We didn't have good starts and when we made up a bit of ground we would generally lose it," said Bundock. "We also had an OCS and a penalty. I guess if you can get those sorts of things out of the way in one day that's the way to do it; practice race is the time to get it wrong."
The Chris Draper-led Team Korea ended up sixth, her best result being in race four when she was twice penalised, oncee for infringing Artemis at the first gybe, and another for sailing out of the course boundary. Remarkably the 'White Tiger' managed to claw back to finish second.
Chris Draper commented afterwards, ''I think it's apparent that the fleet is getting a little bit 'deeper', and other teams have been training a lot since Plymouth, and made a few crew changes which have made them stronger. It was a lot harder to sail through the fleet like we have been able to in the past, and we're having to wait for the opportunity to pass boats now.
"We were actually a little disappointed to drop to 6th overall in the event as we sailed some good races today, but unfortunately in the final one we had a boat handling error when the spinnaker sheet was tangled which slowed us down and affected the final results. Apart from that we feel a lot happier with how we sailed compared to yesterday and we've learnt a lot from this weekend. I think we've proven that we've got some good pace, we are very pleased with one of the new Doyle sails, and we're looking forward to the rest of the regatta."
Representatives of the five Port Cities were onboard the race boats during the first contest of the day. Coast Guard Commander Michael Leo Guerrero won bragging rights for the Port City of Chula Vista on Oracle Racing Spithill, racing to a second place finish ahead of the other boats representing Port Cities, to claim the 'fastest Port City' designation.
"It was awesome, just great," said Commander Guerrero, who was representing Chula Vista for Mayor Cheryl Cox. "The boats are phenomenal, and to go that fast, is really amazing. We hear a lot about the technology that's behind these boats, and now I can say I've seen it in action."
Results:

| | | | | | | | | | |
| --- | --- | --- | --- | --- | --- | --- | --- | --- | --- |
| Pos | Team | Skipper | R1 | R2 | R3 | R4 | R5 | R6 | Tot |
| 1 | Emirates Team New Zealand | Dean Barker | 2 | 3 | 1 | 7 | 2 | 2 | 49 |
| 2 | ORACLE Racing - Spithill | James Spithill | 3 | 8 | 2 | 5 | 3 | 3 | 42 |
| 3 | Artemis Racing | Terry Hutchinson | 1 | 4 | 6 | 9 | 1 | 5 | 41 |
| 4 | Energy Team | Yann Guichard | 7 | 5 | 3 | 4 | 6 | 1 | 40 |
| 5 | ALEPH | Pierre Pennec | 8 | 7 | 5 | 1 | 5 | 4 | 36 |
| 6 | Team Korea | Chris Draper | 6 | 9 | 4 | 2 | 4 | 7 | 35 |
| 7 | ORACLE Racing - Coutts | Darren Bundock | 4 | 2 | 8 | 3 | 8 | 8 | 33 |
| 8 | China Team | Charlie Ogletree | 5 | 1 | 7 | 8 | 7 | 6 | 32 |
| 9 | Green Comm Racing | Vasilij Žbogar | 9 | 6 | 9 | 6 | 9 | 9 | 22 |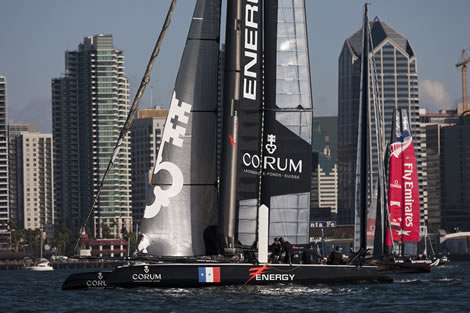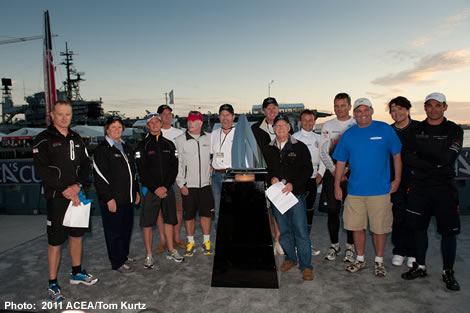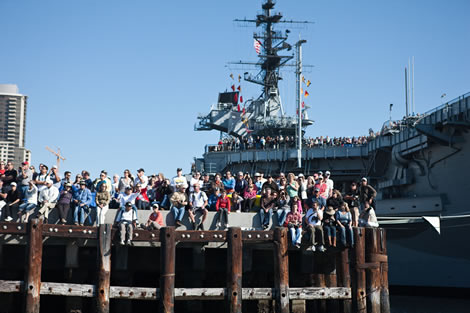 Photos by Christophe Favreau/www.christophefavreau.book.fr: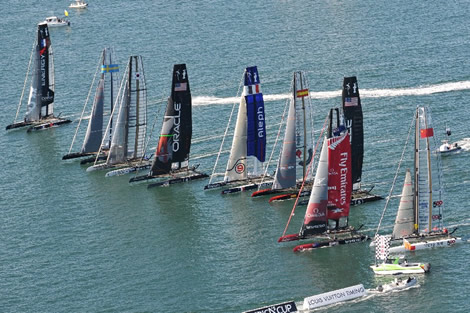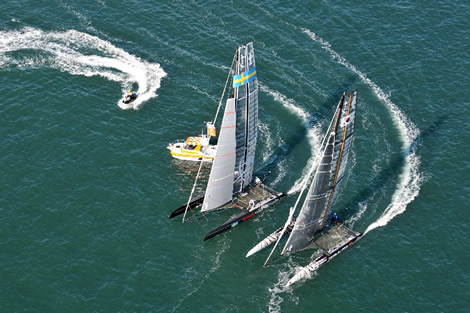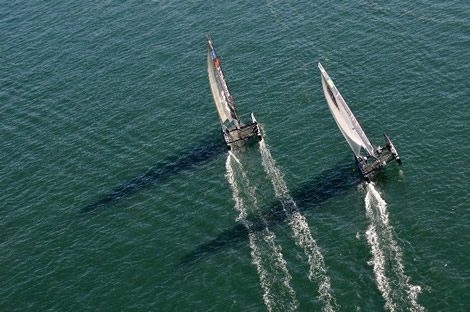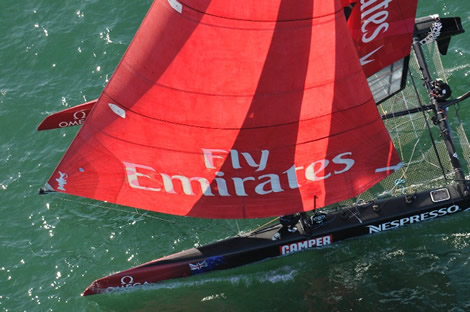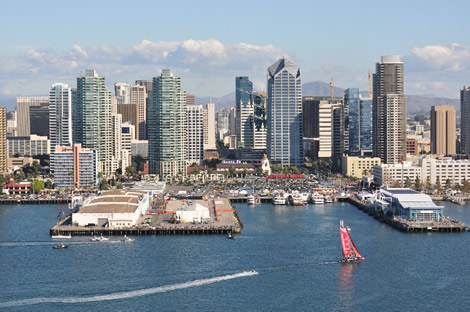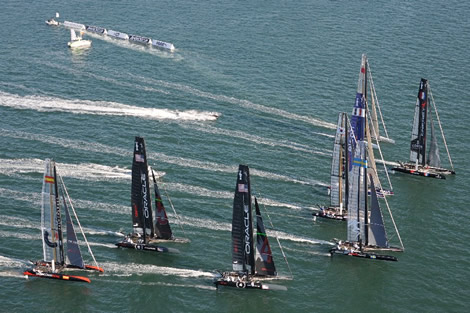 Back to top
Back to top