Ben Ainslie catamaran sailor
Ben Ainslie has just completed a three regatta stint on the Extreme Sailing Series as skipper of Oman Air following the departure of Sidney Gavignet, who will be taking up the reigns of the Omani MOD70 trimaran when it is launched next year.
At the launch of the Team Volvo app on Wednesday Ainslie told us his catamaran debut represented a break from eight months of intensive Finn sailing, building up to Skandia Sail for Gold and the pre-Olympics. It was also an opportunity to try his hand at some multihull racing. "I thought that was the perfect environment to go in at a high level of racing and hopefully do a good job for the team, but also learn a lot of new skills - the physical aspect of sailing the boat and understanding the no-go zones and all that side of it. Tactically I learned a lot. The downwind tactics are very different from even high performance monohulls, positioning the boat, etc. Obviously the manoeuvring is slow so understanding that and the trade-offs between an extra tack or gybe as opposed to not taking a shift, which are very very different to all the racing I have done before. I did learn a lot and enjoyed that aspect of it."
Since there are plenty of rumours at the moment that Oman Sail is one of the teams contemplating participation in the 33rd America's Cup or at least the AC World Series, it doesn't take too much brainpower to join the dots. Ainslie acknowledges that after the Olympic Games next August he would like to sign with a Cup team, but of a possible Omani challenge with him in charge he says: "I haven't spoken to them about that. They are a great team and they could absolutely do fine with the people they have involved."
There are also murmurings of a British AC presence this time around, although Ainslie says he knows nothing more about this, but points out that this would have to be solely an AC45 campaign at this stage as to enter the 34th America's Cup proper build work would have already have to have started on a team's first AC72. Setting up a campaign for the America's Cup World Series though would represent a solid foundation from which to launch a full blown campaign for the 35th America's Cup.
Already involved with the ACWS are more Brits across the team than there ever have been, many migrating across from the Extreme Sailing Series, such as Chris Draper, Matt Cornwell and Mark Bulkeley on Team Korea, but also the likes of Olympic sailors Chris Brittle, Peter Greenhalgh and Ed Wright and of course Iain Percy on Artemis Racing, where the UK's top wingman Adam May works on Juan K's design team.
"Undoubtedly we have got the talent in the UK on the design side and sailing side and pulling it together with strong management and backing and avoiding all the politics - if you did that, then you could certainly have a successful team," says Ainslie. "I think you are going to see more new teams coming in and giving the established teams a hard time. I think it will be a different story with the 72s when it will come down to extreme boat handling and team management and all those things will come into play a lot more and there will be a bigger gap between the haves and have-nots."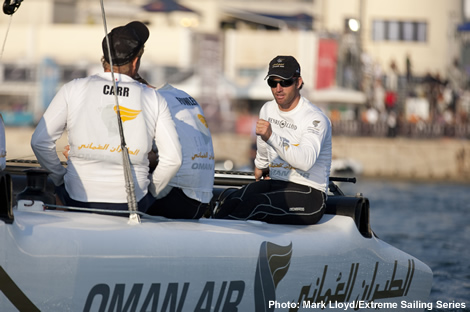 As to his progress, Ainslie acknowledges that three Extreme Sailing Series regattas maketh not a multihull skipper, but with Oman Air podiuming at two of the three events when he was at the tiller, beating Emirates Team NZ in all three, he is clearly off to a good start.
"After the Games, whether or not I am involved with this next Cup, those skills I have learned – I have a long way to go, don't get me wrong – but it has certainly helped me to understand the game, so, should I get involved after next summer, I'll have a better understanding of what I am taking on," says Ainslie. "It is important to be involved with the AC in some way just to keep on the pace, because the people involved this time around are going to learn so much, especially with the 72s that if you are not involved it is going to be really hard to catch up."
When it was announced that the 34th America's Cup would be held in multihulls, Ainslie was not that enthusiastic, to put it mildly. However he is coming round and even if it is in multihulls, the America's Cup is still the yacht racing world's biggest event.
Ainslie says he watched the America's Cup World Series regattas in Cascais and Plymouth on YouTube and was impressed, not just by the racing, but by the television offering. "It was certainly the best sailing I've ever seen, the most exciting and the presentation and everything I thought it was amazing, so they have a chance of selling that, and getting it out to the prime networks and if that happens then that really kick starts everything else. The boats look amazing, fun and the guys you talk to racing the boats they say it is bloody hard work, but a lot of fun."
He continues: "The fleet racing I thought was fantastic. The match racing is tough, but it is tough in monohulls as well - if one boat makes a big mistake then the race is pretty much over and I think that is highlighted more in multihulls because of the speed differences. So there are issues which they are looking at trying to resolve to make the match racing element more exciting and closer."
The America's Cup is also trying to embrace the concept of 'stadium sailing' as has been pioneered in recent years by the Extreme Sailing Series. However, while he understands the concept, Ainslie warns there is a fine line between the 'show' compromising the racing. "I take the viewpoint with the Extreme Sailing Series that it is stadium racing, it is specifically a show. While they are trying to put on decent racing the purpose of it is to attract crowds and for it to be a success in that respect. So there were a couple of times I felt it crossed the line between being a good challenge and decent racing to boats going around, putting a show on for the crowd, even though there was no wind. I think that is very important with the America's Cup that it doesn't cross that line, because of the integrity of the event and everything that goes into it. But it is obviously very difficult. While everyone gets frustrated with some of the racing at the Extreme Sailing Series, we still understand that the event wouldn't be there if it wasn't trying to pull that off. 80% of the time it is great, there are just a few periods when it frustrates everybody."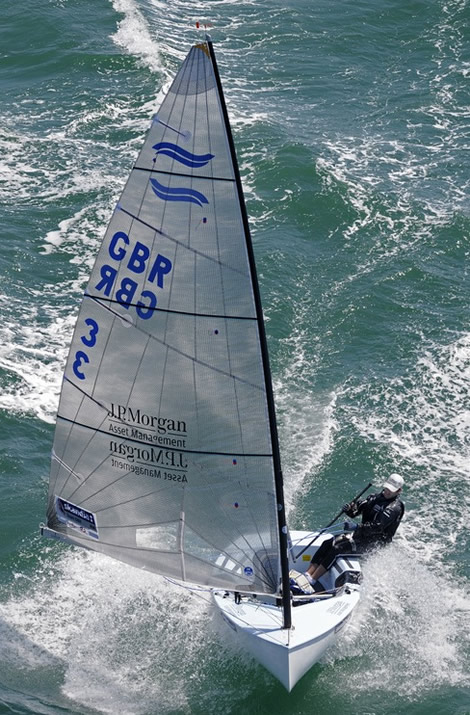 As to the Finn, Ainslie says he is just getting back into it. He is off to Perth next week where he will be training for five weeks in the build-up to Perth 2011, ISAF's multiple world championships starting on 3 December. Training will initially be with his training partner Mark Andrews before they are joined by Giles Scott and Andrew Mills.
Obviously with Ainslie selected to represent the UK in the Finn at the Olympic Games next year, there is the potential for the rest of the Finn squad to lose the fire in its belly. However the youngsters are now looking to Rio 2016, Ainslie hopes. "They are taking the viewpoint that they have done all this training and they should keep going for Perth - it is an ideal venue for those guys because they are all big and strong so a heavy air venue suits them very well. So hopefully we can keep that going through until next summer. They have always been very supportive and hopefully that will continue to be the case."
So Ainslie already has his Olympic berth for 2012 and with the UK being the host nation there is no requirement for the Brits to country qualify. So what does he hope to get out of Perth? "It is just about keeping the intensity going for a little bit. Finishing in August and then not competing again until the World Championship [in Falmouth, UK over 10-18 May], that is too long to take away from competitive sailing."
Ainslie says he won't be doing any other regattas in Australia nor will he be going to the Rolex Miami OCR, which he says doesn't offer suitably Weymouth-like conditions.
As to his future beyond London 2012, Ainslie says a lot depends on what happens with the Star class. "I keep saying it, but it [the Finn] is bloody hard physically and I'm not sure how much the body can keep it up. It is much harder physically that it was for 2004." Although he adds that he is fitter and stronger than he has ever been.
Rewind a little...isn't the Star supposed to be out of the running as equipment for Rio 2016? Rumour has it that with Torben Grael and Robert Scheidt being so strong in the men's Olympic keelboat, the Brazilian hosts are attempting to get the Star reinstated as an extra class for their Games. And this would be mean that Ben probably go up against Iain Percy and Andrew Simpson, assuming they go again, and if he wins this no small contest, he could ultimately end up racing his old Laser adversary from the Sydney Games. That would be something.

To see the video below in its full screen glory, click on the bottom RH button in the viewer.
You need Flash Player 8 or higher to view video content with the Kit Digital Flash Player. Click here to download and install it.
Back to top
Back to top