Emirates Team New Zealand T-boned
On a day when the wind arrived in Almeria, bringing up to 18 knots, the action ramped up a few gears. The spectators were treated to a spectacular display of Extreme 40 close combat racing inside the stadium of the port of Almeria. The Swiss team of Alinghi lead overall havin scored three firsts and three seconds in the ten races today – Tanguy Cariou's team head into the final day with an 18 point advantage over Italy's Luna Rossa and any of the top seven teams are still in contention for a podium place here at the penultimate event of the 2011 Extreme Sailing Series.

The public who came to watch today saw over four hours of full-on racing, the 11 Extreme 40 teams were competing within touching distance of the shore and each other, hulls flying with gennakers up and a two boat smash in the penultimate race. The victims, Emirates Team New Zealand hit by Groupe Edmond de Rothschild – the sound of the collision stopped the crowd in their tracks and ended the Kiwis day with a gaping hole in the stern of their port hull. Back on shore the damage also proved too extensive to repair overnight and the regatta is over for Adam Beashel's team: "We were comfortably sailing on starboard tack with Groupe Edmond de Rothschild sailing behind us and we were not paying much attention to them as we were assuming they would dip us," Beashel described the incident. "It was only at the last second that I saw them bow down behind us, trying to get behind, but there just wasn't any room. There was a loud bang and a collision and they went into our transom. Unfortunately it's not going to be an overnight fix either so this is the end of the regatta for us. The boat can be fixed before Singapore and we can only hope that we have done enough in the interim and let the jury decide how it is best decided on from here. Hopefully, it will turn into something salvageable for the season."

The 11 Extreme 40 teams are pushing their machines to the limit for victory and today saw a number of teams jumping the start line. In this game it can all be about the start, but get it wrong and the punishment is severe. It was about slick crew work and staying out of trouble, for some that was not possible. "Luna Rossa were on our right and we were trying to avoid the collision as much as we can, but Luna Rossa is not giving us any water and we can't avoid the contact with Emirates Team New Zealand," said Pennec. "I went to discuss with CJ [Paul Campbell-James helmsman on Luna Rossa] when we were back on the pontoon because we are all making some mistakes on the water, but there is no point to break the boats. I'm not really happy and I'm really sorry for Emirates Team New Zealand."

The battle lines for the final day are drawn and tensions are high. The leaderboard is close but the sailors focus less on the points than the overall strategy for victory as Luna Rossa's skipper Max Sirena explained: "The objective for today was really to sail better than yesterday when we made some big mistakes which cost us a lot of points. Luckily today the conditions were great with some strong wind and flying hulls, which we haven't done for a long time. We had a few tight situations with Groupe Edmond de Rothschild and a few other guys, but we managed pretty well to come out clean. We are surprised to be second but tomorrow is the final day and there are still a lot of points to fight for."

The action came thick and fast today in a mix of open water and stadium racing as Beashel explained: "It's quite a lot when you are racing in such a confined spot, with brick walls on three sides… A lot of things start to happen pretty quickly and the boat speeds are a lot quicker, and as you can see when you have accidents at speed the results can be pretty damaging. It's all part of the game when you come to venues like this and it's fantastic for the spectators but it is pretty nerve-wracking sailing for us! Trying to duck and weave your way in and out of the boats trying to tactically position yourself to come out in front and at the same time trying to avoid any damage."

Overnight leaders, Team GAC Pindar, were knocked off the top spot by the second race of the day by Alinghi – Ian Williams' team tumbled to seventh overall by the end of play. Others revelled in the breeze with Leigh McMillan's The Wave, Muscat, Roman Hagara's Red Bull Extreme Sailing and Ben Ainslie on Oman Air all scoring race wins, but it was the consistency that paid off for Alinghi. With 43 points separating the top seven teams and potentially over a 100 points up for grabs going into the double-points final race, anything can still happen.
At the other end of the leaderboard, Roland Gaebler's Team Extreme with Spanish Tornado Olympic medallist Anton Paz on board is in a close battle with the other Italian team, Niceforyou skippered by Alberto Barovier, as Alex Schneiter's team on the new Team Tilt are still getting up to speed here in their debut. As the wise Max Sirena predicted: "Nothing is set yet!"

Extreme Sailing Series Almeria, results
Position / Team / Points

1st Alinghi (SUI), Tanguy Cariou / Yann Guichard / Nils Frei / Yves Detrey 187 points
2nd Luna Rossa (ITA), Max Sirena / Paul Campbell-James / Alister Richardson / Manuel Modena 169 points
3rd Groupe Edmond de Rothschild (FRA), Pierre Pennec / Christophe Espagnon / Thierry Fouchier / Hervé Cunningham 162 points
4th The Wave, Muscat (OMA), Leigh McMillan / Kyle Langford / Nick Hutton / Khamis Al Anbouri 159 points
5th Oman Air (OMA), Ben Ainslie / Kinley Fowler / David Carr / Nasser Al Mashari 157 points
6th Red Bull Extreme Sailing (AUT), Roman Hagara / Hans Peter Steinacher / Matt Adams / Craig Monk 155 points
7th Team GAC Pindar (GBR), Ian Williams / Mischa Heemrskerk / Andrew Walsh / Brad Webb 144 points
8th Emirates Team New Zealand (NZL), Adam Beashel / Ray Davies / Jeremy Lomas / Derek Seward 142 points
9th Team Extreme (EUR), Roland Gaebler / Nahid Gaebler / Antón Paz / Tom Buggy 100 points
10th Niceforyou (ITA), Alberto Barovier / Stefano Rizzi / Daniele De Luca / Simone de Mari 94 points
11th Team TILT (SUI), Alex Schneiter / Boet Brinkgreve / Charles Favre / Nicolas Heintz 93 points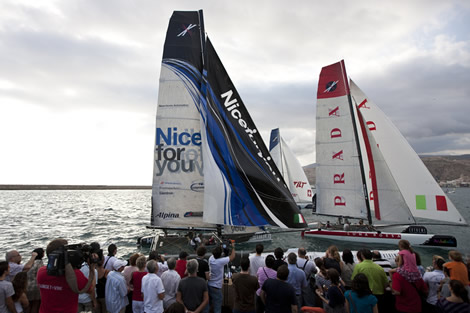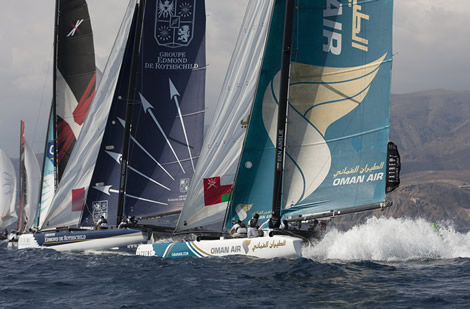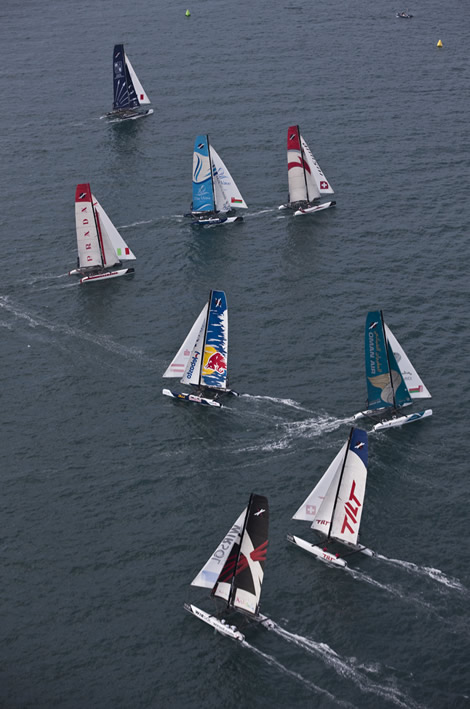 Back to top
Back to top