Team GAC Pindar into the lead for the first time
ISAF World Match Racing Champion, Ian Williams, has helmed Team GAC Pindar to the top of the leaderboard at the halfway stage of the Extreme Sailing Series Almeria. This is the first time his team has ever led the overall standings in the 2011 global tour.
The third day of the penultimate round in Spain, ahead of the final in Singapore, saw three different teams take the lead throughout the afternoon. Five races were completed today – two in open water and three inside the port of Almeria in stadium mode. Ben Ainslie helming Oman Air went into day three leading but nothing seemed to go their way today, and Emirates Team New Zealand pounced with the Adam Beashel-helmed team taking the top spot after the first race held in open water in a reasonable sea breeze. The Kiwis defended their position, despite not scoring a race win and losing a crew overboard in the second race, as Alinghi and Groupe Edmond de Rothschild dominated at the front with two wins for the Swiss team and a victory for the French. But always in the background was Team GAC Pindar sailing consistently – a 4th, 5th, then a second, gaining their momentum until they were on equal points with Emirates Team New Zealand at the top. Tanguy Cariou's team, helmed by Yann Guichard, won the second stadium race in light airs and leap-frogged into the lead.
Going into the final stadium race of the day, Alinghi and Team GAC Pindar were on 89 points each and further down the leaderboard the points situation could not have been closer with only 1 or 2 points separating the top eight boats in a tactical game of snakes and ladders throughout the afternoon. The faltering sea breeze seemed to recognise the importance of the final day's race and revived itself to allow the boats to show a good turn of speed on the short course. The Wave, Muscat and Team Tilt got a flying start ahead of Team GAC Pindar while Alinghi got stuck mid-fleet off the start, and that was that. Williams' team was away and never looked back, third place enough to take the lead going into the penultimate day of racing tomorrow.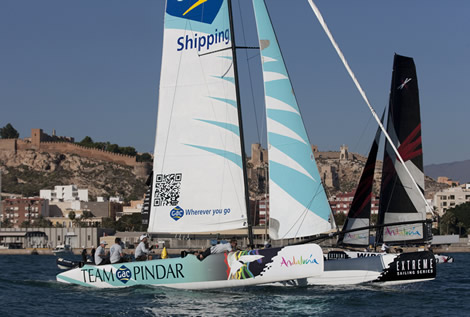 "It was a really good day for us and we finished on the top half of every single race today," said Williams. "For sure we will be fighting to try to retain the lead. Looking at the points it's almost like a restart. We were 20 points behind last night and now we are 2 points ahead the second boat. It's extremely tight, we will going down to the wire!"
The weekend crowd is in for a treat as the forecast is showing a significant turning up of the wind speed dial for tomorrow and on Sunday the final battle will be played out to determine who wins in Almeria, and who will lead the 2011 Championship rankings going into the final Act. "Obviously with only two days to go we know by experience that anything can happen," said Alinghi skipper, Tanguy Cariou. "We're happy with that position tonight but we know that it will be even harder to keep it than to get it…" He is right about that – the all-French team of Groupe Edmond de Rothschild, the Italians on Luna Rossa, the Kiwis on Emirates Team New Zealand and the Brits on Team GAC Pindar will be fighting them all the way…
Extreme Sailing Series, Almeria, results after 14 races
Position / Team / Points
1st Team GAC Pindar (GBR), Ian Williams / Mischa Heemrskerk / Andrew Walsh / Brad Webb 98 points
2nd Alinghi (SUI), Tanguy Cariou / Yann Guichard / Nils Frei / Yves Detrey 95 points
3rd The Wave, Muscat (OMA), Leigh McMillan / Kyle Langford / Nick Hutton / Khamis Al Anbouri 93 points
4th Emirates Team New Zealand (NZL), Adam Beashel / Ray Davies / Jeremy Lomas / Derek Seward 90 points
5th Luna Rossa (ITA), Max Sirena / Paul Campbell-James / Alister Richardson / Manuel Modena 88 points
6th Groupe Edmond de Rothschild (FRA), Pierre Pennec / Christophe Espagnon / Thierry Fouchier / Hervé Cunningham 85 points
7th Red Bull Extreme Sailing (AUT), Roman Hagara / Hans Peter Steinacher / Matt Adams / Craig Monk 84 points
8th Oman Air (OMA), Ben Ainslie / Kinley Fowler / David Carr / Nasser Al Mashari 80 points
9th Team Extreme (EUR), Roland Gaebler / Nahid Gaebler / Antón Paz / Tom Buggy 70 points
10th Team TILT (SUI), Alex Schneiter / Boet Brinkgreve / Charles Favre / Nicolas Heintz 62 points
11th Niceforyou (ITA), Alberto Barovier / Stefano Rizzi / Daniele De Luca / Simone de Mari 59 points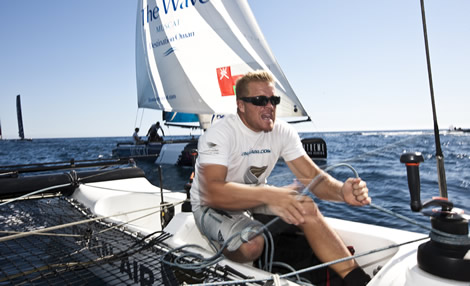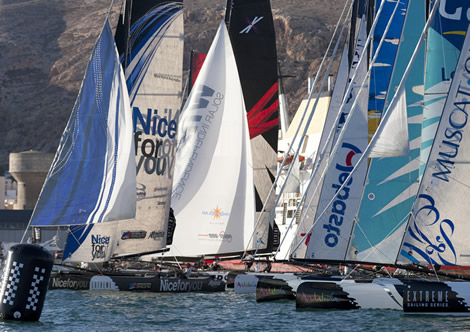 Back to top
Back to top