Victory for Groupe Edmond de Rothschild
The all-French team of Groupe Edmond de Rothschild celebrated victory today at the Extreme Sailing Series in Nice, France, only securing their win in the final moments of the final race. It was an incredible finish, played out in low wind speeds, but with plenty of high drama. The thousands of spectators lining the famous Promenade des Anglais, the VIP guests and media were all enthralled by the tense finish…
The 11 international Extreme 40 teams competed in 29 races over five days of competition, at the Extreme Sailing Series debut in Nice with a mix of open water courses and stadium racing with the course was set just meters off the beach.
Going into a final double points race, Groupe Edmond de Rothschild, skippered by Pierre Pennec, was in a dangerous position with the Swedish team of Artemis Racing trailing them by just three points. It meant that if Artemis Racing finished ahead of Pennec's team, they could not afford to finish less than one place behind to guarantee victory. Terry Hutchinson's team on board Artemis Racing, jumped the gun at the start, and had to re-start, as Groupe Edmond de Rothschild sailed away. Hutchinson's crew made up swift ground and, unbelievably, got ahead of Pennec. The French team was clinging on, one place behind, only to incur a gybe penalty. Pennec's team came out of the penalty, but was it too late for them to get back in contention? From the shore it certainly looked to be the case, but the French crowd kept on cheering to encourage the team to keep going. In the end, it was Britain's Ben Ainslie who drove Oman Air across the finish line first to claim the final race win, but Groupe Edmond de Rothschild held their nerve and crossed the line just a few seconds and, importantly, just one place behind Artemis Racing. They had done it! Their second victory of the 2011 Extreme Sailing Series, after the inaugural compeition this year in Muscat, Oman, that also places them in the overall lead in the 2011 series standings.
"I feel really happy especially about what we have achieved after the Cowes regatta," said Pierre Pennec. "We have improved on onboard communication and how we work as a team. This is crucial moving into the end of the season because to win out of luck is good, but to win feeling that the level of our team has gone up a notch is even better. I don't feel the pressure of being at the top of the leaderboard in the overall championship. I stopped giving myself a hard time after the events in Boston and Cowes. I think that the crew manages to reach a high level especially in the crucial races. I try to sail as best as I can in each Act and not to make mistakes and above all to think about each race, and not the overall result. I never said to myself that we were going to win here in Nice."
It was a bitter pill for the Artemis Racing team to swallow, missing out on victory by just one point, especially for skipper Terry Hutchinson who missed out at the Boston, USA, event in a similar scenario against Dean Barker's Emirates Team New Zealand.
Alinghi completed the podium in third place holding off a challenge from the Italian Luna Rossa team: "Overall, third is a good result but we are a little disappointed," said skipper Tanguy Cariou. "We were better yesterday and I think that we had the potential to do better today but we lost the rhythm compared to Artemis Racing or Groupe Edmond de Rothschild, so congratulations to them."
For three-time Olympic gold medalist Ben Ainslie, skipper of Oman Air, he had a frustrating event even though the team managed to climb from seventh yesterday to finish fifth in the overall results. Disappointed not to be on the podium as they were in Trapani, Ainslie will skipper the team again at the penultimate event in Almería.
Nicolas Legal was victor in the NeilPryde RS One Racing Series here in Nice, after a series of races staged off just the beach on the Baie des Anges over the weekend. For Jean-Pierre Dick who competed in his first Extreme 40 event as skipper of Team Extreme Cote d'Azur it was an experience he enjoyed even if the 'stadium' was much smaller than the round the world stage he normally competes on: "We had a lot of fun," said Dick. "It was great to be here in Nice, in my hometown, surrounded by these top skippers."
With seven of the nine-event world tour now completed, the skippers contending for the 2011 overall title will only have that on their minds at the penultimate event in Almería, Spain (12-16 October) and the final in Singapore (7-11 December) as Max Sirena, skipper of Luna Rossa, confirmed: "We are still in the game being second for the 2011 championship but we don't feel very happy about our performance here in Nice. We need to do better in Almería to have a chance to win in Singapore."
Extreme Sailing Series, Nice standings after 29 races
Position / Team / Points
1st Groupe Edmond de Rothschild (FRA), Pierre Pennec / Christophe Espagnon / Thierry Fouchier / Hervé Cunningham 229 points
2nd Artemis Racing (SWE), Terry Hutchinson / Sean Clarkson / Morgan Trubovich / Julien Cressant, 228 points
3rd Alinghi (SUI), Tanguy Cariou / Yann Guichard / Nils Frei / Yves Detrey 215.5 points
4th Luna Rossa (ITA), Max Sirena / Paul Campbell-James / Alister Richardson / Manuel Modena 209 points
5th Oman Air (OMA), Ben Ainslie / Kinley Fowler / David Carr / Nasser Al Mashari 185 points
6th Red Bull Extreme Sailing (AUT), Roman Hagara / Hans Peter Steinacher / Will Howden / Craig Monk 179.5 points
7th Emirates Team New Zealand (NZL), Dean Barker / Adam Beashel / Jeremy Lomas / Chris McAsey 163 points
8th Team GAC Pindar (GBR), Ian Williams / Mischa Heemrskerk / Andrew Walsh / Brian MacInnes 160 points
9th The Wave, Muscat (OMA), Leigh McMillan / Kyle Langford / Nick Hutton / Khamis Al Anbouri 156 points
10th Team Extreme Nice Côte d'Azur (FRA), Jean-Pierre Dick / Jérémie Beyou / Billy Besson / Arnaud Jarlegant 119 points
11th Niceforyou (ITA), Alberto Barovier / Stefano Rizzi / Daniele De Luca / Simone de Mari 118 points
Extreme Sailing Series 2011 - overall standings
Position / Team / Points
1st Groupe Edmond de Rothschild 61 points
2nd Luna Rossa 59 points
3rd Emirates Team New Zealand 54 points
4th The Wave, Muscat 52 points
5th Red Bull Extreme Sailing 49 points
6th Artemis Racing 48 points
7th Alinghi 48 points
8th Oman Air 38 points
9th Team GAC Pindar 21 points
10th Niceforyou 16 points
11th Team Extreme 15 points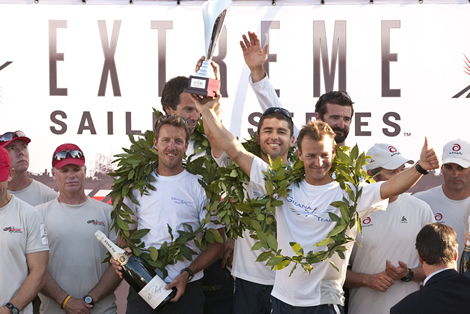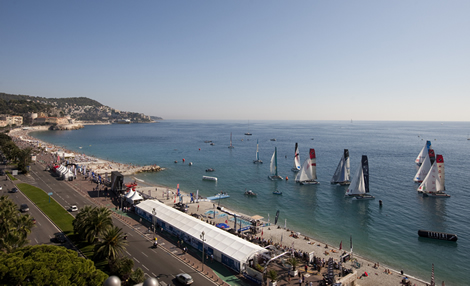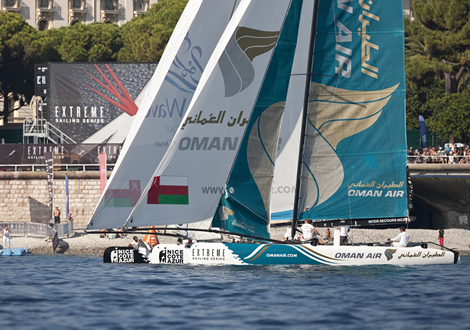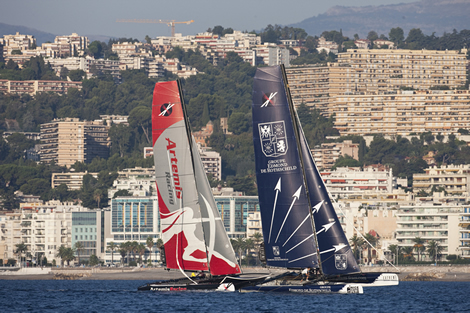 Back to top
Back to top