Quantum Racing within striking distance
With the pressure on them to extinguish the late season charge towards the 2011 Audi MedCup Circuit 52 Series title of Spanish favourites Bribon, the Quantum Racing crew stepped up to the plate and delivered what was probably their most accomplished performance of the five months long season.
Having whittled their circuit title deficit on the long time leaders all the way back to to seven points, Bribon were victims of a neatly executed game plan from the get-go. Quantum Racing (USA) not only regained the upper hand in the championship title duel but also went on to deliver a morale boosting race win to boot. And while Quantum Racing's day was one of their best, Bribon lost places in a tight finish to cross sixth in the first race, then sailed to a fourth. That made it their worst pair of scores since July's first day of the Region of Sardinia Trophy in Cagliari.
In contrast Quantum Racing, skippered by America's Cup winner Ed Baird, Rán backed up their bullet with a good second place behind in the subsequent race. That ensures Quantum Racing's target for the final day of the season is a very modest one.
With a worst case score of 16 points on the table – assuming they start both races – Quantum Racing have a cushion of 14 points.
So the title champagne may be iced for the American-flagged and supported programme which won the Audi MedCup circuit in 2008, but so too the real celebratons are on hold in the Soto 40 fleet.
Iberdrola Team know they cannot be beaten for the inaugural Soto 40 title after the first of three races today, but the Spanish crew - who have had their boat longest, are dead set on making sure they win the final regatta too. They lead the Barcelona regatta by two points and want to be sure they would have won regattas in all four countries that the 2011 Audi MedCup Circuit has visited this season.
Quantum Racing not only secured themselves a grip of their second Audi MedCup title, but their 1-2 today also takes them to third place on the regatta standings for this Conde de Godo City of Barcelona Trophy within four points of leaders Rán and second placed Bribon.
Niklas Zennstrom's Rán team bounced back from an eighth in the first race to win the second contest today, so returning to the regatta lead on countback ahead of Bribon. But the highlight of the day was the text book assault by Quantum in delivering their Race 6 win….
In 9-11 knots of sea breeze Quantum Racing took the challenge to Bribon on the start line and came away from the gun leading the Spanish crew out to the right of the course. Quantum Racing were then able to carry Bribon out past the starboard tack layline in a crucial move.
Audi ALL4ONE led around the windward mark ahead of Audi Azzurra Sailing Team, but the Italian crew were judged to have fouled Synergy on the approach to the windward mark and had to take a penalty turn, costing them. But the end of the final run was painful for Bribon, losing both Synergy and Audi ALL4ONE on the finish line.
In the second race Rán started close to the pin end of the start line and were able to lift away from their rivals earning the extra pressure on that side of that left side of the course.
With the Garbi sea breeze today just over 10 knots, just above the crossover between Bribon's favoured light airs and into Quantum Racing's comfort zone, Quantum Racing were able to sail more of their own race, chasing Rán across the finish.
Adrian Stead, Tactician on Quantum Racing said: "We had good steady conditions today and we felt pretty strong today about coming in in a good place. We had two good races, we sailed well right from the start and put the question mark on somebody else. In the first run of the first race we managed to get away from Bribón a little, and at the end that help us to get a couple of points from them. In the second race we caught pretty strong waves but managed to get through and lead the bunch around the top mark, so we wanted to stay in that condition and we did. It´s been a very solid day which puts us at the top of the standings for the Audi MedCup. Right now there are 14 points between us and them with a maximum of 16 points on the table, so we are in reasonable shape. We are going to go out there tomorrow with the goal of winning the regatta closer. We need to stay focused, be smart and sail the same way that we did today."
Morgan Larson, Tactician, on Rán said: "The day unfolded the way that we all thought, with moderate wind and pretty flat seas. There were a lot of races in one race. Quantum was keeping its eyes on Bribón and as well Azzurra, for the overall. We were just thinking about sailing the regatta and hopefully beating Bribón. We had a bit of an unfortunate start in the first, we battled back, but Bribón did a good job of pushing us back. We recovered nicely and did a good job, we were close to Gladiator and Container, we lost one point. With five points down with Bribón into the second race we knew that Quantum was going to help us with them. Niklas had a great start and we were able to preserve our lead for the fleet. Bribón had a lot more trouble than us. For the last day Quantum is close to locking the overall regatta and Bribón has a chance to fight for that and this trophy. It'll have to do a lot with how many races take place. Like I said there are going to be a lot of races within the same one. After a great 38 year career, Bribón is going to have to earn it to win here at their hometown".
Ross MacDonald, Tactician on Bribón said: "You want to do the best you can on a day like today but there are so many things that have to be done in order for us to get the first place… We got to think about what we've done so far and where we are now. All things considered it was actually not a bad day for us, could´ve been a lot worse. It´s great that Rán's doing well, we´d like to sail like that too. We'll have to see how tomorrow goes and try to win this thing. It's going to be tough for us to win the overall with this point difference right now. All they need is to have one boat in between of them in tomorrow´s races, so it´s going to be a tall order for us. We´ll do our best and we'll see how it goes. We are excited about finishing up in a high note and as best we can. I´m happy that Bribón´s days are ending with things the way they are."
Meanwhile the Soto 40s had three races. Iberdrola took second in the first race behind Iberostar as the green team clinched the season championship. In the second race the champions elect returned to the front of the fleet with a win. But in the third race – which was won conclusively by Ngoni, Iberdrola were on the wrong side of the first beat but recovered to fifth which means they go into the final day of this regatta with a two points lead over Javier Banderas' Iberostar crew which includes Spain's double Olympic gold medallist Luis Doreste as tactician.
Juan Luis Páez, Navigator on Ibedrola Sailing Team said: "We are really happy about winning the Audi MedCup Circuit, because it was not easy. At the end, all the team work and our preparation since Christmas have paid off. We´ve worked a lot. In terms of logistics, having the best sails, and in terms of the team, creating a great crew, we've done great, these issues have been key in order for us to win this. This should help us for the future, this is a team that deserves continuity. We all know that it´s all about the sponsors and I think that Iberdrola is probably happy, because we´ve been very professional. The fleet has grown with the months, improving a lot. It has a lot of future. Things have changed a lot since Cascais. 2012 will be tough, I´m sure. Now the goal is to win this trophy because we are only two points ahead of the second team. It´s quite important for us to win here, we´ll fight hard for it."
Trofeo Conde de Godó City of Barcelona Trophy.

TP52s - Results after seven races
1. RAN (SUE), 2+1+1+2+5+8+1=20 points
2. Bribón (ESP), 1+3+3+1+2+4+6=20 points
3. Quantum Racing (USA), 3+2+2+7+7+1+2=24 points
4. Audi Sailing Team powered by All4One (GER/FR), 6+8+6+5+3+2+3=33 points
5. Container (GER), 4+7+5+4+1+6+7=34 points
6. Synergy Russian Sailing Team (RUS), 8+4+8+3+4+3+4=34 points
7. Audi Azzurra Sailing Team (ITA), 5+5+4+8+8+5+5=40 points
8. Gladiator (GBR), 7+6+7+6+6+7+8=47 points
Soto 40 - Results after six races
1. Iberdrola Team (ESP), 1+1+3+2+1+5=13 points
2. Iberostar (ESP), 2+4+1+1+3+4=15 points
3. Ngoni (GBR), 5+3+2+3+4+1=18 points
4. www.cruiser-racer.com (ESP), 4+2+4+5+6+2=23 points
5. Bigamist (POR), 3+5+6+4+2+3=23 points
6. www.visitmalta.com (ESP), 6+6+5+6+5+6=34 points
7. XXII (EUR), 8 (DNC) +8 (DNC)+8 (DNC)+8 (DNC)+8 (DNC)+8 (DNC)=48 points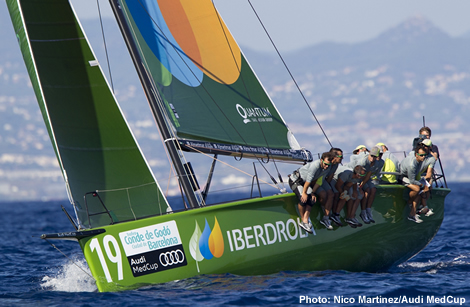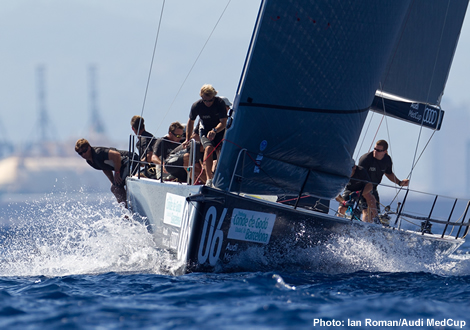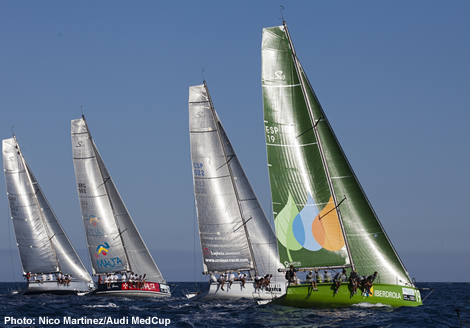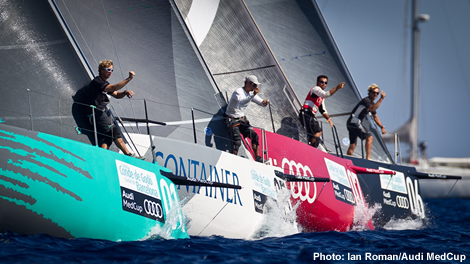 Back to top
Back to top