Strong start for new boy Ainslie
Britain's multi-Olympic medalist, Ben Ainslie, had a great start to the Extreme Sailing Series in Trapani, Sicily, winning two races on the opening day. Driving Oman Air at his first ever Extreme 40 event, Ainslie and his team had put in a few days training, but were managing expectations pre-start: "I'm really excited to be doing this and learning a new skill," said Ainslie pre-start. "But we have to be realistic about where we're starting from and try to improve as we go."
Hard to improve on first place, but Oman Air were then victims of two penalties for being OCS in the starts of races 2 and 4: "It was a good day for us, although we were a bit inconsistent," said Ainslie. "We have plenty we can improve on and a lot to talk about, but to be in third position is great. The guys on Oman Air are great sailors, its me who is the weak link and the quicker I can get a handle on these boats and work out what works and what doesn't, the quicker we will start improving."
At the end of the first day, it was the experienced Swiss team of Alinghi, skippered by Tanguy Cariou, which took pole position after the five 'open water' races staged today in light and shifty conditions. "It was a good day for us, good teamwork on board and good speed," said Cariou. "It was really tricky with plenty of shifts and big wind holes but we are happy. Last time we sailed it was in tough conditions but here on the open water we have a lot of space and light conditions so people can find the good angles. Tomorrow it will be more difficult as everybody will learn from today and we still have four days left and a long way to go with three days of stadium racing."
Three different teams scored race wins today including Team Extreme 'Sailing Seacily' sailing under the colours of Trapani with Seb Godefroid stepping up as skipper at this event in place of Roland Gaebler. The all-Belgian team had an up and down day (finishing 8th on the leaderboard) as did many of the teams, but The Wave, Muscat skippered by Leigh McMillan proved to be the most consistent, finishing no lower than sixth place: "Its about not getting stressed about the bad positions and stay calm as the good ones will come," said McMillan. "The intensity in the light airs is different as your tactics and strategy changes – its slow to accelerate and getting into clean air with 10 boats is tricky and the dirty air can be a big problem." The Wave, Muscat now occupy second place on the leaderboard, trailing Alinghi by nine points.
Groupe Edmond de Rothschild and Red Bull Extreme Sailing both challenged at the front a couple of times, scoring a second place each, but found themselves all to often buried in the middle. The Italian Luna Rossa team seemed to be in their groove posting three fourth places and a sixth, then it went wrong: "It was a tough day," said skipper Max Sirena. "It was really light, puffy and shifty. In the last race we made some mistakes on the reach downwind and we lost a couple of positions in the last couple of hundred meters. Alinghi and the other teams have all had a lot of up and down races which is good for us. We are looking forward to having a better day tomorrow."
Tomorrow is another day of 'open water' racing before switching to 'stadium' racing format on Friday, when the Race Village opens to the public.
Extreme Sailing Series Act 6 at Trapani supported by Telecom Italia - overall standings after five races
Position / Team / Points
1st Alinghi (SUI), Tanguy Cariou / Yann Guichard / Nils Frei / Yves Detrey 48 points
2nd The Wave, Muscat (OMA), Leigh McMillan / Kyle Langford / Nick Hutton / Khamis Al Anbouri 39 points
3rd Oman Air (OMA), Ben Ainslie / Kinley Fowler / David Carr / Nasser Al Mashari 35 points
4th Emirates Team New Zealand (NZL), Adam Beashel / Jeremy Lomas / Richard Meacham / Rob Waddell 34 points
5th Luna Rossa (ITA), Max Sirena / Paul Campbell-James / Alister Richardson / Manuel Modena 33 points
6th Groupe Edmond de Rothschild (FRA), Pierre Pennec / Christophe Espagnon / Thierry Fouchier / Hervé Cunningham 32 points
7th Red Bull Extreme Sailing (AUT), Roman Hagara / Hans Peter Steinacher / Matt Adams / Craig Monk 31 points
8th Team Extreme 'Sailing Seacily' (EUR), Sebbe Godefroid / Patrick Demesmaeker / Jan Coppens / Vince Thery 29 points
9th Team GAC Pindar (GBR), Ian Williams / Pierluigi De Felice / Andrew Walsh / Ed Smyth 25 points
10th Niceforyou (ITA), Alberto Barovier / Stefano Rizzi / Lorenzo Mazza / Simone de Mari 19 points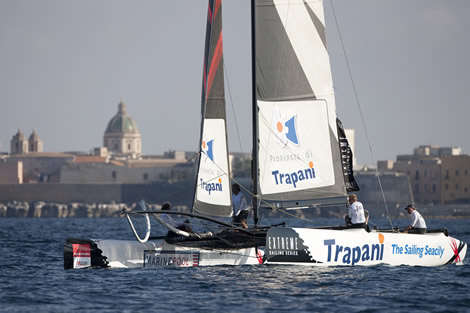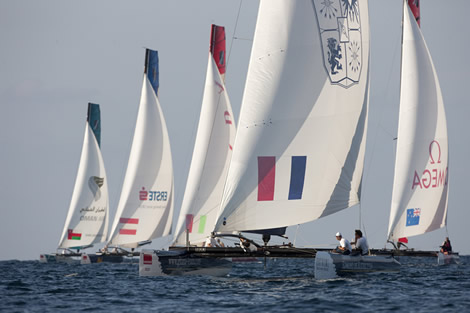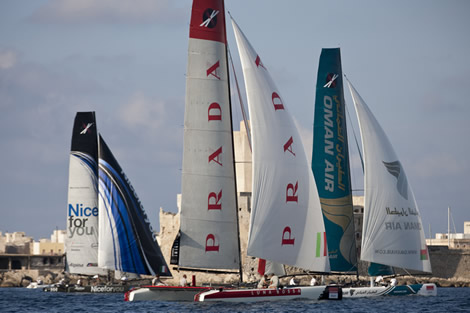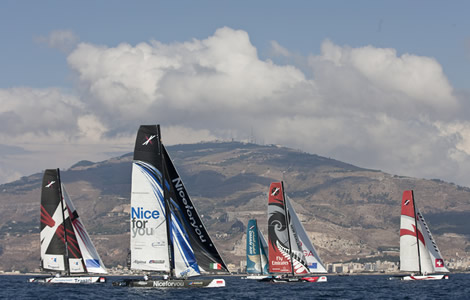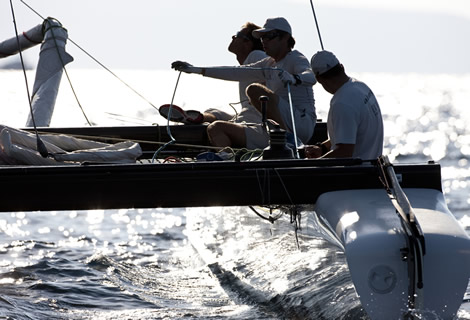 Back to top
Back to top