Big breeze in paradise
The wind howled all night and 30+ knots of southeasterly breeze greeted the starters on the race track, packing plenty of punch for the longest races of Audi Hamilton Island Race Week.
Second on the IRC Class A Grand Prix pointscore heading into day four, Stephen Ainsworth's RP63 Loki was the highest profile casualty, less than five minutes after their start in Dent Passage. Gear failure resulted in one of the mast's sweptback spreaders punching a giant hole through the mainsail, the cloth torn to pieces like a cannon ball had been shot through it.
"We will try and repair it," said an optimistic Ainsworth. "Our crewman Billy Sykes from North Sails thinks it can be fixed with Sikaflex. Luckily we have a layday tomorrow. We do have a spare mainsail but it's smaller than this one and with the forecast lightening off we need to stay powered up. We will drop today's race and carry our worst result so far of a third, and if we have to use our spare at least we will be sailing."
Two crewmen were hoisted up Loki's mast to try and bring the pieces down without further tearing.
With boats still finishing, corrected time results are still a while off, but with Loki out of the hunt, one of the TP52s is likely to claim the handicap top tier. These lightweight fliers were hammering down Whitsunday Passage under spinnaker with the spray flying and all crew crammed at the aft quarter to keep the weight in the stern and the boat flat.
Other early casualties were Bruce Absolon's Spirit of the Maid, Roland Dane's Tofinu 9.5 Jessandra, which retired with a broken boom, and Janet Dean's Adams 10 Grizzly which was forced out with a broken mast.
Bob Oatley's supermaxi Wild Oats XI is in a class of its own at Audi Hamilton Island Race Week. The 100 footer absorbed the worst of the bumps in a choppy Whitsunday Passage and stretched away from Investec Loyal to claim yet another line honours win, this time in the 63 nautical mile Club Marine Classic Long Race.
Wild Oats XI finished in Dent Passage at 2.08pm this afternoon, giving her an average speed of just over 13 knots over the course.
Anthony Bell's 100 footer Investec Loyal again struck issues with its furling spinnaker, losing precious time and the opportunity to claw Oats back.
Today's Club Marine Classic Long Race was a new course at Audi Hamilton Island Race Week for the IRC Grand Prix and IRC Passage Class B divisions. They were sent by Principal Race Officer Denis Thompson past the Molle Islands, around Double Cone and Armit Island and back up to Pentecost via South Molle Island before finishing in Dent Passage.
Racing was abandoned for the cruising and non-spinnaker divisions while the Melges 32 Sports Boats and SB3s raced windward/leewards in Dent Passage.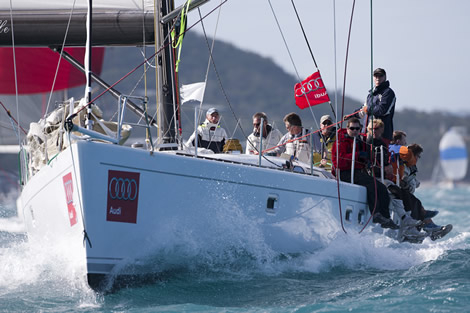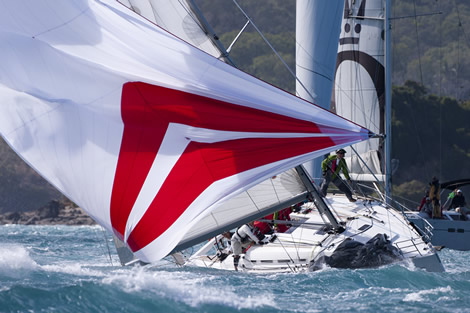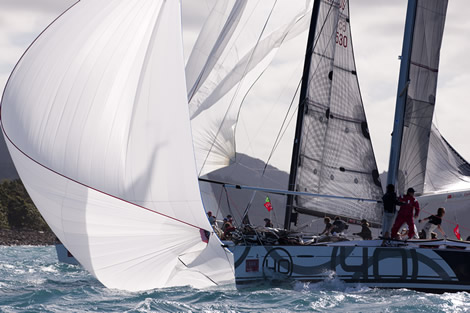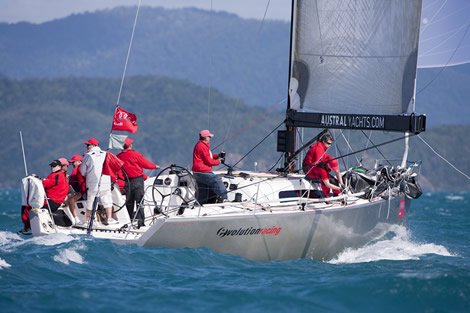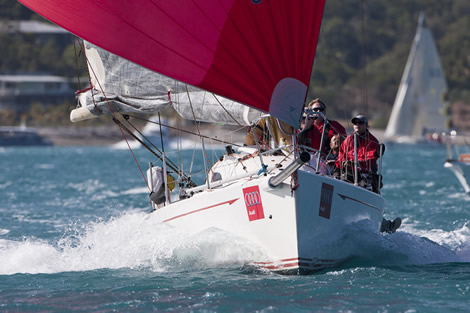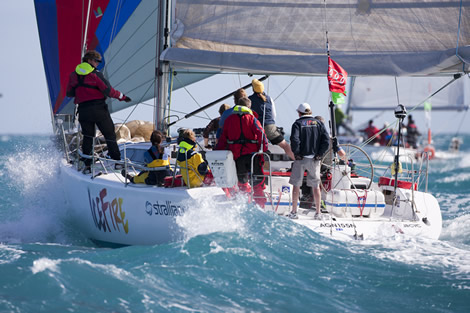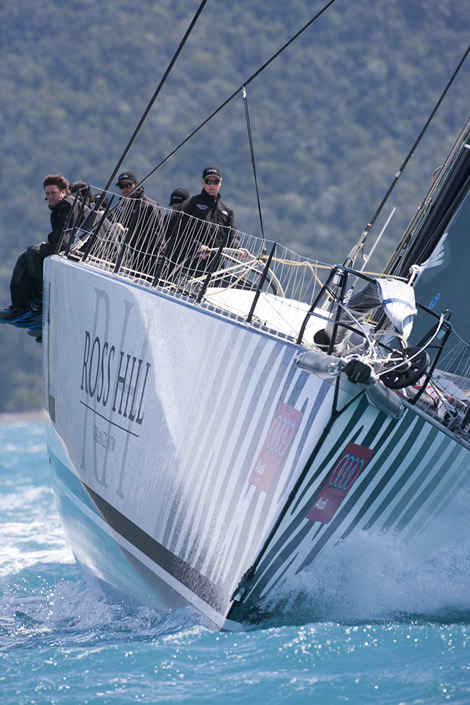 Back to top
Back to top