Loki draws level
Marcus Blackmore's all-conquering TP52 Hooligan has found itself a worthy opponent. Today Stephen Ainsworth's RP63 Loki evened the tally between the two over a number of events, the current being Audi Hamilton Island Race Week where the two are ruling the Grand Prix division.
Loki's handicap win in IRC Class A Grand Prix division today means it's five apiece from their total number of starts, the underdog successfully chasing and grabbing Blackmore's team by the pants. Blackmore still leads the Race Week progressive pointscore by one point.
Ainsworth and his Irish born - now Australian based - principal helmsman Gordon Maguire have assembled another top notch crew including Alby Pratt and Anthony Merrington. New addition is Airlie Beach local Murray Spence who has spent many years sailing maxis with Neville Crichton and understands the tides and other local vagaries.
On their handicap win, Maguire said: "We levelled it out today and we were completely unscathed," referring to Blackmore's spinnaker tear which cost them a few bucks and a couple of valuable minutes in lost time. "With the forecast and all the chat on the dock beforehand you can go out with an anticipation of something really big. With all of our offshore experience we backed ourselves and went out with a full mainsail and a number four. Many others had reefs in and were underpowered."
The line honours match-up is proving a one horse race with the Mark Richards-skippered supermaxi Wild Oats XI breaking gear but still out-pacing Anthony Bell's Investec Loyal to take a fifth consecutive win.
"Today was a great day....awesome," said a smiling Richards who pressed the Reichel Pugh design up to their top speed of 26 knots. "We broke some gear but the boys did a great job recovering."
In IRC Class B Darryl Hodgkinson's Victoire is the undisputed boat to catch. It's a different story in Class C where four boats are sharing equal top points, Andrew Hurt's Sydney 36CRX Onya the current series leader on a countback.
With gusts forecast to peak in the mid to high 30s and a short chop in Whitsunday Passage, the race committee deliberated this morning on whether to alter the racing schedule. They decided to go ahead as planned with Performance 1 and 2 divisions sent on the island course rather than windward/leewards and the Melges kept ashore.
Top wind speeds only just nudged 30 knots out of the sou'east but it was enough to give the grinders a hell of a workout and the bowmen and women a drenching. For the skippers it was an exhilarating as well as a mentally and physically tough day keeping their charges powered up and under control in the white water and smokin' hot spinnaker reaches and runs.
This afternoon there are a number of boats limping into the marina with gear and sail damage but it's mostly smiles all round as Audi Hamilton Island Race Week turns on its best for the thousands of sailors gathered for the watery feast.
Tomorrow's forecast is for SE 20/25 knots and it will be an early start for the IRC Class A and B, IRC Passage Class B and Super Multihulls racing in the 63 nautical mile Club Marine Classic Long Race before Wednesday's layday for all divisions.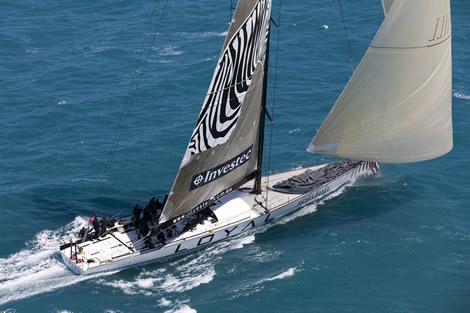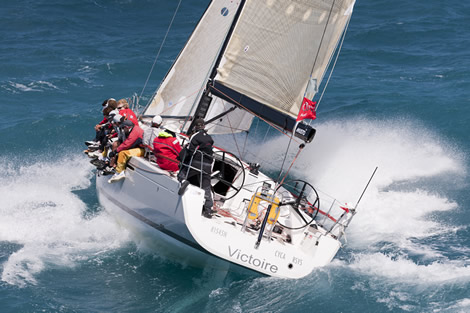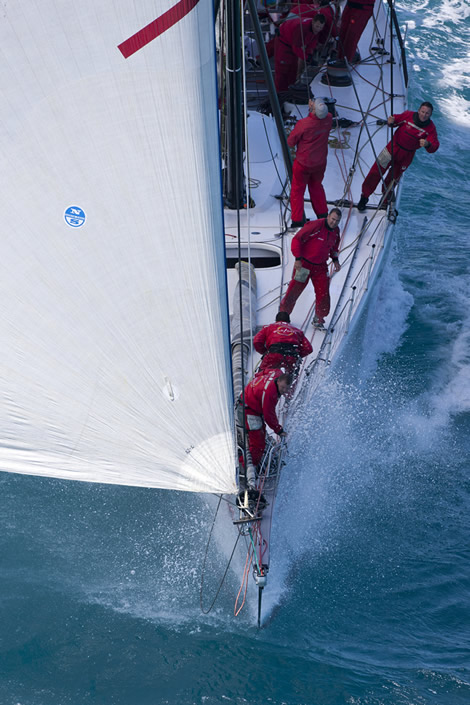 Back to top
Back to top