Aberdeen Asset Management Cowes Week cartwheel
It was another action-packed, full pressure day at the Extreme Sailing Series. After yesterday's collision between Artemis Racing and Groupe Edmond de Rothschild in the fourth race, the breezy conditions continued today and it was in the sixth race when the Extreme 40 Aberdeen Asset Management cart-wheeled spectacularly in gusty 20-25 knot conditions.
The fledgling British Extreme 40 helmed by John Pink was charging downwind with reefed mainsail and gennaker, sandwiched between the Italian team Niceforyou and Austria's Red Bull Extreme Sailing when her bows dug in as a big gust hit all three boats, and with no room to manoeuvre, Aberdeen Asset Management cart-wheeled, flipped almost vertical, before capsizing: "We felt we were in control mainly and kept going a bit quicker today than we had on the other days," explained skipper John Pink. "Coming down that run it just all got very close and the breeze kind of seemed to fill in behind so everyone bunched up a little bit and then we had no where to go!"
The four crew - John Pink, Rick Peacock, Greg Homann and John Gimson - hung on to the trampoline and all the crew were safe and unhurt. The experienced Olympic 49er sailors, Pink and Peacock, have been putting in a great performance in the windy conditions over the last three days with two podium finishes today. "We were very happy, it was coming together and hopefully we can put the boat back together for tomorrow hopefully," continued Pink. "We will work on it pretty hard tonight, sort everything out so it is back in shape and we'll be back in the water tomorrow with a bit of luck."
Once again, the Extreme 40 fleet had been split into groups to race on the tight stadium course off Egypt Point, but these excluded Artemis Racing which was unable to repair their significant damage from the crash yesterday and are out of this regatta.
In the first race it was Leigh McMillan at the helm of The Wave, Muscat who led the way, the crew working slickly together in the testing conditions, and won the first race ahead of John Pink's Aberdeen Asset Management.
In the second race, it was Oman Air which came to the fore ahead of Ian Williams' Team GAC Pindar after a close battle. By race 3, the French team Groupe Edmond de Rothschild were back racing – pretty impressive as the team only craned the boat back into the water just two hours before racing started – and helm Pierre Pennec nailed their first race ahead of Niceforyou. Team GAC Pindar and Luna Rossa then both got a win in the following two races with Leigh McMillan getting his second win of the day in the final race.
After three days and 16 races, and going into the midway point of the regatta, Luna Rossa tops the leaderboard with Groupe Edmond de Rothschild moving up to second overall in the standings having been given redress for the races they missed.
Another busy night in the pitlane to get Aberdeen Asset Management back racing tomorrow but certainly feasible with a spare mast available.
Results after 16 races
1st Luna Rossa (ITA), Max Sirena / Paul Campbell-James / Alister Richardson / Manuel Modena 74 points
2nd Groupe Edmond de Rothschild (FRA), Pierre Pennec / Christophe Espagnon / Thierry Fouchier / Hervé Cunningham 73.4 points*
3rd The Wave, Muscat (OMA), Leigh McMillan / Kyle Langford / Nick Hutton / Khamis Al Anbouri 68 points
4th Team GAC Pindar (GBR), Ian Williams / Mischa Heemskerk / Andrew Walsh / Jono Macbeth 57 points
5th Red Bull Extreme Sailing (AUT), Roman Hagara / Hans Peter Steinacher / Will Howden / Luke Cross 52 points
6th Alinghi (SUI), Tanguy Cariou / Yann Guichard / Nils Frei / Yves Detrey 51 points
7th Oman Air (OMA), Sidney Gavignet / Kinley Fowler / David Carr / Nasser Al Mashari 46 points
8th Niceforyou (ITA), Alberto Barovier / Stefano Rizzi / Daniele de Luca / Simone de Mari 35 points
9th Emirates Team New Zealand (NZL), Adam Beashel / Richard Meacham / Andrew McLean / Chris Ward 35 points
10th Aberdeen Asset Management (GBR), John Pink / Rick Peacock / Greg Homann / John Gimson 31 points
11th Artemis Racing (SWE), Santiago Lange / Andy Fethers / Michele Ivaldi / Phil Jameson 21 points
12th Team Extreme (EUR), Roland Gaebler / Nahid Gaebler / Benedikt Wenk / Dan Morris 16 points
*Redress given.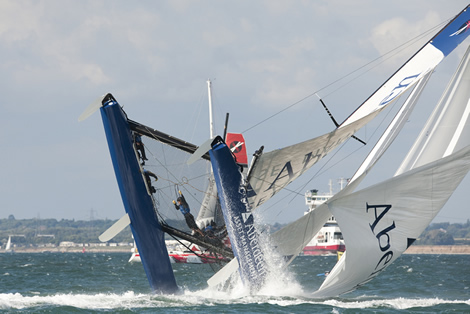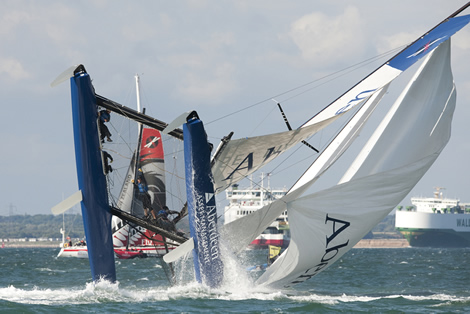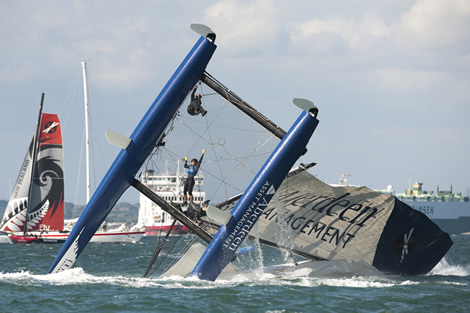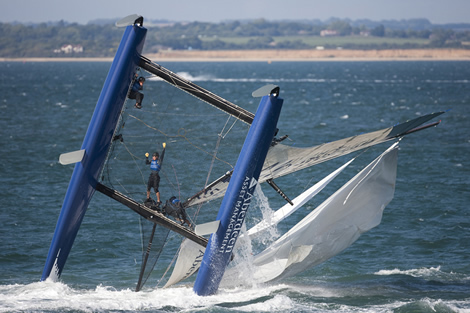 Back to top
Back to top