America's Cup racing comes to Plymouth
Saturday April 2nd 2011, Author:
James Boyd
, Location: none selected
Despite not having its own team – and it has been confirmed that none of five anonymous AC34 challenges is from the UK - Britain is to host one of the first America's Cup World Series events, due to take place in Plymouth over 10-18 September this year. Had we known this 24 hours ago we would have discarded the news as an April Fool, for while we don't wish to knock it, Plymouth is not Porto Fino and we had trouble equating the venue with an event which has as one of the principle sponsors a luxury brand like Louis Vuitton. While it is certainly picturesque, 'glamorous' is not a word synonymous with the West Country's most historic and largest port after it was decimated by the Luftwaffe and little improved by 1950s city council planners, although recently the city centre has been subject to a program of modernisation.
But this is decidedly not an April Fool and after several hours of gestation on our part, the America's Cup coming to Plymouth does make sense and neither side - not the America's Cup Event Authority nor Plymouth City Council - has been hoodwinked. This is a smart deal.
In retrospect Valencia's Darsena and the surrounding neighbourhood was about as downtrodden as it comes around the time it was announced as the venue for the 32nd America's Cup. In many ways the reasons Plymouth has signed up to stage the America's Cup World Series Plymouth is for the exact same reasons as Valencia: Aside from wanting to make money out of the event, Plymouth is keen to put itself on the map, not just in the UK but internationally, and in odd juxtaposition to the cuts going on throughout every area of the British economy, Plymouth seems to have an ambitious forward-thinking council who are prepared to take a gamble on hosting an event like this.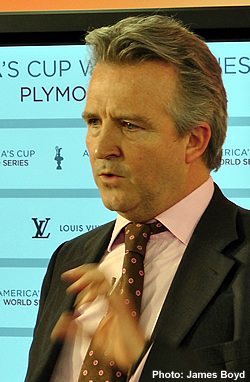 But is it such a gamble? Anthony Payne, the Acting Chief Executive of Plymouth City Council spelled out the financial case: "We didn't take this decision lightly. To give you some flavour of the direct, immediate economic impact on this: We know that without even a single visitor coming into Plymouth that it will be a big deal for the local economy. With the teams that will be coming – the whole teams and their back-up teams, 700 people staying in Plymouth for 20 days or over £1.2 million of direct impact. And that is not including the direct spend of all these people – restaurants, etc. We believe that just with the 700 core teams, there will be a direct impact of over £2,000,000 on the city's economy in that month of September."
Payne continued that if you then factor in the media, VIPs, the superyachts that tend to follow Cup events around and then add the day visitors from the local vicinity, those coming for longer from across the whole of the UK, then Europe and possibly the world "we can't guess what the impact will be. But the guys at the America's Cup have done an economic impact assessment which shows massive returns for host cities. Even if we meet only 20% of that return we estimate that for the month that this is going to happen in the city, there will be a £10 million direct economic impact – that is why we have agreed to go with this."
But in addition the America's Cup World Series coming to Plymouth – one of the biggest events the city will have ever staged, alongside its popular annual fireworks festival - the event satisfies many of the West Country city's marketing objectives. At present Plymouth is striving to establish itself as 'ambitious waterfront Europe city'. In addition, due to its immense naval heritage, they are keen to develop their marine sector.
Thanks to the will of the Council the deal has come together impressively quickly. Although tentative enquiries were made at the beginning of the year, the bulk of the deal was done through hard work, perseverance and the burning of the midnight oil, in a little over a week.
The event will see the return of racing yachts to Millbay Docks, famously where boats once upon a time were moored prior to the start of the Royal Western Yacht Club's shorthanded races (and the finish of the Fastnet Race) prior to Queen Anne's Battery being opened and the RWYC's clubhouse moving there.
Today, some 25 years on, Millbay Dock is known only as the place from where you take the ferry to Roscoff. The dock remains as dilapidated as it was then, but all this is to change (although not before September) as, significantly, it has been deemed a 'redevelopment area'.
As Payne states: "We almost have a blank canvas there, where we can turn it into a village for this event. Working with English Cities Fund we have been able to, in a very short time, get the license to be able to use that as a village to host this event. Without the work of English Cities Fund and the Homes and Communities Agency over this week to make that happen, we wouldn't be able to host this event."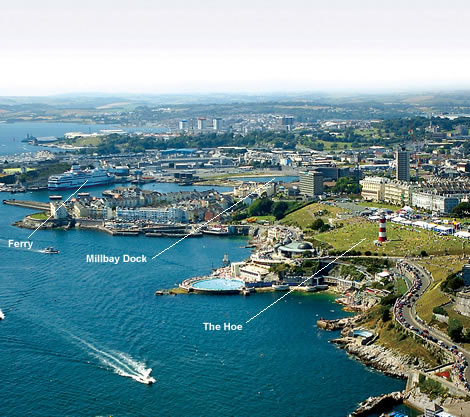 Not that it is relevant for catamarans, but last year the Council managed to raise the funds to get Millbay Dock dredged, with the long term aim of having a new marina there.
So if staging this event is a 'no brainer' for the city on so many levels, why did the America's Cup Event Authority agree to go there? "Why Plymouth? There are 100s of cities around the world that could do this?" pondered ACEA Chairman Richard Worth. "Actually it is fair to say there aren't that many that are better to fulfil the criteria that we need. In one sense it is a perfect venue, because it is a maritime city that understands the sports of sailing. That is key. If you look out of the window [we are on the penthouse floor of Plymouth's Holiday inn at the time] it has the best sailing stadium you can imagine anywhere in the world. You can stand on the shore as a spectator and see everything. You would be able to see the whole race course and the boats won't disappear out to sea."
Plymouth is certainly one of the UK's best 'stadium sailing' venues, a natural amphitheatre for watersports events, where you can stand on The Hoe - just as Sir Francis Drake famously did back in 1588 when he spied the arrival of the Spanish Armada – and hold a commanding view of all of Plymouth Sound. Worth compared it with San Francisco which offers much the same possibilities for racing taking place on the Bay there.
Worth explained that one of the main objectives of the new-look America's Cup is to bring sailing to the masses, the choice of venue being one key element, the new genre of wingsail catamaran being another.
This was spelled out by James Spithill who joined the press conference via Skype videocall from New Zealand: "In the past it has been frustrating that we haven't been able to show different markets and different venues the America's Cup. Now with this new format we get to showcase that in boats that are the latest technology. The America's Cup has been branded the F1 of sailing and these boats are very much that in terms of technology, engineering, design, etc. We can take the whole package around to a global audience so that by the time we get to San Francisco in 2013 it will be one of the biggest sporting events in the whole world."
The format of the World Series events has been modified slightly. Covering two weekends, the first will be fleet racing, while during the week there will be a match racing series culminating in a final on the second Saturday, rounding the event off with a final fleet race on the last Sunday.
In terms of reaching a new audience, another attraction for ACEA is that the event coincides with the University of Plymouth's graduation events taking place in marquees on Plymouth Hoe – which will also be used by the event.
"Yacht racing has been traditionally a sport for the wealthy and for older spectators," said Wendy Purcell, Vice Chancellor of the University of Plymouth, causing some spluttering from my colleagues. "We hope to bring a new audience too that will add to the vibrancy of the event and most importantly make it more inclusive. The University is a major player in New Plymouth, exactly the demographic that will add to the Cup's wider appeal."
We were keen to find out what were the priorities ACEA were seeking in prospective venues for the World Series. According to Worth there are four or five things that "aren't mutually exclusive or inclusive": "Clearly finance is one – it has to be able to pay for itself. You have to be able to find a venue that is spectacular. And we have ticked that box here. You have to think about the weather clearly. Then there are market issues - one of the great things about being in Plymouth that is Plymouth is now going to represent not only the UK but northern Europe. So it is cash, weather, the ability to stage the event at all, market strength - all those things can be balanced to say it is okay to be in that place."
Three events in 2011 is less than the five we expected and according to Worth before October this year they will announce the venues for what he expects will be the four or five America's Cup World Series events in 2012. "The discussions to stage an event are not straightforward in any sense. Even if a council leader or a chief executive can say 'yes, I want the event' it still involves so many other people. We have a lot of work to do with other venues in 2012 to make sure that they come home in the same positive and good fashion."
Bob Fisher rightly hauled Worth over the coals for the clashes of the World Series events this year have created. The first, taking place in Cascais over 6-14 August, has been moved forward by a week from the dates originally published in February in order to prevent it coinciding with an RC44 event in Marstrand. However it now clashes with Cowes Week and the Extreme Sailing Series event there. The 10-18 September dates for Plymouth are an exact conflict with both the Extreme Sailing Series event in Trapani and the final event of this year's Audi MedCup. How arrogant is that?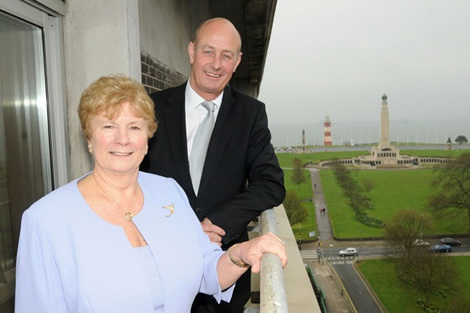 Worth attempted to defend himself over the Cowes Week conflict: "The following week would have clashed with an RC44 event in Sweden and the week before it would have clashed with something else and that is only in the sailing context. If you factor in football or Formula 1 or anything else – whenever you want to hold an event there is almost always a problem. So yes, you have to clash with certain things. Almost any week in the year you want to stage anything there will be a problem." But while clashes are bad because they dilute media attention for everyone, it creates another problem for crew in Cup teams who were hoping to also compete on the Audi MedCup or the Extreme Sailing Series this year. Artemis and Emirates Team NZ are now likely to be fielding B-teams for the Extreme Sailing Series events in Cowes and Trapani.
Keen observers will notice that no AC World Series event has been announced for 16-24 July, originally the published date for when the first World Series event would take place. Worth explains: "Once we were aware that teams were flooding in at the last minute there had to be a logistical period to make sure that everything gets delivered to them in the best possible way. Some teams have already got their boat and are already sailing in it and others who have just entered will only get their first opportunity to sail in New Zealand in the next few weeks. So there is that consideration from a fair sporting point of view – we need to wait until everyone has had their boat delivered and had a chance to start sailing in it."
As a result the shipping of the AC45 fleet back to Europe has been delayed by one month and the teams will now continue to train in Auckland up until June. Meanwhile Tim Smyth and Mark Turner, along with the rest of the New Zealand boat building and composites industry will have their work cut out to try and churn out fifteen AC45s within the available time.
Despite the City of Plymouth being answerable to its constituents, it is unclear at this stage how much Plymouth is paying to host the event or indeed whether there is a fee payable to ACEA to host the event. What is certain is that it is not the 6-8 million Euros being rumoured. "That was never the case," says Worth.
Anthony Payne states the city's case: "Our contribution to this is limited to working with our partners who have already made investments in the city. We have got an events budget within the city and we are flexing that. We will have to pay some small amounts for additional toilets, a bit of walkway, a big screen on the Hoe, etc. The actual figures for that are very small compared to the benefit we are going to be getting. It is around £100-200,000 in our estimates. Obviously things can come out of left field that could impact. We will be working with our partners and the good will of our partners – the cash support for this, compared to the massive economic benefit we will be getting is very very small."
Richard Worth told thedailysail that the deals with every city they are negotiating with is proving to be different, each city having its own unique objectives and means of financing such events. "In this case [Plymouth] we have the opportunity to bring in six national sponsors and they will be on our side of the division of opportunity. When you are doing the nitty gritty, we've had a good negotiation here – we have done a division of the opportunities, the returns as well as a division of the costs. Everyone should come out of this making serious money and Plymouth as a city should be delighted with this."
Worth pointed out that America's Cup World Series events at this stage are still a novelty but as they become more familiar he hopes that the tables will turn and there will be more demand to hold them. "We shouldn't forget this is a new concept, it is a new event and there is a bit of marketing upfront that needs to be done before everyone gets the picture. These guys in Plymouth have figured it out pretty quickly and it is really good news for us and them that they have."
The dates of the Plymouth event are approaching the autumn equinox on 23 September and as those who attend Southampton Boat Show (another part clash) know, this can be a particularly turbulent time of year weather-wise in the UK. Richard Worth argued that the AC45s have been designed so that they can be raced in 3-30 knots. So let's pray for some breeze...
So we are still in a state of shock that an America's Cup event in the world's coolest boats is to take place in the UK, this year. It feels like we've invited the rich uncle over for lunch.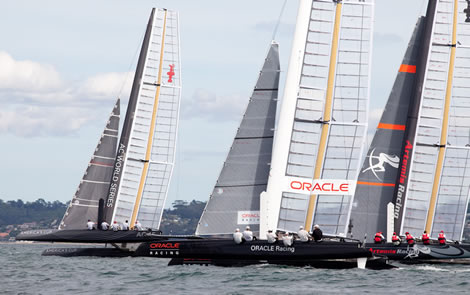 Back to top
Back to top