New sponsor for Cowes Week - the detail
On Friday came the welcome news that after two years without a title sponsor, Cowes Week is to be backed by another company in the 'money' business, Aberdeen Asset Management, in what is at present a three year deal starting this year.
While there were rumours circulating that the sailing world's original race week couldn't survive another year without a major corporate backer, this was refuted by Cowes Week CEO Stuart Quarrie. "We had a balanced budget last year and we could have done that again, but it was tough. It meant we had to look at every bit of budget and developing the event in any way was hard."
Over the last two years, Quarrie says, Cowes Week has floated on a mixture of entry fees, other supporting sponsors and other commercial income. For sure the economic downturn has had its effect on competitor numbers – down by 10-11% from 2007-8, with 896 boats taking part in both 2009 and 2010. "Previously it was about 1000," says Quarrie. "Our top year was in 2001 for the America's Cup 150th Jubilee, when there were 1040. We are pleased with how entries have held up as looking at events around the world, numbers have collapsed."
Neither party is revealing how much the sponsorship is worth but it is believed to be less than Skandia were putting in. "This is a really good day for the event and enables us to take Cowes Week into the next stage of development," says Quarrie. "This isn't a gravy train, but it means we can look at the event in a positive, look-forward way."
Exactly how having a new title sponsor will effect Cowes Week 2011 compared to the last two years remains to be seen. Stuart Quarrie is keeping his powder dry for the time being. "We have got a lot of ideas and what we need to do now that we have got this deal under the table, is to decide what order and how and which ones we want to do and which are pie in the sky. We can't go into details yet until we've decided."
In the broadest terms he cites technology as one area of development. "Tracking is something we'd love to do. With 900 boats it is difficult, but not impossible. More and more people have GPS phones, which means that at some stage we'll be able to have boats tracking themselves and us just displaying the information. But there are a lot of other technology things we'd like to do and we need to work out whether we can and when we can."
At present Quarrie says there will be no major changes to the sailing at the Cowes Week this year, and no new classes. However it is a Rolex Fastnet Race year and as a result we can expect to see a few of the brand new Volvo Ocean Race boats taking part for the first time, along with supermaxis such as ICAP Leopard and the new ex-Speedboat, Rambler 100. Quarrie is planning to offer them some racing as a warm-up.
"We are going to be talking shortly about all the big boats that have entered in the Fastnet, because it would be nice if they came and played with us, even if its only for a day or two." He reckons this probably won't be around the island, but more on typical Cowes Week multiple leg-type courses, only with longer legs taking them out of the Solent.
The sponsor

Aberdeen Asset Management of course isn't a new name in our sport. They were introduced to sailing by well known boat owner, Chris Little, himself a mover and shaker in the financial world and who is a close friend of Martin Gilbert, the Chief Executive of Aberdeen Asset Management. Little and Gilbert competed in the ARC together in 1990.
The company first sponsored veteran navigator Andrew Cape to compete in the Mini Transat in 1999 aboard a boat of his own design (Capey is a closet trained naval architect). This boat, along with the sponsorship to go with it, was then bequeathed to Sam Davies for the 2001 race.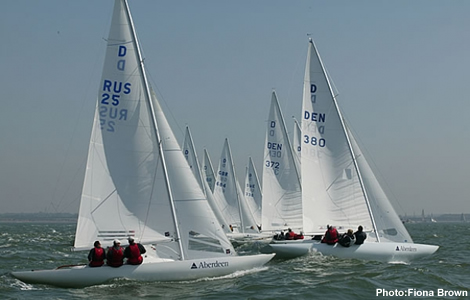 More recently Aberdeen Asset Management sponsored the Dragon Europeans the last times they have been held in the UK and they also back the Portsoy's Scottish Traditional Boat Festival closer to home in Aberdeen. They also sponsor the Edinburgh rugby union team, for which they have the shirt rights, which gets them TV exposure and they have a strong involvement with golf, backing players such as Sandy Lyle and Colin Montgomery and the Scottish Amateur Golf Team. "Golf works well in Asia and America for us. It is a big, big sport there," says Martin Gilbert. "But sailing and rowing and those sorts of things, they embody the team spirit and we run our money in teams, so it does work for us these sort of events."
While he has in the past sailed with Chris Little, Gilbert says that his racing days are over and he prefers these days to go cruising in the Med, somewhere warm...
One of their reasons for picking up the sponsorship of Cowes Week is due to the nature of their business. This has grown substantially from 27 years ago when Aberdeen Asset Management was three men around a desk (one of them Gilbert) in Aberdeen with £50 million under management. Today Gilbert says his company has £180 billion under management (ie more than the 2010 GDP of Pakistan...) making them either the biggest or second biggest in their field, operating in more than 30 offices around the world. According to Gilbert while banks and insurance companies in particular felt the pinch during the recession, fund management companies didn't have such a bad time.
"One of the things that has happened us – about 10 years ago, 25% of our customers were outside of the UK. That figure is now 75%, so we'd really like to see a swing back and get more name awareness in the UK, especially the funds market," cites Gilbert as one of the reasons for their latest deal.
Gilbert acknowledges that one of the attractions of coming on board with Cowes Week was the legacy left by Skandia. "They made it such a great event for the funds business."
To what degree they will be emulating Skandia remains to be seen. Gilbert suspects it won't be at the same level as Skandia (who conveniently were/are headquartered in Southampton). There is also a significant difference between their businesses – while Skandia deals with consumers, is a 'distributor of fund management' to use the proper phrase, Aberdeen Asset Management is stronger on the fund management side. Skandia for example is a client of theirs.
"They are very important clearly in the UK market and they have very strong distribution and it was that distribution channel they were working a lot on. We are not as strong in distribution as they are," says Gilbert of his Cowes Week predecessor. "And they weren't that strong when they started so it has worked for them as well."
Aside the general aim of upping business in the UK, the specific objectives of their backing Cowes Week, says Gilbert, are name awareness, corporate entertainment and positive PR in the press being worth more than straight advertising. Name awareness could be the difference between a client of Skandia's signing up for an Aberdeen fund rather than that of another less familiar company.
Gilbert won't reveal the exact extent of their sponsorship of Cowes Week, other than saying that the activation of the sponsorship, the corporate hospitality, etc, is likely to come to several multiples more. However one imagines he got a good deal... "It has been a good deal for both sides. I think that they have found, like other events, that the sponsorship market is much harder than it was five or six years ago and if you have got an event, you need to get a sponsor in rather than having no sponsor. But I think they are delighted as well."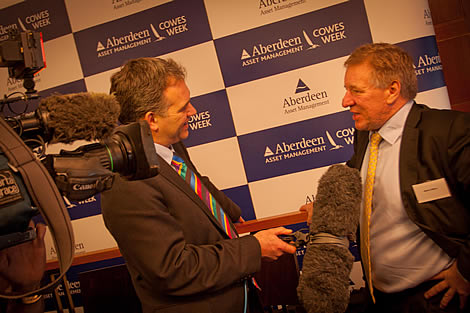 Back to top
Back to top