Ramrod by a point
Three final races at the 2010 Melges 32 Gold Cup Regatta, hosted by the Lauderdale Yacht Club enabled Annapolis' Rod Jabin on Ramrod to win his second consecutive Melges 32 Gold Cup title. This is also the first time ever that anyone has won the event two years in a row. Jabin's team consisted of tactician Chris Larson and crew of Richard Clarke, Curtis Florence, Ray Wulff, Scott Holmgren and Vann Walke.
"This is pretty special, "said an ecstatic Jabin after racing. " Unbelievable really, but I have to give credit where credit is due. The crew work this weekend has been awesome. Thank goodness for a third race. The Ramrod program is really coming together and we now feel like we're making some progress. Our only expectation for this event was to be competitive. My crew, they worked so hard and never gave up. That's what this win is about."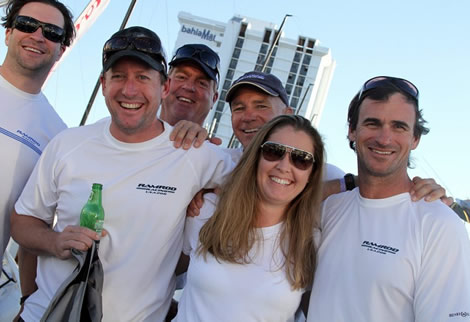 In second overall, one slim point behind was Steve Howe on Warpath and tactician Morgan Larson. Overnight leader Ryan DeVos and tactician Ed Baird on Volpe struggled in Sunday's three races leaving them to settle for third.
"The Gold Cup certainly delivered some great racing. I think the Melges 32 fleet has really come into its own." said newly elected North American Fleet President, John Taylor on Ninkasi. "Getting 21 boats in Fort Lauderdale for a little wind and sun, a great time and plenty of Heineken makes it a spectacular event."
Sunday's original schedule called for only two races, but after Saturday's light air conditions, the LYC race committee delivered the goods and fulfilled every owner's hopes for three more heats. There was sunshine and 10-15 knots of breeze for the start with Jeff Ecklund putting his signature gold STAR on the first two races of the day. His lead was not instant, but well-earned beating out Jabin, Taylor, Bob Hughes helming Dalton DeVos' Delta and Howe with brilliant upwind performance and fantastic downwind speed.
Race three of the day sealed the deal on victory for some, while others, such as Ecklund, ended with tragic results. Three attempts were made to start race three, but the fleet couldn't come up with anything better than general recalls. The race committee put the black flag into effect. Ecklund simply couldn't hold the reigns back, being called OCS and forced out of the race. As if the first two races of the day weren't disastrous and disappointing enough for the young DeVos, he too was called OCS in race three. Instead, Lanfranco Cirillo's Fantastica pulled ahead of the fleet and looked fast as he extended his lead with each passing beat of the five-leg race. Cirillo won easily, miles ahead of second place finisher Hughes and third place finisher Jabin.
Full results
| | | | | | | | | | | | | |
| --- | --- | --- | --- | --- | --- | --- | --- | --- | --- | --- | --- | --- |
| Pos | Sail no | Boat | Owner | R1 | R2 | R3 | R4 | R5 | R6 | R7 | R8 | Tot |
| 1 | USA 206 | Ramrod | Rodrick Jabin | 4 | 1 | 2 | 12 | 8 | 2 | 18 | 3 | 32 |
| 2 | USA 32917 | Warpath | Steve Howe | 8 | 8 | 1 | 5 | 4 | 8 | 3 | 4 | 33 |
| 3 | USA 180 | Volpe | Ryan DeVos | 3 | 2 | 3 | 1 | 5 | 14 | 11 | 22/BFD | 39 |
| 4 | GBR 700 | Red | Joe Woods | 6 | 11 | 5 | 9 | 6 | 5 | 6 | 7 | 44 |
| 5 | USA 32 | STAR | Jeff Ecklund | 15 | 6 | 8 | 8 | 7 | 1 | 1 | 22/BFD | 46 |
| 6 | USA 1215 | Delta | Dalton & Doug DeVos | 11 | 9 | 12 | 3 | 12 | 7 | 2 | 2 | 46 |
| 7 | ITA 212 | Fantastica | Lanfranco Cirillo | 7 | 19 | 4 | 2 | 14 | 22/OCS | 4 | 1 | 51 |
| 8 | USA 174 | Leenabarca | Alex Jackson | 1 | 7 | 7 | 15 | 1 | 12 | 17 | 11 | 54 |
| 9 | USA 134 | Catapult | Joel Ronning | 5 | 15 | 13 | 6 | 10 | 4 | 9 | 17 | 62 |
| 10 | USA 128 | ARGO | Jason Carroll | 10 | 10 | 6 | 7 | 9 | 18 | 12 | 8 | 62 |
| 11 | USA 77 | roXanne | Kip Meadows | 16 | 3 | 9 | 20 | 3 | 15 | 19 | 5 | 70 |
| 12 | USA 211 | Arethusa | Phil Lotz | 2 | 4 | 11 | 14 | 16 | 11 | 16 | 16 | 74 |
| 13 | USA 1315 | Ninkasi | John Taylor | 13 | 16 | 14 | 11 | 17 | 3 | 10 | 15 | 82 |
| 14 | USA 162 | VIVA | Alexis Michas | 17 | 20 | 20 | 13 | 18 | 6 | 5 | 6 | 85 |
| 15 | USA 184 | Bronco | Michael Dominguez | 12 | 5 | 21 | 10 | 20 | 17 | 14 | 12 | 90 |
| 16 | GBR 40 | Dawn Raid | Oscar Strugstad | 21 | 12 | 17 | 16 | 15 | 10 | 7 | 13 | 90 |
| 17 | USA 153 | Lake Effect | Bob Hesse | 20 | 13 | 18 | 4 | 13 | 9 | 15 | 19 | 91 |
| 18 | GBR 84845 | Team Barbarians | Stuart Simpson | 18 | 14 | 19 | 18 | 11 | 13 | 13 | 9 | 96 |
| 19 | USA 178 | Shakedown | Geoffrey Pierini | 14 | 17 | 10 | 19 | 2 | 20 | 21 | 18 | 100 |
| 20 | USA 208 | Celeritas | Malcolm Gefter | 19 | 21 | 15 | 17 | 19 | 16 | 8 | 10 | 104 |
| 21 | USA 157 | Mojo | Steve Rhyne | 9 | 18 | 16 | | | | | | |
Back to top
Back to top