Franco-German Dhow aces
The All4One team found success on the waters off the Dubai International Marine Club on Saturday afternoon, winning the traditional dhow race on Heritage Day at the Louis Vuitton Trophy Dubai.
Each of the six Louis Vuitton Trophy crews was assigned a local dhow, one of the traditional craft that used to ply these waters as essential modes of transportation and trade. Today, dhow racing is among the top events on the local sporting calendar and Saturday's race marked the first time foreigners were allowed to actively participate in a race.
Each dhow was manned by 11 crew from the LVT teams, along with six of the boats' regular sailors. The dhows set up for the start with an anchor off the bow and stern and the sails down. When the starting gun fired, the sails were heaved up, the anchor lines cast off, and the boats started reaching towards the finish line, some six miles downwind.
At the finish line, it was All4One, taking the win over Emirates Team New Zealand and BMW Oracle Racing. Getting a good, fast start proved to be critical.
"You need to come off the starting blocks fast. We picked a good angle and it worked out well for us," said Jochen Schümann, the multiple Olympic medallist who was sailing on the All4One dhow.
While Schümann acknowledged there are many differences in how these boats sail, he says some of the essential tactics and strategies remain the same. "In many ways, I think these boats are similar to other sailboats; 'Do you sail higher and faster or lower and a little slower?' I think we did well to gybe only once, because those are expensive, and in the end, we did well and had a lot of fun. We'd love to do it again."
That final sentiment was shared by many of the skippers.
"It was fun and it was good to do it. I've seen video and photos of these boats before so it was neat to be able to try it," said Gavin Brady, the helmsman for the Mascalzone Latino Audi team, who missed out on a podium finish, but enjoyed the afternoon nonetheless.
Also racing on Saturday was a gaggle of local junior sailors, who competed in the Louis Vuitton Junior Trophy. Racing on O'pen Bics in the lagoon off the DIMC, the junior sailors were vying for a chance to sail as 18th man with the finalists of the main event, on November 27th.
It's back to business for the Louis Vuitton Trophy teams on Sunday when racing resumes in Round Robin Two.
Four races are scheduled, with the event leading BMW Oracle Racing matched up against All4One in the first pairing. Artemis then faces Synergy, Emirates Team New Zealand is against Mascalzone Latino Audi and the final match will see Artemis race BMW ORACLE Racing.
The earliest time for a warning signal is 1245.
More images from Chris Cameron/Emirates Team NZ/www.chriscameron.co.nz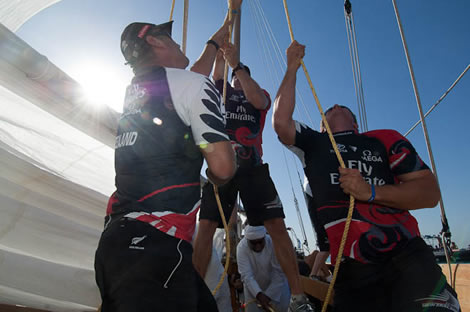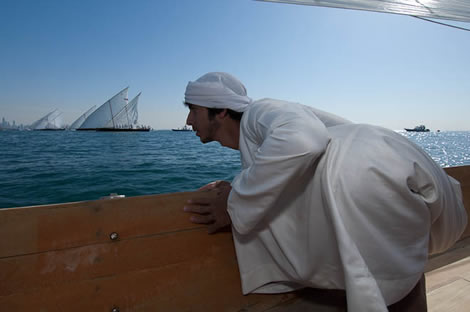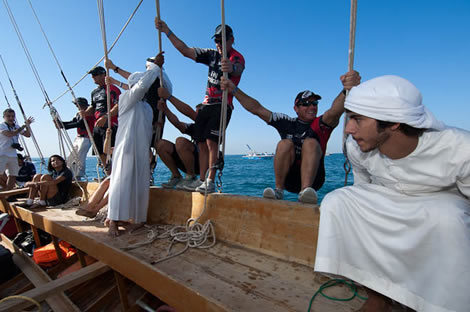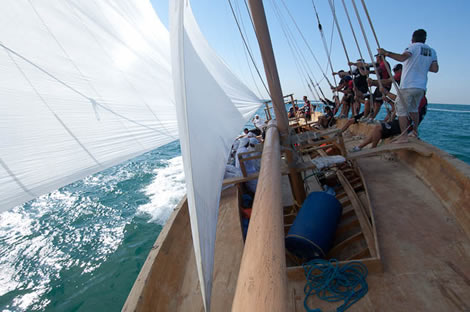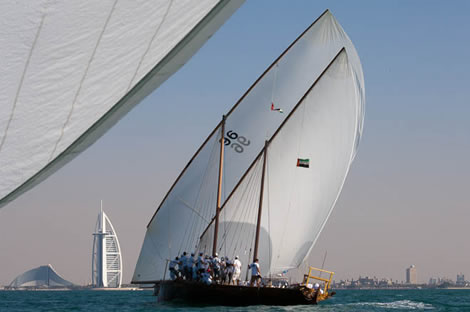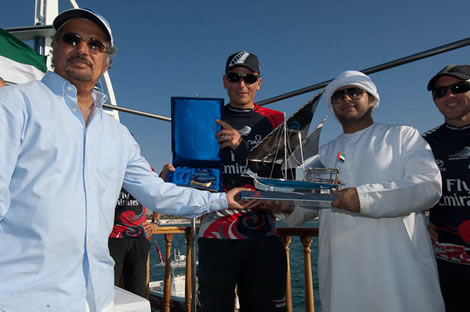 Back to top
Back to top