BMW Oracle Racing surges ahead
Sailors have a superstition that winning the practice race prior to a world championship is bad luck. Superstition be damned. But yesterday, Jose Juan Calero guided BMW Oracle Racing to first place in the practice race for the RC 44 Fleet Race World Championship for the Islas Canarias Puerto Calero Cup. Today, after the first three races, the team leads the standings with the low score of 9 points on finishes of 2-5-2.
"I feel like I'm in heaven," said Calero. "I'm learning quite a lot with these guys. It's a life experience. I'm so happy."
The crew that includes four-time America's Cup winner Russell Coutts as tactician showed great speed in the light winds, even coming back from a penalty turn in Race 2.
Calero, 34, hails from Lanzarote, and has raced previous RC 44 events aboard the family's boat, Islas Canarias Puerto Calero. But the conditions are so abnormal this week that any local knowledge he may have brought to the crew is nullified.
"These winds are not very common," Calero said. "Normally we have northeasterly winds, so these light winds from south and west are very weird. We're all learning together."
Although Jose Juan isn't racing on the family boat, it wasn't far from his mind today. In fact, it was prominent in his sight line. After rounding the windward mark in the second race, BMW Oracle Racing began to roll over to windward of Islas Canarias Puerto Calero, helmed by younger brother Danny Calero.
But Jose Juan Calero was too close to windward and the BMW Oracle Racing spinnaker grazed the rigging of Islas Canarias Puerto Calero, forcing the on-water umpires to issue a penalty to BMW Oracle Racing.
"We'll have to talk about that at the family table," said the Jose Juan Calero. "I have to tell [Danny] that doesn't happen from the younger brother. He needs to respect seniority. But he was in the right and that's it."
Danny Calero, 30, laughed when told his older brother was going to change the locks on the family house. "It was a funny situation," said the younger Calero. "At the start of the first downwind leg we started going up a bit to gain some speed and their spinnaker hit us, so we protested them. It was good for us, but they recovered a lot. They did very good out of that."
Jose Juan Calero's recovery was impressive given the light, patchy wind that blew no more than 7 knots on the day. The conditions frustrated Vincenzo Onorato, leaving him drained. The Italian, who is president of the Mascalzone Latino Sailing Team, is a six-time world champion, including, uniquely, three times in the competitive Farr 40 Class.
He blazed off the start line of today's first race for a wire-to-wire win, but then fell back in the pack afterwards with a pair of ninths, a result he blamed on the light winds.
"The first race was good but the other two were less than average," said Onorato. "This is part of the game and that makes the class so fascinating. These are the kind of conditions I don't like. I enjoy strong winds when you can surf and play. In light winds your concentration is a big problem."
Racing resumes tomorrow with the first warning signal scheduled for 1130 local.

RC 44 World Championship Islas Canarias Puerto Calero Cup - Fleet Racing (after 3 races)
1. BMW ORACLE Racing (USA) Juan Jose Calero/Russell Coutts – 2-5-2 – 9 points
2. 17 (USA) Anders Myralf/Jimmy Spithill – 3-11-1 – 15
3. Team Sea Dubai (UAE) Harm Müeller-Spreer/Markus Weiser – 4-1-12 -- 17
4. Artemis (SWE) Torbjorn Tornqvist/Terry Hutchinson – 10-3-5 – 18
5. Mascalzone Latino (ITA) Vincenzo Onorato/Francesco Bruni – 1-9-9 – 19
6. No Way Back (NED) Pieter Heerema/Ray Davies – 5-6-8 – 19
7. Islas Canarias Puerto Calero (ESP) Daniel Calero/Jose Maria Ponce – 7-2-13 – 22
8. Peninsula Petroleum (ESP) John Bassadone/Inaki Castaner – 12-4-6 – 22
9. Ceeref (SLO) Igor Lah/Rod Davis – 11-8-3 – 22
10. Team Aqua (UAE) Chris Bake/Cameron Appleton – 6-10-7 – 23
11. AEZ RC 44 Sailing Team (AUT) René Mangold/Christian Binder – 8-13-4 – 25
12. Katusha (RUS) Guennadi Timtchenko/Paul Cayard – 13-7-10 – 30
13. Synergy Russian Sailing Team (RUS) Maxim Logutenko/Evgeniy Neugodnikov – 9-12-11 – 32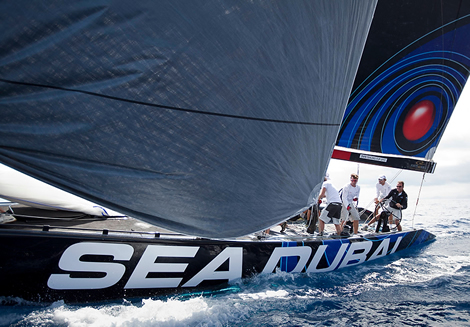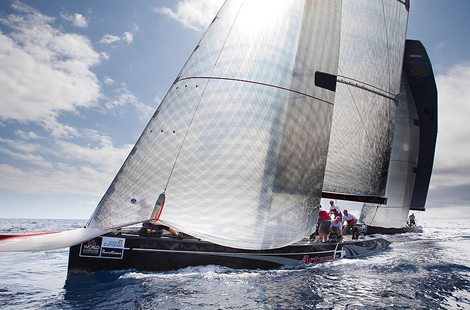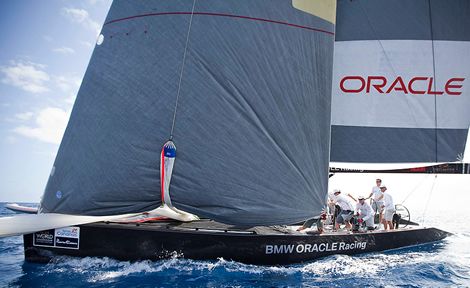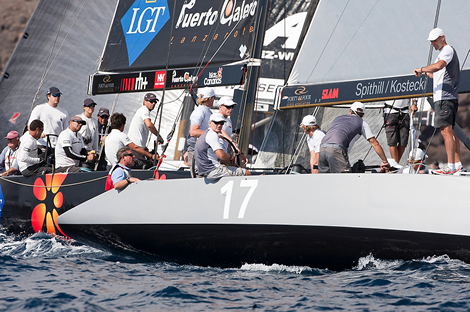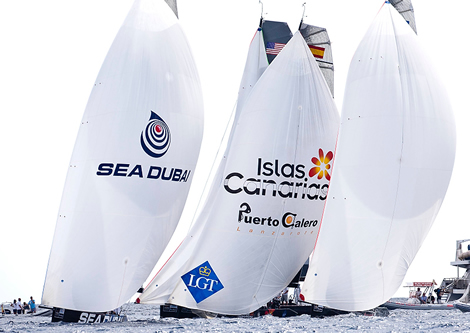 Back to top
Back to top