TP52 Audi MedCup season wrap
This autumn, perhaps more than any other, a lot of maths is going on in different classes at the top end of inshore sailing. How many boats/teams will be competing next year in the Audi MedCup? In the 34th America's Cup? In the Extreme Sailing Series? How many new boats will there be?
Earlier this year more gloomy predictations were anticipating the death of the TP52 class and the Audi MedCup. Ten TP52 teams competed regularly this season, plus the Portugese boat Bigamist 7, which sailed three of the five regattas. Of these six – Emirates Team New Zealand, TeamOrigin, Luna Rossa, Synergy, All4One and Artemis – were considered potential America's Cup challengers and at one point all looked set to depart the MedCup once the details and schedule for the 34th America's Cup were known, leaving the TP52 fleet terminally depleted.
In fact at present the outcome is looking not nearly so bad. Audi has signed up to back the circuit for another three years and there are only three teams are departing for sure.
Emirates Team New Zealand sold their boat at the beginning of the season to Australian Marcus Blackmore, best known for campaigning the Farr 40 Emotional Hooligan.
Torbjorn Tornqvist's Artemis team, led by Paul Cayard, is also heading for the Cup and won't be continuing with their TP52 campaign, in 2011 at least - Tornqvist is a keen owner-driver having won the Audi MedCup in 2007, but there probably won't be much opportunity for him to steer on a solid wingsail catamaran.
TeamOrigin had the only new TP52 built for 2010 with the Juan Kouyoumdjian design Ben Ainslie and his crew have spent this year working up. Early reports indicated that the boat was going to be IRCed and then head for the UK where it would be campaigned next year by Charles Dunstone. However following the announcement from Sir Keith Mills that TeamOrigin would not be competing in the 34th America's Cup, we understand the boat is now up for sale.
While their Cup plans are wavering, the Russian Synergy team seem to be committed to the Audi MedCup next year and are one of several teams in the 'if we can sell our boat soon, we'll build new' position.
The Stephane Kandler-Jochen Schuemann Franco-German partnership at All4One are at present planning to go down both AC and Audi MedCup paths, as All4One CEO Stéphane Kandler explains: "We want to keep that program [TP52] with the other ones, because you can use it in many different ways. We had a good season with Audi this year and we hope to convince them to continue because we want to achieve even better than we did this year. This year everything was last minute and we suffered from this. The team needs to sail as much as it can at the highest level and here we have a very good level." The decision was only made to campaign 'Audi A1 Poweredby All4One', the 2008 generation former Mean Machine/Valars, two weeks before this season's first Audi MedCup regatta in Cascais.
Never one to make hurried decisions, Luna Rossa aren't going for the Cup, but another TP52 campaign might be on the cards if only they can shift their STP65. Patricio Bertelli is supposed to be making a decision about the next step for his team in November. After a promising start to their season with Robert Scheidt steering and Torben Grael also in the afterguard, the Italian team has had a disappointing season, the boat they have been sailing, Vasco Vascotto's Judel Vrolijk designed former Mutua Madrilena, apparently lacking pace.
In fact there is a feeling that the departure of the top America's Cup teams from the Audi MedCup may lower the fever pitch in the TP52 and as a result attract new blood in, particularly as if an owner-driver championship is re-introduced for next season. This is one of the reasons Skype founder Niklas Zennstrom last week announced that he will be competing in the 2011 Audi MedCup with a new Ràn.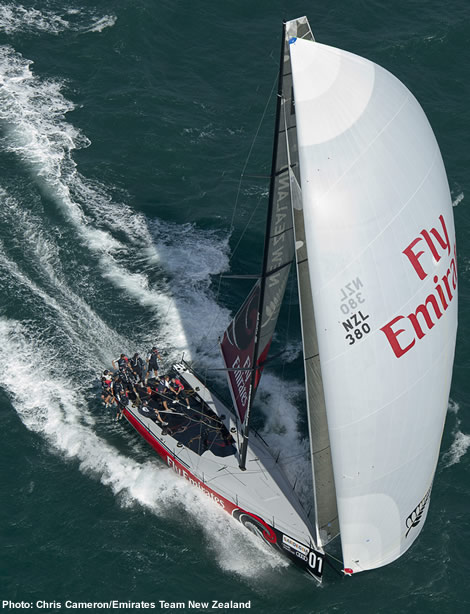 Second win for Deano and the boys

Once again Emirates Team New Zealand was the class act of this year's Audi MedCup even if their winning margin of 171 points to second placed Quantum Racing's 219.5 was not the runaway success they enjoyed when they won on 128.5 to the 202.5 of Quantum Racing (second again) in 2009.
The Kiwi Cup team's 2009 generation Marcellino Botin-designed TP52 excelled in medium to heavy conditions as tactician Ray Davies explains: "We are at our best above 12-13 knots when we can maximise the stability that we have. The boat is able to sail quite fast upwind and then you can put it into a high mode and it does whatever we want up-range. But we are definitely slow or sticky in the light air - we never pitched the boat for that and you can't cover all bases. You can make up for it in sails and keeping out of trouble and starting well and tactics – that's what we felt. In the light there are a lot of other factors with what happens with the wind, it is so variable. We backed ourselves to survive the light air regattas and that is pretty much what's happened. You can still win light air races with a slow boat but it is hard to win heavier to medium air races with a slow boat. So we are very happy with where we pitched the boat."
Alberto Roemmers' Judel Vrolijk-designed Matador has proved to be the weapon when the going gets soft.
Karol Jablonski, who this season has been skipper/helm of the increasingly competitive Russian yacht Synergy (but who was 'let go' after the final 2010 Audi MedCup event in Cagliari), has also observed that some of the boats such as the Kiwi TP52, but also Quantum Racing and TeamOrigin, have more effective foils. "Their boat is more forgiving especially at the low speeds, eg where you need to have a good grip before the start. When you approach the start in the last minute they go high and slow but aren't drifting as much as we do. Then they put their bow down and they can load the foil immediately. We put the bow down and we have to ease all the sails or we go sideways."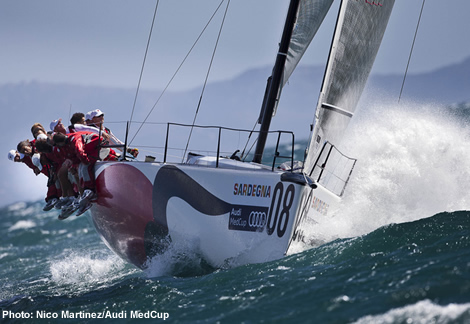 New toys this season

In terms of how the class has progressed through 2010, the teams started the season with substantially different boats to the ones they sailed last year. Gone were twin backstays and spinnaker poles. In were flat topped mains, bowsprits and AC-style spinnaker drop-line systems.
Ray Davies continues: "Certainly up-range technique-wise the class is sailing better and better, just boat handling and sailing with the bowsprit [and drop line systems] you can push things a lot further to marks, etc. Basically everything is a lot easier so you can push things later. Now we have the string line drops there is some extremely slick crew work going on throughout the fleet."
A good drop can now happen in about four seconds, reckons Davies, to windward or to leeward. "Most of the teams have refined their systems pretty well now. Some boats blow the tack off first and the spinnaker goes up in the air and then they suck it all in. We tend to keep the tack on and blow the sheet and let everything go at once. There is a bit of difference but we are all getting to the same place and drops are pretty much happening on the mark.
You need Flash Player 8 or higher to view video content with the Kit Digital Flash Player. Click here to download and install it.
As is the case in the Mini Maxi class, drop-line systems vary from boat to boat. For example Emirates Team New Zealand and Artemis have their drop lines disappearing down the forehatch, to the back of the boat and then forward to a below deck winch (as for example the J-V 72 Ràn has). On the Kiwi boat they are using the same system as their V5 Cup boat while Artemis has a John Williams-designed system like Ràn's. On others the drop line emerges into the cockpit, usually out of the main hatch, up to either a pedestal-driven primary or a pit winch.
Brendan Darrer, who runs John Cook's Cristabella reckons the changes introduced for this season – the rig, bowsprit, as well as the boats' increased righting moment while being sailed by less crew, have made them more fun to sail, but also slightly different. "The take down systems have dramatically changed bottom mark roundings," Darrer agrees with Ray Davies. On Cristabella they have a 1:2 system that emerges up to the driven pit winch.
Cristabella and TeamOrigin were the only boats with new rigs this year and these had to be built to the new requirements of the TP52 rule including material constraints for the spars requiring a lower modulus carbon fibre to be used, making a more flexible spar, with its VCG 40cm higher than before. Cristabella has a new HallSpar mast and while under class rules they aren't allowed to use the new aerofoil section standing rigging HallSpar are now touting, they have been trying out Halls' automatic jib lock that requires no trip line (cranking in some halyard releases the lock).
The coolest piece of gratuitous expenditure has been the gyrocompasses a few of the top boats had hidden away down in their bilge. This allows supreme accuracy in compass heading and all the derived functions that stem from this, such as leeway, true wind angle, etc but with a cool £40,000 price tag.
Otherwise the name of the game has been refinement. "I think everyone started this year at a very high level with their systems," contemplates Ray Davies. "The gauging of the runners is very very small compared to what we were doing a few years ago and the size of the Ds and the Vs has dropped down a gauge, so everything has been refined and we are definitely close to the top of the pyramid. It is interesting with the class going into a change next year, more under IRC, which way it is going to head again."
Davies says he is disappointed Emirates Team New Zealand are leaving the class. "This has been the best monohull sailing I have done. The RC44 is different and that is good in what that brings, but as far as a big team of pros all sailing together, this is hands down the best circuit out there."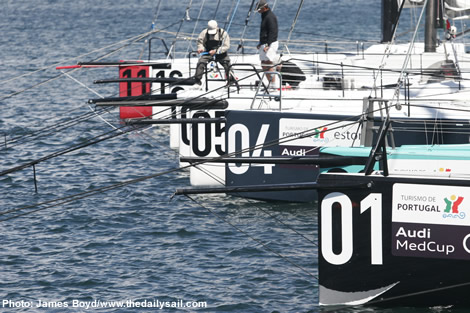 Costing cutting

Cost cutting measures were introduced for this season and will remain largely unchanged in 2011. This year saw the number of crew reduced from 15 to 13 (or 1273kg to 1100 all-up weight). However there remains a wide variety in shore crew numbers from the smaller teams which typically have three, up to TeamOrigin which for one regatta had a shore team of 16.
Sail numbers were also limited to 17 this year and the feeling is that this has worked well. As Brendan Darrer says: "17 sails sounds a lot, but we built 26 sails this year and I would have liked to have built more. The big teams would have built 35-36 sails." At a class meeting this weekend, the decision was made that the sail limit for 2011 is to rise to 18 sails for the new boats, while existing boat will be able to use two addition sails left over the previous season.
"The sail limit for some was quite tight," says TP52 Class Manager, Rob Weiland. "For instance we had a manufacturer's flaw in spinnaker cloth at the beginning of the year which caused a few spinnakers to explode without any reasons and you straight away lose a button that wasn't nice, especially because it was the first event."

In part two of this article we look ahead to 2011
Back to top
Back to top