Ben Ainslie's tough decision
Ben Ainslie is facing one of the hardest decisions in his career: with the announcement that the 34th America's Cup is to take place in 2013 and not 2014 as previously thought, combined with the Games being in 2012, Ainslie doesn't believe it is possible to be successful in both. So he, along with his TeamOrigin tactician and strategist Beijing Gold medallists Iain Percy and Andrew Simpson are faced with a decision and one they must make quickly: option a) is to go down the America's Cup route which would cost Skandia Team GBR two of their hottest medal prospects for 2012, including the opportunity for Ainslie to become the most successful Olympic sailor of all time, while option b) is to commit to the Games which would be a major blow for Sir Keith Mills' America's Cup challenge.
"You are forced into making a decision one way or the other, which is frustrating," says Ainslie. "But there is nothing you can do about these things. You have to take the information as it comes and try and be ration and make the right decisions."
It is not hard to see that the radical announcements concerning the 34th America's Cup – from the wingmasted catamarans and the racing to be held on different styles of courses, etc – for Ainslie might make the Olympic option more appealing, particularly as the training he and TeamOrigin have put in over the last three years, plus what he has personally done since his time with Emirates Team New Zealand in the lead up to 2007 are now of less value with the goal posts having moved so substantially.
Saying this, the move to wingsail catamarans doesn't seem to phase him particularly. Already TeamOrigin are planning a strategy to fast-track their sailors into becoming multihull experts. They still own an Extreme 40 from when Rob Greenhalgh campaigned it and are contemplating taking part in the Extreme Sailing Series in 2011 as well as in the 28ft M2 catamarans in Switzerland. While there are strict limitations on how much training can be carried out in the AC72s, in the Protocol under article 33.3 it states that testing can be carried out on one third scale models (ie up to 24ft) and this seems to be without limitation (sadly C-Class cats are 25ft long, although it wouldn't take much effort to lop a foot off one and Fred Eaton is known to have boats for sale...) So maybe we will see some solid wingsail 24 footers launching over the next months.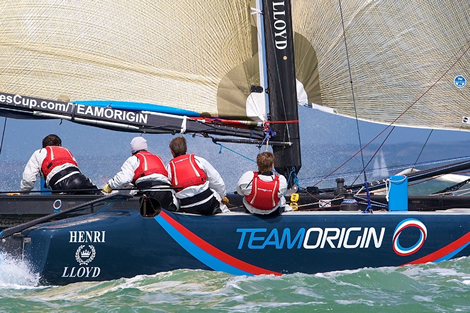 "It is a fundamental shift in sailing and for sure it is exciting with a new class of boat, a new challenge for those of us who haven't taken on multihulls to learn a new game," continues Ainslie of the new-look America's Cup. "Whether or not it will be good for match racing no one really knows, we are just going into the unknown with that - the start, pre-starts and all of that and how close the boats will be. Obviously the boats will be fast and furious with plenty of thrills and spills. It could turn out that it is fantastic in multihulls and the match racing is just amazing, but there is a big question mark over it."
TeamOrigin also has issues with the Protocol. Although well aware that the nature of the America's Cup allows the defender rights unique among sports competitions in that they can adjust the playing field's degree of tilt in their favour, the British team's concerns include the degree to which BMW Oracle Racing can control the event and their level of neutrality and how the new rules for non-exclusivity of design information up until 1 April 2012 (see Protocol article 33.2) could benefit the defender. For example smaller teams could be enticed into competing with the help of funding from the defender in return for design and R&D information. Some advanced speculation has been doing the rounds of the challengers that this might even extend to the Challenger of Record, the price for their apparent compliance with BMW Oracle Racing in shaping the 34th America's Cup. This would not be unique – Alinghi helped with the funding of Emirates Team New Zealand who they ended up against in the 32nd America's Cup.
"There are lots of little things that are an issue, which I think will be resolved over the next couple of years. I don't think it is anything necessarily malicious, just some things maybe haven't been that well thought through and I'm sure with a general consensus things will get sorted," says Ainslie. "It would be nice to know what the thinking is, what teams can and can't do in reality and how things will move forward. We need some more information about that, it would be nice to keep the information channels open.
"Oracle is putting this whole event together. For Russell [Coutts] and Paul Cayard, it is their 30 year vision. It would be nice to share this vision with the rest of us before we are all supposed to committee three years of our life and 100s of millions of pounds worth of investment into something."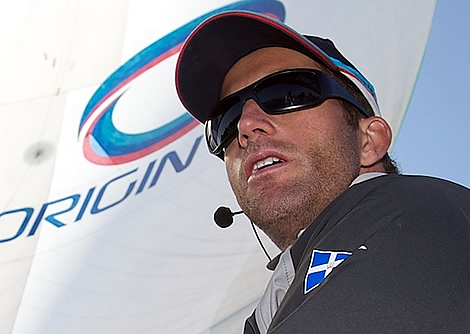 Ainslie is aware that, as ever, America's Cup politics can be like religion, you can approach BMW Oracle Racing's decisions in good faith or with cynicism (although in AC history the latter has usually proved correct). "You can look at the Protocol and say they are doing it for the good of the sport and trying to move it forwards and making it more exciting and more accessible for smaller teams. If you are cynical you say they are doing it with multihulls with wingsails because that is what they know best and they have the design advantage in that and they want to bring in smaller teams and fund smaller teams that allows the exchange of design information which is an easy way for them to access more information and move their game forwards.
"I think there is a middle ground somewhere there where as challengers we need to trust that they are trying to do the best for the sport and the defenders need to help lead a few more of us into the unknown and explain to us that it is going to be a good event, a fair event and get as many of the top teams in there as possible."
Ainslie's view is that while Article 33.2 that allows non-exclusivity of design information and the possibility of entry level teams being able to buy 'stock' AC boats is ostensibly a great way of making participation in the America's Cup achievable for smaller campaigns, this will not be the case for the bigger players. "It will be cheap for a team that wants to be like a Toro Rosso in F1, where you can go and get your design package from Oracle or whoever, and you don't necessarily build two AC72s and you can be reasonably successful and not far off the pace. But you are not going to win with that package and if you want to win it is going to cost you a lot of money and it certainly won't be any cheaper than in the last Cups."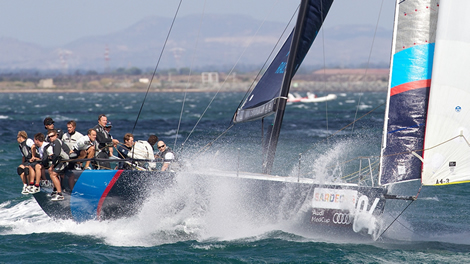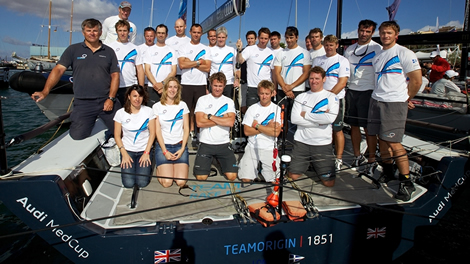 Audi MedCup

TeamOrigin concluded the Audi MedCup regatta in Cagliari at the weekend in sixth place leaving them in fourth place overall in the 2010 series – a frustrating result says Ainslie. However competing in the Audi MedCup has been a most value experience for the team.
"The whole fleet has improved a huge amount from the first regatta in Cascais when everyone was broaching out of gybes and ripping chutes left, right and centre and now the standard of the fleet, the boat handling in particular has come on in a huge way," says Ainslie. "And we have developed a lot as a team. We have made a lot of changes to both the boat and the team both on and off the water which has got us to a better spot looking towards the future. We are disappointed with the end result – we would have liked to have got a top three overall - but we have really enjoyed it. It is a great class.
"If you look at the standard of the sailors on all the boats, they are all great sailors with top past results and experience in the class. So we have been catching up a lot but our rate of improvement has been good and we have been up there mixing it with the best of them."
TeamOrigin's Juan Kouyoumdjian design may not have been the fastest out of the blocks but the process of getting this up to speed is exactly what they will have to go through for the Cup. "I think if we had just gone and got a stock boat which was fast and middle of the road, we could have just got on with the racing, but the fact that it was a new concept and a new design for Juan meant that together we all had to pitch in and decide what we wanted in the boat and try and mode it to what we thought would work with the racing and as we have gone through the season to try and make improvements where we can. And we have some really technically minded people with Warwick [Fleury] and Iain [Percy] and Bart [Andrew Simpson] who have done a lot of that with their Star, looking at different set-ups and Adam May obviously being involved more recently."
May's stock in particular is going up with the team as aside from being an ex-Tornado Olympic sailor having crewed for Hugh Styles in Sydney, he is also a trained aerospace engineer who has previously worked for Airbus.
Initially the TeamOrigin TP52 was fast upwind but at a disadvantage downhill. Changes to the boat included a replacement keel (no more winglets since Cascais) and fitting smaller rudders. "We have gone from being quite extreme to being a boat that can perform in most conditions," continues Ainslie. "There has been a lot of talk about its design and is it good or is it bad but the fact is it is a good fast competitive boat. Juan and his team did a really good job of it and as you would expect for a first shot at we have had to make some changes through the season and I think we have got it to a good spot."
Through the course of this season the boat, which features a knuckle at the bow (see the video tour here), has proved to have a sweet spot in flat water, but as Ainslie says there is always a trade-off. Emirates Team New Zealand's Botin-designed boat for example excels in a breeze.
The plan for the TeamOrigin 1851 TP52 is that it will head for the UK where it will be raced by Charles Dunstone next season.
From here TeamOrigin will be competing at the Bermuda Gold Cup but Ainslie says they haven't finalised whether or not they will be at the Monsoon Cup, the concluding event in the World Match Racing Tour yet. In October he will be continuing his Finn training in chilly Portland.
Back to top
Back to top