Emirates Team New Zealand claim their second Audi MedCup
Just as they did last year Emirates Team New Zealand clinched their second successive Audi MedCup Circuit win with two racing days of the 2010 season to spare.
After Thursday's coastal race the supreme Kiwis under skipper-helm Dean Barker had built themselves an unbeatable lead and in the end, after today's one final blustery race in a Mistral of more than 28 knots off Cagliari, Sardinia, the champions rounded out their second victorious season to finish 48.5 points ahead of Quantum Racing (USA) who finish runners-up, as they also did last season..
Alberto Roemmers' Matador (ARG) skippered by Guillermo Parada (ARG), comprehensively won the Region of Sardinia Trophy, the fifth and final regatta of the Audi MedCup Circuit season, finishing 12.5 points ahead of Jochen Schuemann's Franco-German crew on Audi A1 powered by All4ONE.
The Kiwi 2010 champions, become the first team ever in the six year history of the circuit to win back-to-back MedCup Circuit champion titles. They won the top regatta trophy in Cascais, were fourth in Marseille, second in Barcelona, triumphed in Murcia and finished third on countback here in Cagliari.
Emirates Team New Zealand set themselves on course for overall victory from the outset of the season in breezy Cascais, Portugal in May where they established an initial lead of 20 points, winning three races as well as the key coastal race there.
When last season they streaked to win four in a row of 2009's five regattas, unmatched consistency has underpinned their victory again this season.
They won ten of this 2010 season's 44 52 Series races. Last year they won 14 races from 43 starts. Skipper Dean Barker, Emirates Team New Zealand's skipper -helm highlighted today how much harder this season has been for them to prevail overall.
"This is such a nice feeling to be able to come back and be very successful again this year," commented skipper Dean Barker. "No question that the standard this year is much higher than last, and I think as a result of that it's hard to win as often as we did last year but I think the strength of the team has been sailing consistenly all the year through. We came out of Portugal with a nice little points buffer and I think that really set us up pretty well for the year, that allowed us a little bit more of flexibility, a little bit more of room and as a result it was difficult for the other guys to kind of get back info it."
His tactician Ray Davies added: "Key this season has been consistency, reliability in the boat, keeping the boat in one piece, a fantastic shore team which has worked tirelessly through the year ason, the attention to detail. There is no one thing, just an exceptional group of guys putting in the hours, and sometimes that can be a thankless task at times and today the boat held together really well.
"We have definitely had to sail better than last year. The competitions But from the start the design and the concept of the boat has been right, just better than the others, but between us on the boat there is really good trust, an exceptional group and we have never changed a single crew member. It has been a really good, solid team since the start."
From Chris Cameron/ETNZ: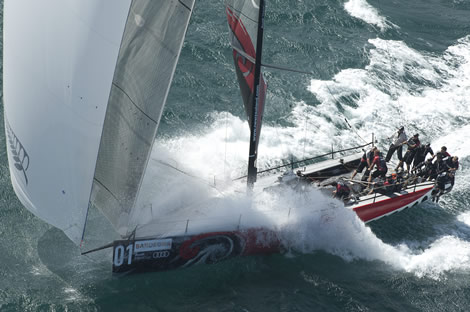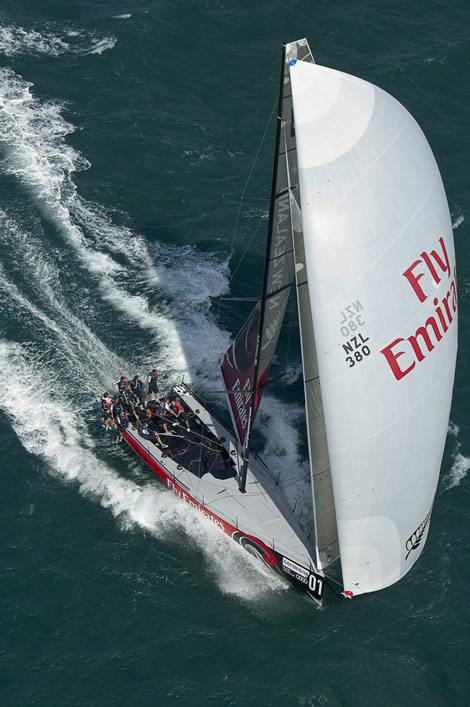 Terry Hutchinson and his American Quantum Racing crew finish second overall for the season, just five points ahead of Matador, who when they seized the lead on the second beat of today's race seemed to have pulled themselves up to within touching distance of second place on the circuit. With Quantum Racing five boats behind it might then have gone down to a match race for second, but as they hoisted their kite for the final run it exploded and they were left sitting for minutes while four boats passed them. They only just managed to get a new spinnaker filling to stay ahead of their green and black hulled adversaries.
Quantum Racing tactician Adrian Stead said: "There has been some great regattas this year. I have to say that Matador sailed incredibly well this regatta. We had them behind a few times and they took us, all credit to them, very well sailed. But quantum racing we are very pleased with what we've done and looking forward to next year with the new boat, and also to the 52 worlds in a few days time. Today we all pushed the boats pretty hard and I think that shows the level standard here and in these kind of conditions you see those little things that make the difference. It was great sailing today, we had a little stall out in one of the gybes, but all credit for our team."
Guillermo Parada skipper of the Cagliari winning yacht, Matador said: "We really feel very proud of ourselves and our team. We stuck together, kept pushing till the very end. Winning this regatta is very important to us, not only the win but also doing it the way we did. We were putting pressure on Quantum until the very last day. And we lead every day and we did again today until we lost the kite. So we are very happy of the overall results and proud of ourselves as a team. These boats in this conditions are good fun to sail, they are very demanding, very challenging. We had good runs, very enjoyable. As we said this morning we had done all our homework in advance and today we needed to enjoy the sailing because we are all sailors and we all love to sail. That's what we came for and the conditions were perfect so we did that and we made the most of it. We finished on a high note, which is very important specially after last season it was sort of payback for us in order to show ourselves that we can do it. We can make it happen and we can fight against any team in the world at the same level, so I am very proud."
With a win in the final race of the season Audi A1 powered by ALL4ONE finish second at this season's finale, just as they also did in Portugal in May. Tactician Sebastien Col said: "I think that our team has improved in Cagliari in regards with all to the rest of the season season. We've had some very difficult moments but the team has always sailed well, so I'm really proud of this team. Winning the last race is meaningful."
After finishing sixth in Cagliari, TeamOrigin completed their first Audi MedCup season fourth overall. Skipper Ben Ainslie said: "It's been a really good circuit, great racing, a lot of really good venues and really different conditions throughout the year so it's been fantastic. I think ETNZ obviously sailed the best all year around and we were really impressed with how Matador sailed in this regatta towards the end of the season, they really started to sail well. This is the windiest day we've sailed these boats and it was good fun, quite wild. These are great boats and deliver some of the closest big boat racing that I've ever done."
Madrid-Caser Seguros dominate the 42s
Overall victory for the season in the 42 Series was achieved with a day to spare by Jose Maria van der Ploeg's Madrid-Caser Seguros.
Yesterday they ensured they could not be beaten for the 2010 Audi MedCup Circuit title and today made it three in a row winning three of the season's five regattas outright in Barcelona, Murcia and the Region of Sardinia Trophy.
The road to victory in the 42 Series had some bumps for overall winners Madrid-Caser Seguros, with the series runners-up and defending 2009 season champions Islas Canarias Puerto Calero easily winning in Cascais with a huge 10 point margin.
"The team has been improving at every stage," said an ecstatic van der Ploeg, "And now we are at the maximum, exactly where we wanted to be. This was a fantastic way for us to end a great series, the boats are fantastic. The team has been improving at every stage, and now we are at the maximum, exactly where we want to be. We will take a few weeks to take a break and then think about our moves in the next season."
And in performing well in the lighter air races other teams like Iberdrola (ESP) and AIRISESSENTIAL (ITA) were always poised to pounce, while Peninsula Petroleum (GBR) suffered bad luck in the first two stages with a broken masthead crane.
Cesare Bressan main trimmer on AIRISESSENTIAL said: " We were not as fast as the two B&C boats today, so it was going to be hard to get the scores that we needed. The wind hit 33 knots, which is the strongest we've ever seen on this boat, and we broke the out hall shackle on the mainsail, but off the wind was really fun, hitting 22 knots of speed. Roberto [Monti] did a great job driving, he has really improved over this season."
John Bassadone owner/driver on Peninsula Petroleum said: "Today was incredibile, over 30 knots of wind, and we first broke our new main, had just enough time to put our old main on, and then that broke too. So, if we had another race I'm not sure what we would have done. But we had tremendous fun, the boats are fantastic, and this MedCup has been great, its hard to imagine a better circuit of racing."
But the teamwork came together for skipper Jose Maria van der Ploeg (ESP) and helmsman Paolo Cian (ITA), with their excellent speed, boathandling and tactical potential becoming apparent by their first stage win in Barcelona, and just accelerating after this.
The next 52 Series event is the world championships for the class on 5-9 October in Valencia, Spain. The 2011 Audi MedCup Circuit starts in May next year.
Region of Sardinia Trophy - final results
52 Series
1. Matador (ARG), 2+8+2+1+5+1+1,5+5= 25,5 points
2. Audi A1 powered by ALL4ONE (FRA/GER), 5+1+5+6+3+11(DNF)+6+1= 38
3. Emirates Team New Zealand (NZL), 8+2+1+10+2+3+9+3= 38
4. Synergy (RUS), 6+5+3+4+1+5+7,5+7= 38,5
5. Quantum Racing (USA), 9+3+7+2+6+4+3+6= 40
6. TeamOrigin (GBR), 7+4+4+8+4+2+10,5+2= 41,5
7. Bribón (ESP), 1+9+8+3+8+3(RDG)+8(RDG)+5,3(RDG)= 45,3
8. Artemis (SWE), 3+6+10+5+9+8+4,5+4= 49,5
9. Cristabella (GBR), 4+10+6+9+7+6+12+8= 62
10. Luna Rossa (ITA), 10+7+9+7+10+7+13,5+9= 74,5
11. Bigamist (POR), 12+12+12+12+12+12+18+12= 102 (DNC)
42 Series
1. Madrid – Caser Seguros (ESP), 1+2+1+1+1+1+1= 8 points
2. Islas Canarias Puerto Calero (ESP), 4+1+3+2+2+3+2= 17
3. Península Petroleum (GBR), 3+3+4+4+3+2+3= 22
4. AIRISESSENTIAL (ITA), 2+4+2+3+4+4+4= 23
5. Iberdrola (ESP), 6+6+6+6+6+6+6= 42 (DNC)
2010 Audi MedCup Circuit - Final results
52 Series
1. Emirates Team New Zealand (NZL), 31,5+31+35+35,5+38= 171 points
2. Quantum Racing (USA), 59,5+22,5+44+53,5+40= 219,5
3. Matador (ARG), 60+27+67+45+25,5= 224,5
4. TeamOrigin (GBR), 59,5+31+63+46,5+41,5= 241,5
5. Artemis (SWE), 57+53+33+64+49,5= 256,5
6. Synergy (RUS), 64+35,5+73+68,5+38,5= 279,5
7. Audi A1 powered by ALL4ONE (FRA/GER), 51,5+29,5+84+78+38= 281
8. Bribón (ESP), 88+41+58+70+45,3= 296,5
9. Cristabella (GBR), 65+43,5+62+85,5+62= 318
10. Luna Rossa (ITA), 77,5+44,5+73+69+74,5= 338,5
11. Bigamist 7 (POR), 88+78+70+78,5+102= 416,5
42 Series
1. Madrid – Caser Seguros (ESP), 24+12+14+23+8= 81 points
2. Islas Canarias Puerto Calero (ESP), 14+17+19+29+17= 97
3. Iberdrola (ESP), 25+10+26+27+42= 130
4. AIRISESSENTIAL (ITA), 37+15+39+29+23=143
5. Península Petroleum (GBR), 40+24+37+27+22= 150
More photos from Nico Martinez:
From S.Gattini and G.Trombetta/STUDIO BORLENGHI/AudiMedCup
Back to top
Back to top