Rolex Big Boat Series preview
With racing set to start this Thursday, the 46th annual Rolex Big Boat Series, hosted by California's St. Francis Yacht Club, is setting up to showcase major sailing talent along with some sweet IRC and One-Design action over four days of competition on San Francisco Bay. Of 99 boats signed up, 26 are IRC (handicap racing) entrants, which will be further divided by rating into four classes, one of which is the newly featured light displacement sport boat class. The balance of the fleet is comprised of one-design (single type) boats, with the Melges 32s leading in entrants at 27. Not far behind, however, is the J/105 class with 24 entrants, followed by J/120s (8 entrants), Express 37s (8), and One Design 35s (6).
Melges 32 Worlds

The large turnout in Melges 32 class can be attributed in part to that class's World Championship, scheduled to follow immediately on the heels of the Rolex Big Boat Series and also to be hosted by St. Francis Yacht Club. Among the teams signed up for what is being dutifully called the Melges 32 'Pre Worlds"' is Doug Douglass' Goombay Smash, with two-time Olympic bronze medalist Charlie McKee serving as tactician before America's Cup veteran Russell Coutts steps on for the Worlds.
Goombay Smash is new for Douglass, better known for his class successes on a Farr 40 of the same name, and the Pre-Worlds will be his team's first time sailing this boat in a regatta. According to mainsail trimmer Marco Constant, getting the boat up to speed was a chore, since it had been taken out of racing configuration, but he was confident of the resin in the crew mix: a core team, including Douglass and himself, that has sailed together plenty on the Farr 40.
"Two different techniques, two different styles, two different schools of sail," said Constant about the feisty Melges 32s vs. the more predictable Farr 40s. "Both take an extremely high amount of finesse to sail, but the Melges 32s take less wind to get going on a plane." He added that with San Francisco Bay's predictably high winds during September, that single trait is sure to be good for the show.
Charlie McKee will meet his brother Jonathan play-for-play when the latter McKee takes his position as tactician aboard John Porter's Full Throttle. Jonathan McKee, also a two-time Olympic medalist, has a Melges 24 World Championship to his credit and will have as his crew mates another set of brothers: Vincent and Corbett Porter, sons of the skipper.
Among the other headliners, Pieter Taselaar's Bliksem team will perhaps be the most watched. As reigning world champions, they should match up well with Luca Lalli's Italian entry B-Lin Sailing, which just won the 2010 Audi Melges 32 Sailing Series and has such notables aboard as two-time and reigning Melges 24 World Champion Lorenzo Bressani along with Federico Michetti, who has won the worlds a record three times, twice with Bressani at the helm.
Up to the Task: Other Classes
With new entries hailing from the Sierras and south to Mexico, the 2010 Rolex Big Boat Series promises great competition for veterans and first timers alike.
"All the real players are coming out, for sure," said Regatta Chair Norman Davant, pointing out that among three Japanese entries Masakazu Toyama's Ebb Tide will be returning to compete in the One Design 35 class, and two entries from Mexico - the TP52 Patches and the Kernan 68 Peligroso - will be introducing new owners Jorge Ripstein and Lorenzo Berho, respectively, to racing in the Rolex Big Boat Series IRC class.
"It's going to be a good race in the IRC Class A," said Davant, "with Peligroso, as the bigger boat, most likely out in front and trying to save her time on Patches and the other TP52s Mayhem of Canadian Ashley Wolfe and Flash belonging to Californians Mick Sheins and Mark Jones, as well as Jim Mitchell's Reichel Pugh 52 Vincitore." Davant noted that Vincitore, with the same crew as will sail here including Chris Dickson as skipper and Davant as tactician - won the 2009 Rolex US-IRC National Championship held in conjunction with last year's Rolex Big Boat Series. Other returning IRC class winners from last year include Gerard Sheridan's Elan 40 Tupelo Honey and Dan Woolery's King 40 Soozal.
Last year, in the ultra competitive J/120 fleet, the outcome of the last race determined the overall winner. This year, defending champion Barry Lewis aboard Chance, will most certainly be challenged by John Wimer's Desdemona; 2008's winner Mister Magoo, steered by Steve Madeira and Don Payan's Dayenu, which finished third last year.
In J/105 class, defending champion Chris Perkins aboard Good Timin' will be threatened by 2009 J/105 North American Champion Bruce Stone steering Arbitrage, while in the Express 37 fleet, defending champions Kame Richards/Bill Bridge aboard Golden Moon will be working just as hard to keep the crown.
The Rolex Big Boat Series includes two races per day, with one long, Bay tour on Sunday; of nine classes, six will be announced as eligible for Perpetual Trophies and Rolex watches as prizes just prior to the start of the regatta.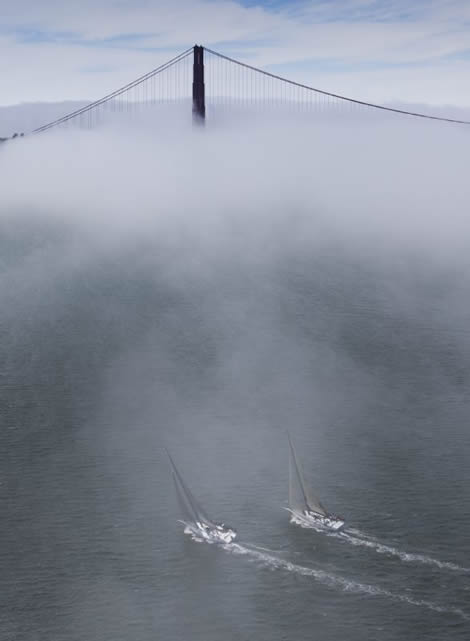 Back to top
Back to top