Bella Mente fights back
What had the makings of a mammoth encounter between the dark side of mother nature and the Maxi Yacht class, on day three of the 2010 Maxi Yacht Rolex Cup, turned out to be far happier collision than expected, following some quick thinking by the Race Committee.
The forecast weather for today was always tainted with unpredictability. With yachts on the race course heading for an unannounced swiftly forming violent thunderstorm, PRO Peter Craig made the call to abandon racing and take refuge until the 40+ knot squall had passed through. What a call to have to make. Vindication came in the 25-nautical mile race sailed later in the day by all classes in bright sunshine and a 20 knot westerly that brought the crews home grinning from ear to ear.
Today's lucky stars were: Bella Mente (USA) in Mini Maxi; Esimit Europa 2 (SLO) in Maxi; Gibian (GBR) in Wally, and, Visione (GER) in Supermaxi, with Ranger (CAY) top of the J Class.
A coastal race was always on the menu for the whole fleet. First thing this morning conditions seemed remarkably benign after an orchestral, but silent electrical storm in the northern sky had entertained Porto Cervo residents last night. By race time we had a building breeze from the northwest but some very dark clouds on the horizon. Not black enough to foretell doom, but certainly time to put on the foul-weather gear. The Mini Maxi Division, starting the sixth race of its projected nine race series Mini Maxi Rolex Worlds, got underway in 15 knots and an unsettling lumpy sea. Rán (GBR) led the drag race fetch to Capo Ferro, entering 'Bomb Alley' with Shockwave (NZL) immediately behind and Container (GER) on the right hand wing.
It was at this point that news of a postponement of the Maxi Division start filtered over the radio, closely followed by the abandonment announcement that took sometime to reach the frontrunners. The return to Porto Cervo was a dignified scurry: 49 maxis hurriedly trying to dock in a confined harbour requires good sense from boat captains and some skill from the marina staff. The buffeting arrived on cue, but was short-lived.
By 1330 CEST, the situation had improved sufficiently for the fleet to return to the field of combat and embark on short coastal course that involved a beat into the channel at Capo Ferro, a sharp right turn onto a reach at Secca di Tre Monti, another right turn at Monaci and a huge reach down to Mortoriotto to the south of Porto Cervo. From there it was back on the wind again and a fetch up to Golfo Pevero and on to the finish.
In the Maxis, Igor Simcic's Esimit burnt up the strip in rather dismissive one hour 41 minutes. Irvine Laidlaw's Highland Fling (MON) followed her home some 13 minutes later, to correct out three minutes behind. Esimit is in overall control of this class, but only one point separates her from Fling, so she is a long way from certain victory. Olympic silver medallist and America's Cup winner, Peter Holmberg is tactician for the week on Highland Fling; he felt that some key sail calls were the difference between a good result or not: "It went well for us today. A good beat up into the passage, cross-tacking in 20 knots. Then the first test was the reach across the top. It was two-part: broad to start and getting tighter. The big decision was asymmetric sail or jib reach. We put up our A3 and the boat speed shot up another 4-5 knots. We tightened up around the gybe mark (Monaci) and had the long run back down to the bottom of the course. We faced another decision [on this leg] over jib or A-sail, we waited a while and when we deployed it we wished we had done so eight-minutes earlier because we just took off – a great, exciting blast with 27, 28 knots of boat speed."
Mike Toppa is another America's Cup winner onboard Highland Fling: "This was the most fun racing I've done in a long time. Lots of reaching off the wind: that is when this boat really lights up. We talked ourselves into putting up a bigger sail than the range suggested for the first beat to avoid having to change at the first mark. We kept it up all race, putting up other sails around it and you rarely do that!"
Toppa explained a little of the philosophy behind Fling and why she motors in these conditions like few others her size: "She's only a year old. Irvine (Laidlaw) wanted a boat that would plane like other grand-prix boats, but it had to have to have an interior. So it's got four staterooms and teak decks, but it gets up and planes. It's got chines on the sides for stability and two rudders for more control. The big bonus is that it is just a really nice boat to sail."
For once, king of the heap in the Wallys proved to be a relative unheralded combatant. Gibian (GBR) has been to Porto Cervo twice before, never winning a race. Her owner, Armando Grandi, has though tasted success here previously albeit with a different boat.
Today Gibian did enough for her maiden Maxi Yacht Rolex Cup victory, correcting out 20 seconds ahead of the highly competitive Y3K, whose second-place gives her a perfectly ordered series score line of 2,2,2. If Claus Peter Offen's crew continues with that level of consistency, none of the chasing pack will be able to outdo her.
Grandi, though, was delighted with today and despite one hiccough. "These boats are meant to be sailed," said Grandi, who is 83 and enjoys cruises extensively in between bouts of racing. "We had a very good day, although unfortunately we tore our gennaker. It happened on last leg at Mortoriotto. We were taking down the gennaker and made a little mistake. The sail fell in the water and tore. We hope we can borrow one to continue racing!" After today's brief brush with glory that is a heartfelt hope for the crew that includes three generations of the Grandi family.
In the Mini Maxi Rolex Worlds, Hap Fauth's Bella Mente outplayed all of her bigger rivals to win on the water and handicap. Two minutes ahead of Rán (GBR) at the finish is as comprehensive as it gets in this class. For the time being, Andres Soriano and Alegre (GBR) retain the overall lead, but the wolves are circling. The lead is now down to one point, after Alegre's fourth place today.
Fauth is renowned for a big grin and it was in fine form this evening, dockside, as he described the race: "Just a great day, really fun. It was the normal jungle course: Long first beat, reach, long reach down, tight reach and then a windward beat to finish. We had a good start, in the top three at the first mark." Here too, sail selection was a key part of the exemplary performance, according to Fauth, "we had a little sail that really worked for us, a fractional code zero. We threw that boat on the plane and we were gone…gone…shot out of the cannon. Full tilt, fill the main up, get on the rails and go! It was a fun day…"
Among the Mini Maxi Cruiser/Racers, Brian Benjamin's Aegir (GBR) was not the best performer today – that honour went to Riccardo De Michele's H20 (ITA) – but Aegir's series results so far appear to give them a slim lead over Grande Orazio (ITA).
Tomorrow is a layday at the Maxi Yacht Rolex Cup. A day to recharge the batteries and lick wounds, all the time making ready for two more days of highly charged racing. The Mini Maxi Rolex Worlds fleet expects to return on Friday with a coastal race on their schedule, before the final showdown windward/leewards on Saturday. The Supermaxis and Maxis have two more coastal races to complete their programme. The Wallys, meanwhile, have one coastal race and a day of windward/leewards to close out their Maxi Yacht Rolex Cup series. Shockwave is seven points off the pace and Neville Crichton's team will be scratching their heads hard to find some answers. Crichton is too competitive to concede this event with three races to go.
The 2010 Maxi Yacht Rolex Cup, organized by the Yacht Club Costa Smeralda in conjunction with the International Maxi Association (IMA), runs from 5 to 11 September. Racing recommences on Friday and with racing scheduled for Saturday too, the prize giving on Saturday will be the culmination of an intense week of big boat competition. From the most luxurious, through the most traditional, to the most advanced monohulls afloat today, the Maxi Yacht Rolex Cup is nothing if not an astonishing line up of sailing power.
Provisional Standings after Day 3
Place, Boat, Skipper, Races 1-2-3, Total Points
Maxi Racing & Racing/Cruising
1) Esimit Europa 2, Igor Simcic, 1-2-1, 4.0 points
2) Highland Fling, Irvine Laidlaw, 2-1-2, 5.0
3) Singularity, Deniy Yacht Mngmt, 4-3-3, 10.0
Wally
1) Y3k, Claus Peter Offen, 2-2-2, 6.0
2) Magic Carpet 2, Lindsay Owen Jones, 5-1-3, 9.0
3) Indio, Andrea Recordati, 4-3-4, 11.0
SuperMaxi/J Boats
1) Ranger, R.S.V. Ltd, 1-1-1, 3.0
2) Velsheda, Tarbat Investment, 2-3-7, 12.0
3) Hetairos, Rockport Ltd, 8-2-3, 13.0
Place, Boat, Country, Skipper, Races 1-2-3-4-5-6, Total Points
Mini Maxi Rolex World Championship
1) Alegre (GBR), Andy Soriano, 1-1-(4)-1-1-4, 8.0
2) Ran, Niklas Zennstrom (GBR), (6)-2-1-2-2-2, 9.0
3) Shockwave (NZL), Neville Crichton, 2-3-2-(5)-5-3, 15.0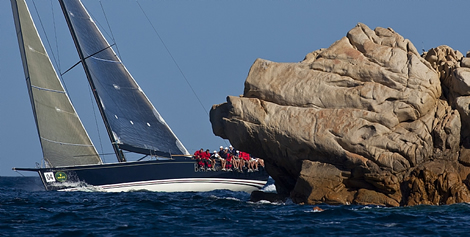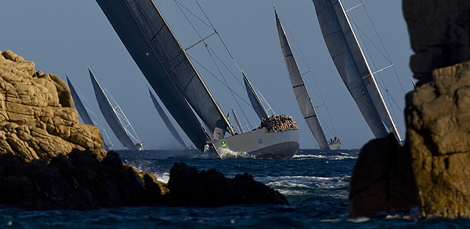 Back to top
Back to top