Robert Schiedt and Torben Grael
Luna Rossa joins the Audi MedCup
This year's Audi MedCup will see the participation of two new teams, both America's Cup challengers in TeamOrigin and also Luna Rossa. For those who have yet to join the dots, this will mean that ten years on from the Sydney Games, where he won his first Gold medal, Ben Ainslie will have the opportunity throughout this year to resume his dust up with his old Laser adversary Robert Schiedt, the Italian team's helmsman.
After Team New Zealand, Patricio Bertelli's Luna Rossa team is now one of the oldest surviving America's Cup teams since establishing themselves in 1997 prior to the 2000 event in Auckland. In that event they won the Louis Vuitton Cup only to be defeated by a Russell Coutts-led Team New Zealand while in 2007 with James Spithill at the wheel they were once again defeated by the Kiwis in the Louis Vuitton Cup final.
With the legal wrangling following the 2007 event, Bertelli publicly turned his back on the Cup, but was in fact developing a new team retaining his long term tactician in Torben Grael and recruiting Schiedt to steer. With the America's Cup at the time looking like it might move into a new faster monohull, such as the AC90 or the AC33, so at the end of 2008 the team built a Judel-Vrolijk STP65 that we were given the opportunity to see at Palmavela last year (read about this here). Last year the team had an action packed year with the boat competing in the Rolex Fastnet Race and Middle Sea Race, the team having to make the significant leap from America's Cup match racing to offshore fleet racing.
"It was a really good experience to try a different kind of boat," says Luna Rossa's long term Team Manager, Antonio Marrai. "At the beginning the boats were pretty close to the new America's Cup class of boat from a couple of years ago. But it was a good benchmark for crew for testing the systems and seeing how it worked."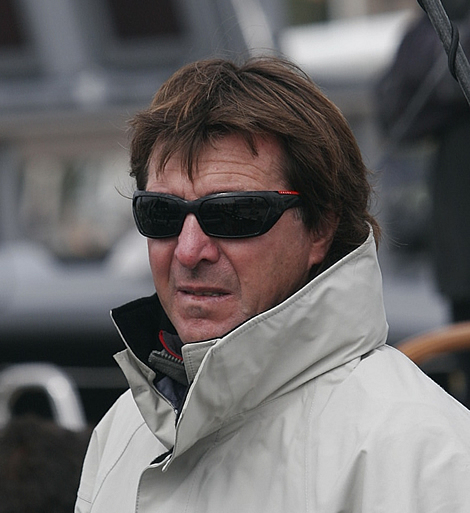 For 2010 Luna Rossa are moving on again, this time into the TP52 and the Audi MedCup, for as Marrai says the STP65 class is now more or less dead. "We would like to race in more tight competition with more equal boats. Also there is the possibility to participate in another America's Cup and we'd like to train the guys in tight competition."
To compete in the Audi MedCup they have Vasco Vascotto's Judel-Vrolijk designed 2007 generation boat, which they have had at their base in Valencia modifying to the 2010 class rules, in particular moving weight to the bulb and adding a bowsprit, plus some minor restyling. "Vascotto gave us some input about what we should do to improve the boat, because he sailed the boat for a couple of years. Now we are talking with Rolf we try to find the best solutions to make the boat faster," says Marrai. The core crew will remain the same from the STP65 but obviously has to be smaller.
"It is going to be interesting with TeamOrigin, Team New Zealand, Artemis and us – it will be a good competition," says Marrai of this year's Audi MedCup circuit. "But unfortunately we are brand new in that, so maybe we will pay in terms of experience. There are a few guys in our crew who have sailed TP52s before, but Torben and Robert are new to it." But then so is Ainslie.
In addition to the MedCup, Luna Rossa will also be competing at the next LV Trophy event in La Maddalena, Sardinia at the end of May."We decided to go La Maddelena and then we'll see what is going on. The idea is just to participate at all the other events, but we don't know yet." Much of this will depend upon the 34th America's Cup and what role the LV Trophy events have in it.
Patricio Bertelli hasn't made a decision about whether he will contest the 34th America's Cup yet. This will only happen when more details are known about the event, although the team are obviously heading in this direction. "It is not only about him, it is the company [Prada]," says Marrai. "Once he decides he has to move quickly, because once we know what's happening the market will be open."
For the next event Marrai says he would personally prefer it to be in monohulls. "It is more spectacular in terms of competition, not in terms of speed. Oracle and Alinghi did a good job to produce their boats with wings and different solutions, etc – they are pretty interesting and the competition was spectacular in terms of speed. But for the TV – what happened with the Cup before [in 2007], was one of the best events. The competition was very tight. In Auckland it was a nice environment but sometimes they were split too much because of the wind conditions. In Valencia they were really close – just seconds apart.
"Of course if you go for the Version 5 boat with modifications you could save some money. You have to establish and set up the rules – you can you build one boat and what percentage you can modify it? But I don't know if that will work in the future. For the event itself it is good to think about a new boat and try to save some money on the cost, some limits on the number of bulbs and masts, etc."
But, Marrai points out, the first event in new boats is unlikely to be so competitive as the design teams struggle to find the right area of the box rule to be in. "Of course with modified Version 5 boats you could have a spectacular event, a close regatta. But if you have a new class which is a little more spectacular performance, there are a couple of boats ahead of the others. So it is a difficult question to answer. There are pros and cons on both sides."
In addition to their STP65, the Luna Rossa fleet currently includes five America's Cup class yachts.
Marrai also points out that a change of boat and a change of venue could be too much. He, like us, worries that with the America's Cup returning to the US, it could be a repeat of San Diego where the event failed to make much impact on the local community. San Francisco could be different as the bay is such a centre piece to the city. "I think that Europe had more advantages for the Cup than the States, but that is my personal opinion," states Marrai.
Italy of course remains the strongest nation in the America's Cup. In 2007 they had three teams in Luna Rossa, Mascalzone Latino and +39 and this time there could be four with the addition of the Francesco Bruni led Azzurra and +39 possibly re-forming in its new guise as Greencomm. Surely it is about time an Italian team won the event?
"We have already tried three times, but for some reason we always miss something to win," admits Marrai. "I used to say the America's Cup is a very bad beast - it is something you have to approach in the right way to be sure to have a plan, know what you want to do, etc. Of course the goal is to win but to do that takes a while and even if you are well organised you miss things. So it has to be planned in advance and find the right people. One of the secrets to winning the America's Cup is putting together the good people but they have to feel part of a team and not be a group of individual. I think Alinghi and Team New Zealand did that – we tried, but we have always missed some little piece of the puzzle and for this reason we have never won the Cup."
Marrai agrees that Italy would be a great country to host the America's Cup at some point. "Italians are very enthusiastic – it doesn't matter if we are talking about soccer or whatever but when there is a team flying the Italian flag, Italians become experts, they know everything about sailing. It is a shame that no one has brought the Cup to Italy - it is a good and the right place for the Cup."
As to where might be the best place to hold an America's Cup Marrai say there are some places in Tuscany that might be in need of redevelopment, the Bay of Naples would be good for the public and is close to Rome, but otherwise he recommends Cagliari on the south side of Sardinia, where there is enough space and there is also an international airport.
But there is a small step that has to take place first...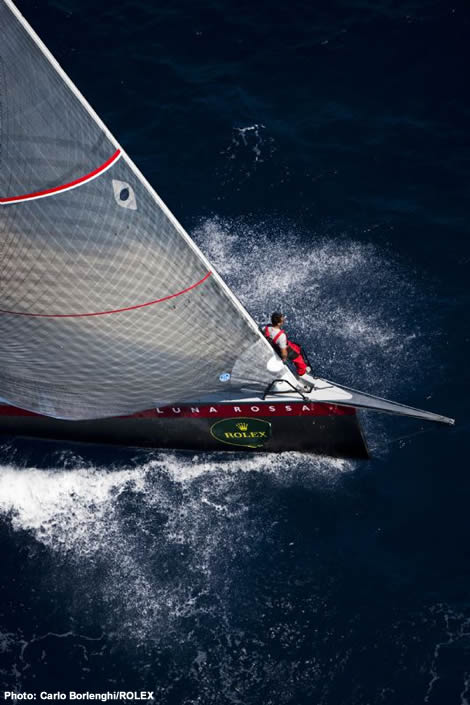 Back to top
Back to top