Audi MedCup update
There's now just two months to go before the start of the first regatta of the 2010 Audi MedCup Circuit season - the Portugal Trophy due to take place on the testing Atlantic waters off Cascais.

Activity throughout the TP52 fleet has been building up progressively over recent months. Changes to the TP52 Class Box Rule mean that all of the teams which plan to compete at this season's five Audi MedCup Circuit regattas followed by the TP52 World Championships in October, are required to have made the necessary modifications to their existing boats. These mods include adding 150kgs of weight to the keel to compensate for the reduction in crew weight, changing to a 'square-top' mainsail with twin backstays and increasing spinnaker area and adopting bowsprits.
The Audi MedCup organisers, World Sailing Management, a division of Grupo Santa Monica Sports, are expecting to welcome the same number as 2009, or perhaps one more TP52 to their circuit this season. Two new America's Cup teams are well into their preparations.
"We expect 10 to 13 boats in the TP52 class and five or six in the GP42 class, all in all a good line up considering the economic climate," comments Nacho Postigo, Audi MedCup Circuit's Technical Director. "The TP52 class has gone through the winter modifications without major problems."
Great Britain's TeamOrigin have their new Juan Kouyoumdjian-designed boat nearing completion at Salthouse Boats in Auckland. Theirs is the only new build TP52 this winter and they are due to ship the boat directly to Portugal.
Mike Sanderson (NZL), CEO of TeamOrigin said: "The schedule was always going to be tight but we are on time. The boat is due to leave New Zealand in the middle of March. We have it booked on a fruit ship which means it is pretty reliable because if it gets late then the fruit goes rotten. We will ship it directly to somewhere close to the venue and do its final measurement there and will sail it there for the first time. It is not optimum for how we would have loved to have done it, but we always knew that, we knew that that's what the schedule was going to be before started building it, so we are just going to have to hope that we can get it on the pace as quickly as possible. We are really looking forward to it. It is going to be an amazing year. We really can wait."
Current Audi MedCup champions Emirates Team New Zealand completed their modifications in-house and have been trial sailing the new configuration on the waters off Auckland in excellent conditions. Otherwise, explains CEO Grant Dalton, the only change to their winning set up is the new paint job. They will sail with exactly the same core sailing team, with the exception of the reduced crew number.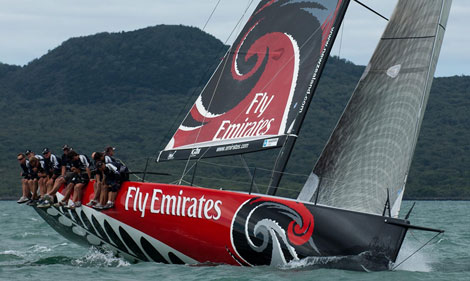 2008 Audi MedCup champions Quantum Racing, which finished overall runners-up last year are believed to have taken the opportunity to update their deck profile and have made a bigger winter refit. Torbjorn Tornqvist's 2007 champions Artemis, third overall in 2009, have a busy sailing season planned and will be back to challenge hard. Argentinian Alberto Roemmers' Matador team start training on 19 March as a build-up to the Palma Vela regatta, where up to five teams are likely to race as a warm-up for the Audi MedCup, including Artemis, Cristabella (GBR) Matador and Synergy (RUS).
Spain's Palma-based Bribón has undergone some minor modifications along with the class rule modifications. They have changed to tiller steering, removing the twin wheels, changed the mainsheet system and extended the deckline to the vertical at the back of the boat, in line with all the other newer TP52s. They will sail with an almost all Spanish crew with helm Gonzalo Araujo taking on the role he completed so well at the TP52 World Championships in Palma last year. Great Britain's double Olympic silver medallist Ian Walker will serve as tactician.
Ignasi Triay, project manager and trimmer Bribón states: "It will be difficult for us I am sure with our boat in its fourth season. It will be really tough for us to get a top five finish with teams like Quantum Racing, TeamOrigin and Emirates Team New Zealand fighting it out for the top spots, and then the two Russian boats and Bigamist (POR) going so well now, but we will be really trying our hardest. The World Championships really proved to us that in flat water and lighter winds the boat can be competitive. Dean Barker said last year that if we sail a perfect race we can finish top three. They have a boat that they can get back into contention in a race even if they don't make a great start, and that – for us – is the big difference."
Also based out of Palma is John Cook's British-flagged Cristabella which has a new rig and will have some crew changes with round the world Racing winning bowman Justin Slattery joining, and round the world navigator Simon 'SiFi' Fisher rejoining the team.
Brendan Darrer Project Manager for Cristabella said: "It is going to be difficult for us this season for sure. Each year we say it will be harder and it does get harder. But it will be a cracking year and we are really looking forward to it. Most of all we want to see a realistic improvement in our own performance, and if we can see that we will be happy."
Home hopes for the opening regatta will be with Pedro Mendonça's Bigamist team which has been winter training hard off their native Cascais. Their prolonged training together was the foundations for a very successful 2009, and so on their own local waters, the Portuguese team have a good chance of starting the 2010 Audi MedCup season on a high note.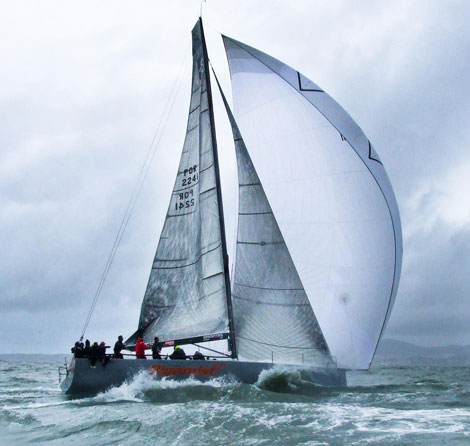 The GP42 fleet is taking shape presently with at least one boat which is new to the circuit, stepping up after enjoying their participation at the 2009 GP42 World Championships.
Renewed efforts are also being made to help popularise both the Audi MedCup and the sport of sailing. Fernando Iñigo, Audi MedCup Circuit and World Sailing Management Marketing Director, explains: "We are working on consolidating the TV successes we achieved in 2009, including important innovations that we will reveal soon which will revolutionise the way we communicate the sport of sailing. Apart from that, we are designing a new and more ambitious public area in order to keep on evolving our goal of making the Audi MedCup Circuit more popular.
In that sense, the two new venues, Barcelona and Cascais, are key".

The Audi MedCup circuit this year comprises five in four countries over southern Europe.
Event 1:Cascais (Portugal) 11 - 16 May
Event 2:Marseille (France) 15 - 20 June
Event 3:Barcelona (Spain) 20 - 25 July
Event 4:Cartagena (Spain) 24 - 29 August
Event 5:Cagliari (Italy) 20 - 25 September
Back to top
Back to top