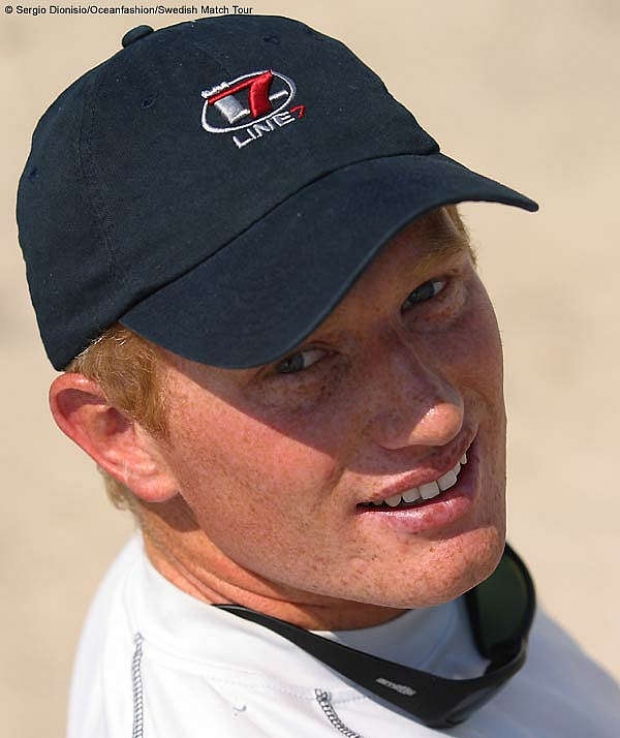 James Spithill
James Spithill is a remarkable individual. On the water since the age of five he comes from a sailing family - his sister Katie is currently Australia's most successful women's match racer. He is a product of the youth training program run by the Royal Prince Alfred Yacht Club in Sydney that saw him twice become World Youth Match Racing Champion. Then following a fortuitous meeting with Australian AC veteran Syd Fischer he took the helm of his first America's Cup Class yacht at the tender age of just 19.
"I just sort of met him at some sporting or yachting awards," says Spithill of his first encounter with Fischer. "I won the junior award and Syd or his team had won some ocean racing thing. I went up to him and said 'hey look, I'd love to do a bit of ocean racing' and he said 'look, come out any time'. So I went out and ended up steering that day and we won and our relationship just sort of built. And then I ended up working for him and running Young Australia so it was just a good opportunity."
Aged 21 Spithill found himself racing in the Louis Vuitton Challenger series - the youngest skipper ever to do so - and he made enough of an impression to be subsequently asked to become sparring partner for Paul Cayard. He was subsequently signed up by Peter Gilmour to join OneWorld.
In the last America's Cup, OneWorld went into the challenger series as favourites alongside Alinghi, but were subsequently knocked out in the semi-finals by Oracle. "I think ourselves, Oracle and Alinghi were the most similar with our boats and the way we set up our teams," says Spithill, looking back at the Cup. "But I guess the thing which hurt OneWorld were the distractions ashore. That took a lot of the time of the upper management and proved a distration for the sailing team. But unfortunately we peaked in round robin one when we went through undefeated, and then instead of making another step forward everyone caught up with us and then stepped over us - not everyone but certainly Oracle and Alinghi. That was frustrating because we had such a great team of guys, but that's the way it goes and Alinghi and Oracle deserved to be in the final."
Quite why they were unable to up their game at the same pace as the other top teams remains a mystery, although one Cup pundit pointed out to us that this has been a trait of other Gilmour-led campaigns. "You do try to make changes to make sure you're faster for the next round at each stage. And you do make changes and decisions and sometimes they're right and sometimes they're wrong. We must have made a couple of decisions that didn't find us enough speed. There's a whole lot of things you can change and test out and then there's trying to predict the weather. The other guys did a better job at it..." He has also learnt diplomacy...
Spithill says that he is no longer under contract to OneWorld and whether they go again remains to be seen but will depend upon the final choice of venue. He doesn't have an opinion about the best choice of those shortlisted by Alinghi. "To be honest, I haven't been to most of the places that have been mentioned. I would obviously like to see it go to a place where they have got good facilities and consistent breeze. It would be really good for the spectators if they could have some sort of viaduct set-up so that everyone can see. It would be a nice town that enjoys sailing so we can have some good racing. You've got to have some kind of set-up for the guys with the superyachts, because it is great having all them down there. That encourages them to get involved and it makes the event even bigger."
Now 24 Spithill already has the experience of driving in two America's Cups under his belt and there is presumably the prospect for many, many more to come. "We're pretty interested in being involved with the Cup again and a few teams have approached us," he says of his Cup plans going ahead.
Among these are two or three syndicates from his native Australia. "I think the America's Cup peaked in Australia in 1987 or in 1983 when they won it. And when they lost it in 1987 it has never really got back up there. We've had a little bit of a bad rap when the boat sank and Alan Bond who won it in 1983 and went to jail afterwards. So to the public that don't know that much about yachting - it doesn't look that good.
"What we did with Young Australia - they thought was good. But Australia has got so many sports and sports people around the world who are up there at the top of their game - which is great - but it takes a lot away a lot of the funding to create a Cup campaign, so it really has to come from an individual with an interest. It takes quite a lot of money to get something going."
Remarkably he thinks it is more likely that an Australian syndicate will find the money in corporate Australia now the Cup is to be held in Europe. "A lot of companies do business in Europe and can do something hospitality-wise as well whereas there isn't a lot of big business between Australia and New Zealand, so they think they can sell it better."
Since the Cup Spithill has mainly been in Europe jumping between the relentless program of match racing events - and doing incredibly well at them without exception. With no possibility of getting high enough in the ISAF Match Racing rankings in time to get to the Worlds, Spithill says that he is concentrating on the Swedish Match Tour. "We want to finish the Swedish Match Tour, relax for the year and just enjoy the racing."
He has continued with his long term team mates Ben Durham, Andy Fethers and Joey Newton many of whom he grew up with sailing against and who have been with him through both Youth Australia and OneWorld, with all the trappings of a Coutts, Butterworth, Fleury and Daubney combination in the making.
"Russell and his guys have shown how important it is to keep that synergy," agrees Spithill. "Myself and the other young Australian guys have been together since the 2000 Cup. On OneWorld Andy did 4-5 races, but Joey trimmed upwind and Ben did the runner and strategy. We've stuck together for a while and feel we've got something good going. Ideally we'd like to all stay together." A post-OneWorld addition to this mix has been American Charlie McKee, who does tactics for the team.
To date since the America's Cup Cup Spithill's record has been as high scoring as it has been consistent. His team has scored a third place at the Congressional Cup, second at Elba, third at the ACI Cronet Cup, and most recently has won the Nation's Cup in Trieste and the Pedrini Cento Cup grade one event on Lake Garda. Next week he stands as one of the favourites for the Swedish Match Cup in Marstrand in a line-up that will include his OneWorld boss Peter Gilmour, the Holmbergs Magnus and Peter, and World Match Racing Champion Karol Jablonski, but unfortunately not Russell Coutts. He then plans to return to Italy for the Roberto Trombini match racing event before returning home which is currently San Diego.
Further America's Cup racing for Spithill is surely a case of not if but how and while he has nailed his match racing colours firmly to the wall, he does hanker for other forms of racing. "I've done a bit of ocean racing in Sydney and big boat stuff. I'd like to do a lot more big boat stuff and certainly one day I'd like to do an Olympic campaign but at the moment there isn't a class…maybe the Star, but I don't have the money. If the Soling was in there I'd like to have a crack at that. It's disappointing that the matchracing isn't there. But I love fleet racing."
Back home in Australia, Spithill is something of an inspirational figure. "Whenever I go home you see these programmes getting more and more popular and there's more talent and it is certainly a good breeding ground for the up and comers.
These programmes teach you such good things."
So what advice does he have for those wishing to follow in his footsteps? "I think something I really would work on is getting one team of guys that all work together and you are in the right sort of weights and everyone does their jobs and they're all pretty experienced. And you stick with that team for as long as you can. That is the single most important thing. If you are constantly changing crews back and forwards, it is really hard - like any team sport, whether you are playing rugby or whatever - to build up that chemistry.
"Another thing is to keep it simple out there. You can really get too involved with the moves and the umpiring and all sorts of stuff that goes on. At the end of the day it is just a yacht race - you've got two yachts and the course and the wind. So if you can try and simplify it as much as possible then I think you are better off."
Match racers tend to show different degrees of aggression on the race course, with Spithill being close to the higher end. "I guess we've been pretty aggressive. We had a lot of aggressive in-house racing with Gillie and us at OneWorld. So, yes I guess we are aggressive. We see an opportunity and we'll go for it. But something I think we've got better at over the last couple of years is just being able to back off a bit. In the early days we'd be aggressive and go for anything and push it too far. Basically it made it a 50/50 call. But now I think about being able to back off at times and being able to simplify it. Hopefully that is working."
If Spithill's results since the Cup are anything to go by they would certainly seem to be.
Back to top
Back to top