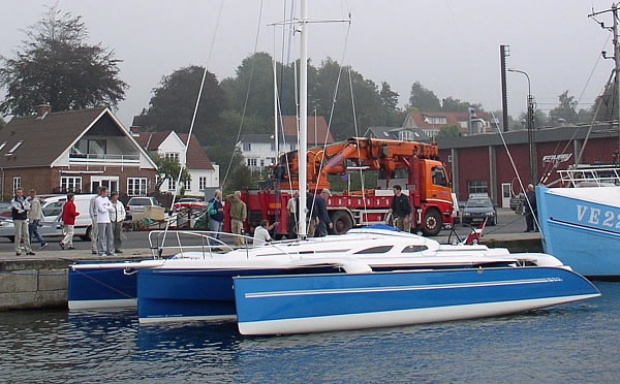 New Dragonfly
Quorning Boats in Denmark have just launched the latest in their line of high performance trimarans, the new Dragonfly 35 Offshore Cruiser. This 35ft high performance trimaran is available in two models, with the Ultimate version being of most interest to the Daily Sail readers.
Ultimate spec includes a 16.5m carbon rig, Vectran Genesis sails (mainsail 51sqm, genoa 32sqm) and Frederiksen/Ronstan deckgear as standard. On first sight, her retractable carbon bowsprit and high arched beams suggest that this trimaran packs a sizeable punch, a promise she has fulfilled by exceeding 20 knots on early trials. The six berth accommodation and folding system, which reduces the beam from 8.2m to 3.8m for access to marina berths, are an added bonus.
Construction is foam sandwich throughout, with biaxial glass and vinylester resin in the beams, which are post-cured at 80 degrees. A deep, moulded GRP centreboard and epoxy rudder ensure she is sure-footed upwind, while the 120sqm asymmetric provides added entertainment downwind. A tiller is standard, but the first boat has optional carbon wheel steering, proving extremely responsive upwind.
Base price for a sailaway 35 Ultimate is €262,500 including upwind sails and 30hp inboard, but excluding electronics and tax. All boats are built to order and there is a comprehensive list of factory extras to create the owners' ideal specification.
With 18 months' production sold prior to launch, including 4 boats already headed for the UK, Quorning Boats are hoping that the DF35 will follow the success of their 920 Extreme, which won European Yacht of the Year 2004, and finished second in class at Cowes Week '06.
More information can be found from their UK importers here:
http://www.multihullsolutions.co.uk
Back to top
Back to top