Two more gold medals decided with a race to spare
Outside of the Medal Race there has been plenty more drama going on across Guanabara Bay with two gold medals decided with a day to spare while the 49erFX Medal Race is set to be a humdinger.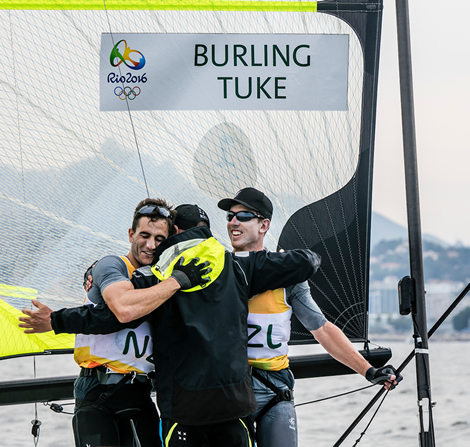 49er

Peter Burling and Blair Tuke (NZL) have won the 49er Men's gold medal, and did it with two races to spare after dominating the 20-boat fleet at Rio 2016 over the past week. The New Zealanders have gone undefeated in major competition in the 49er fleet since taking the silver medal at London 2012. They have won all four of the last World Championships and were expected to deliver gold for New Zealand this week. Even Burling and Tuke might be surprised at the ease with which they've managed their extraordinary feat, however.

Behind them the battle rages on for the other medals, with Erik Heil and Thomas Ploessel (GER) holding second place in front of the 2012 Olympic Champions Nathan Outteridge and Iain Jensen (AUS).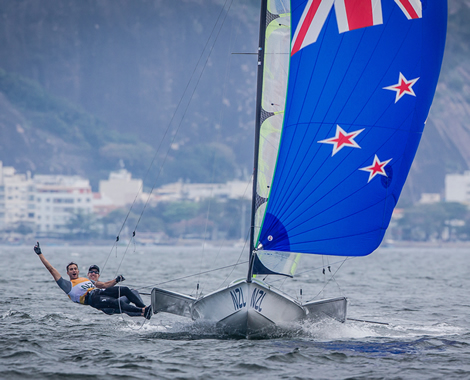 Team GBR's Dylan Fletcher and Alain Sign sailed themselves into medal contention after an excellent day - their first race win of the regatta, combined with a sixth and third, from their three races today propelled them up to fourth overall, just 10 points behind the Australians currently in third and 13 points from Erik Heil and Thomas Ploessel (GER) in silver medal position.

Fletcher said: "Today was a much better day for us. We started to find our form after yesterday and it was nice to finish the fleet racing on a high. Whatever it takes we'll be there trying to win the Medal Race and hopefully things will fall into place behind.

"We're working well together, racing fast, starting well and it's a bit disappointing we didn't do this at the start of the week as we know this is what we're capable of and this is why we're here. The main thing is that we're performing well now."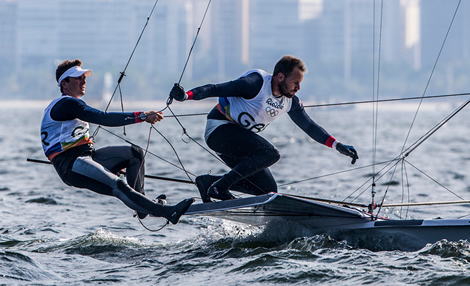 Sign added: "I think Dylan had a bit more caffeine today! We chatted over the last few days about how we want to set the boat up, and have been reminding ourselves how we want to sail, just trying to find that extra bit of speed. It's getting off the line again and giving ourselves the option to have a clean lane on the racecourse."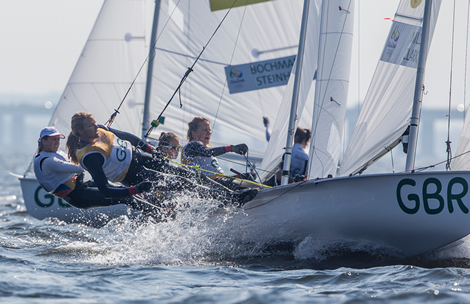 Women's 470

Hannah Mills and Saskia Clark (GBR) have won the Women's 470 gold medal with the Medal Race to spare. The British team, who took silver four years ago at London 2012, sailed a very solid day on the Ponte course, with scores of 3,2,3 to carry an unassailable 20-point advantage into tomorrow's Medal Race over their nearest challengers, Jo Aleh and Polly Powrie (NZL). The only thing that stands in the Brits' way is if they receive a technical two-point penalty for failing to follow pre-Medal Race procedures. But they're unlikely to jeopardise their gold with any such oversight.
Mills commented: "It's disbelief, I didn't trust Joe, our coach, that he got the points right and it took a while, it still hasn't sunk in! You try not to let it affect you too much, but we knew if we beat all our main rivals in that last race we would be guaranteed the gold.

"That obviously goes through your head a bit, especially as the wind started to die and it got a bit more wacky. Tensions were high but I'm absolutely shocked, stunned and so relieved. We need to not mess up, be solid and just get round the course."

Clark continued: "We've been really consistent and solid all week, there was a really nice breeze out there, 10-13 knots, and that probably settled our nerves a bit as we know we are one of the fastest in those conditions. We just bashed in three solid races and kept a track of our competitors.

"We want to get around the racecourse in good shape, I think we've managed to keep a lid on it all week when we have needed to and today was a great example of that. As each race went passed we were like 'it's still about this next race, nothing is won, nothing is lost right now.' Let's just race solid and do what we need to do."

Mills and Clark went into today's races four points ahead of Annie Haeger and Briana Provancha (USA). But it was the Kiwi London 2012 champions, Aleh and Powrie, who ended up proving the biggest threat to the Brits gold medal charge, with two bullets and a fourth in today's races.

Mills said: "We really felt we could have won the gold in London, we were absolutely gutted not to and that is what these four years have been about.

"I remember standing on the podium and thinking 'I just really want the anthem. We know the words!' This Olympics especially, there has been so many gold medallists from Team GB and you watch them at the medal ceremony and they are up on the podium with the anthem playing and that feeling is what you desperately, desperately want for yourself. I can't wait."

Clark added: "I'm going to sleep really well!"
The Kiwis' scores of 1,1,4 today have lifted them back to the silver medal position, with the double-points Medal Race poised for a fierce battle for silver and bronze as six teams are separated by just 11 points. They are Slovenia, USA, France, Japan and the Netherlands. Austria's double World Champions have had a disappointing week by their high standards, but Lara Vadlau and Jolanta Ogar still have an outside shot at silver or bronze.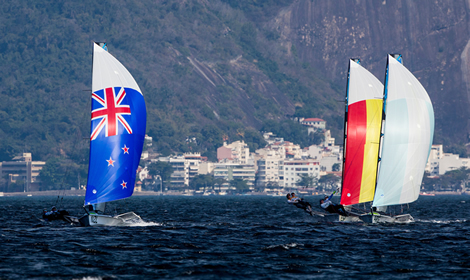 Women's 49erFX

Four into three, doesn't go. We know that from watching the Laser Radial Women's race at London 2012 four years ago. For the 49erFX Women's Medal Race we are looking at an identical scenario with four crews going into Thursday's finale on an equal footing. They are Tamara Echegoyen and Berta Betanzos (ESP), Martine Grael and Kahena Kunze (BRA), Jena Hansen and Katja Salskov-Iversen (DEN) and Alex Maloney and Molly Meech (NZL).

The fact that that the fourth-placed New Zealanders sit a point behind the top three tied on 76 points is academic because the Medal Race is a double-pointer. The order that they cross the line will determine what colour of medal they win. Or if they will be the unfortunate ones to win nothing at all.

Three of the four teams have won a 49erFX World Championship, the odd ones out being the Danes who do however have a European title. But, any of these teams would happily trade those titles for an Olympic gold at Rio 2016. Only one of these eight sailors, Spain's Echegoyen, knows what it feels like to be Olympic Champion after winning gold in the Women's Match Racing four years ago.
Team GBR's Charlotte Dobson and Sophie Ainsworth are also not in a position to end their first Games with a medal after a disappointing day of 15, 14 and 8 from their three races left them with too big a gap to close with that one Medal Race remaining.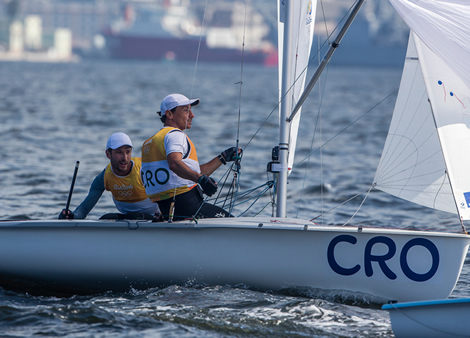 Men's 470

Earlier in the day, Laser sailor Tonci Stipanovic made history to become the first sailor to win an Olympic medal for Croatia. But Laser silver could be eclipsed less than 24 hours later by 470 Men's gold. Sime Fantela and Igor Marenic (CRO) have sailed a brilliant week in tough conditions, and the reward is an 11-point gap over the nearest opposition. That opposition, you might have thought would be Australia. But no, it's the Greeks, Panagiotis Mantis and Pavlos Kagialis (GRE), who now sit in silver medal position after notching up three second places on Tuesday afternoon. Mat Belcher and Will Ryan (AUS) have a lot to do if they're to keep the gold medal for Australia, a nation which has all but owned this event since it won its first of many 470 golds back in Sydney 2000. The Aussies sit just two points behind the Greeks so silver is well within their grasp. Gold is more of a stretch. Such is the lead of the top three, no other team can attack the podium. The best of the rest is the American crew, Stu McNay and David Hughes (USA).
Team GBR's Luke Patience and Chris Grube admitted their pride at even making the 470 Men's Medal Race after seeing their hopes of a podium finish ended despite enjoying their best day on the water. Scores of two fourths and a third saw the Brits produce their most consistent day in Guanabara Bay to move up from 10th to sixth in the overall standings

With tomorrow's Medal Race worth double points, the 29-point gap between themselves to Mathew Belcher and Will Ryan (AUS) in third place is too great for Patience and Grube to make up. But with the pair having only been sailing together for eight months, after Patience's partner Elliot Willis was diagnosed with cancer in late 2015, Patience could not be happier with how they have performed in this event.

Patience said: "I am just so proud on how we approached today and how we executed it. I feel quite emotional right now because I am so pleased on how we raced this week.

"Two months ago we were miles off feeling like we could sail at the front of the fleet, we've only had eight months to prepare for this race and I am walking away with my head held high.

"Whatever happens tomorrow, I really do feel today was one of our finest executions of what we had to do when it mattered. It's a very pleasing day, we didn't come here to finish fourth or anything but there is always something to take away.

"It's been a tricky week, as it was always going to be. I can think of three moments through the whole week's racing, coulda, shoulda, woulda, that might have changed our fortunes but that is the beauty of hindsight and the curse of it as well. We've exceeded what we should be doing with eight months of work together."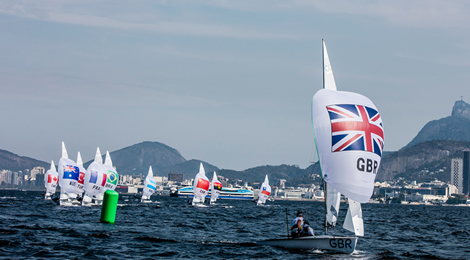 Ahead

The 470 medals will be decided when the sailing resumes with the Medal Race on 17 August at 13:00 local time. The Skiffs have a lay day before the final Medal Races of the Rio 2016 Olympic Sailing Competition.
Back to top
Results
470 Men

| | | | | | | | | | | | | | | | |
| --- | --- | --- | --- | --- | --- | --- | --- | --- | --- | --- | --- | --- | --- | --- | --- |
| Pos | Nat | Helm | Crew | R1 | R2 | R3 | R4 | R5 | R6 | R7 | R8 | R9 | R10 | Tot | Net |
| 1 | CRO | Sime Fantela | Igor Marenic | 1 | 2 | 4 | 1 | 3 | 3 | 4 | -8 | 6 | 3 | 35 | 27 |
| 2 | GRE | Panagiotis Mantis | Pavlos Kagialis | 9 | 3 | 1 | 5 | -13 | 9 | 5 | 2 | 2 | 2 | 51 | 38 |
| 3 | AUS | Mathew Belcher | William Ryan | 8 | 1 | 3 | 3 | 2 | 8 | -10 | 7 | 1 | 7 | 50 | 40 |
| 4 | USA | Stuart Mcnay | David Hughes | 10 | 7 | 8 | 13 | 4 | 7 | 6 | 1 | 11 | -14 | 81 | 67 |
| 5 | SWE | Anton Dahlberg | Fredrik Bergström | 22 | 8 | 2 | 4 | 8 | -27 | 1 | 5 | 8 | 11 | 96 | 69 |
| 6 | GBR | Luke Patience | Chris Grube | 21 | 5 | 5 | 6 | 1 | -27 | 20 | 4 | 3 | 4 | 96 | 69 |
| 7 | AUT | Matthias Schmid | Florian Reichstädter | 3 | 9 | 6 | 9 | 16 | 2 | 13 | 14 | -17 | 1 | 90 | 73 |
| 8 | FRA | Sofian Bouvet | Jeremie Mion | 6 | 6 | 10 | 2 | 6 | 6 | 14 | 9 | 20 | -22 | 101 | 79 |
| 9 | NZL | Paul Snow-Hansen | Daniel Willcox | 2 | 10 | 20 | 15 | -23 | 5 | 2 | 13 | 10 | 15 | 115 | 92 |
| 10 | SUI | Yannick Brauchli | Romuald Hausser | 11 | 4 | 19 | 7 | 10 | 10 | 8 | -22 | 15 | 8 | 114 | 92 |
| 11 | GER | Ferdinand Gerz | Oliver Szymanski | 13 | 18 | 9 | 23 | 14 | 1 | -24 | 6 | 4 | 6 | 118 | 94 |
| 12 | ESP | Jordi Xammar Hernandez | Joan Herp Morell | 4 | 16 | 14 | 10 | 9 | -22 | 7 | 16 | 12 | 9 | 119 | 97 |
| 13 | RUS | Pavel Sozykin | Denis Gribanov | 12 | 17 | 7 | -25 | 5 | 21 | 18 | 3 | 16 | 18 | 142 | 117 |
| 14 | TUR | Deniz Cinar | Ates Cinar | 14 | 19 | 18 | 12 | 7 | 15 | 12 | 18 | -21 | 5 | 141 | 120 |
| 15 | FIN | Joonas Lindgren | Niklas Lindgren | 20 | 11 | 23 | 18 | -24 | 19 | 3 | 10 | 9 | 10 | 147 | 123 |
| 16 | ARG | Lucas Calabrese | Juan de la Fuente | -17 | 14 | 11 | 11 | 17 | 12 | 15 | 17 | 5 | 27 | 146 | 129 |
| 17 | JPN | Kazuto Doi | Kimihiko Imamura | 15 | 21 | 16 | 16 | 15 | 16 | -22 | 12 | 7 | 17 | 157 | 135 |
| 18 | CHN | Wei Wang | Zangjun Xu | -23 | 12 | 13 | 22 | 19 | 11 | 19 | 15 | 19 | 12 | 165 | 142 |
| 19 | KOR | Chang ju Kim | ji-hoon kim | 5 | -25 | 12 | 8 | 20 | 13 | 21 | 23 | 24 | 20 | 171 | 146 |
| 20 | RSA | Asenathi Jim | Roger Beresford Hudson | 18 | -24 | 15 | 14 | 11 | 18 | 11 | 20 | 18 | 23 | 172 | 148 |
| 21 | ISR | Eyal Levine | Dan Froyliche | 7 | 15 | 17 | 21 | 21 | 20 | 16 | 19 | -22 | 16 | 174 | 152 |
| 22 | CAN | Jacob Chaplin-Saunders | Graeme Chaplin-Saunders | -26 | 20 | 22 | 19 | 12 | 14 | 17 | 21 | 13 | 21 | 185 | 159 |
| 23 | BRA | Henrique Haddad | Bruno Amorim | 19 | 23 | 25 | 17 | 22 | -27 | 9 | 11 | 14 | 27 | 194 | 167 |
| 24 | CHI | Andres Ducasse | Francisco Ducasse | 24 | 22 | 24 | 20 | 18 | 4 | 23 | -25 | 23 | 13 | 196 | 171 |
| 25 | UKR | Borys Shvets | Pavlo Matsuyev | 16 | 13 | 21 | 24 | -25 | 17 | 25 | 24 | 25 | 19 | 209 | 184 |
| 26 | ANG | Matias Montinho | Paixao Afonso | 25 | 26 | -27 | 27 | 26 | 23 | 26 | 26 | 26 | 24 | 256 | 229 |
470 Women

| | | | | | | | | | | | | | | | |
| --- | --- | --- | --- | --- | --- | --- | --- | --- | --- | --- | --- | --- | --- | --- | --- |
| Pos | Nat | Helm | Crew | R1 | R2 | R3 | R4 | R5 | R6 | R7 | R8 | R9 | R10 | Tot | Net |
| 1 | GBR | Hannah Mills | Saskia Clark | 4 | 7 | 1 | 6 | 1 | -8 | 1 | 3 | 2 | 3 | 36 | 28 |
| 2 | NZL | Jo Aleh | Polly Powrie | -21 | 1 | 4 | 1 | 12 | 21 | 3 | 1 | 1 | 4 | 69 | 48 |
| 3 | USA | Anne Haeger | Briana Provancha | 7 | 3 | -10 | 2 | 5 | 5 | 2 | 8 | 8 | 9 | 59 | 49 |
| 4 | FRA | Camille Lecointre | Hélène Defrance | 6 | -18 | 2 | 3 | 4 | 13 | 7 | 7 | 6 | 2 | 68 | 50 |
| 5 | JPN | Ai Kondo Yoshida | Miho Yoshioka | 1 | 4 | 3 | 7 | -19 | 9 | 12 | 4 | 11 | 1 | 71 | 52 |
| 6 | NED | Afrodite Zegers | Anneloes van Veen | -15 | 2 | 8 | 8 | 14 | 4 | 11 | 2 | 3 | 7 | 74 | 59 |
| 7 | SLO | Tina Mrak | Veronika Macarol | 2 | 6 | 5 | 4 | -21 | 12 | 4 | 21 | 5 | 6 | 86 | 65 |
| 8 | BRA | Fernanda Oliveira | Ana Luiza Barbachan | 5 | 5 | 13 | 10 | 2 | -21 | 9 | 6 | 13 | 5 | 89 | 68 |
| 9 | AUT | Lara Vadlau | Jolanta Ogar | 3 | 12 | 12 | 5 | 6 | 1 | 5 | 16 | -21 | 14 | 95 | 74 |
| 10 | POL | Agnieszka Skrzypulec | Irmina Gliszczynska | 10 | 14 | 9 | -21 | 3 | 14 | 19 | 12 | 7 | 8 | 117 | 96 |
| 11 | CHI | Nadja Horwitz | Sofia Middleton | 9 | 11 | -18 | 16 | 10 | 2 | 10 | 10 | 14 | 15 | 115 | 97 |
| 12 | ESP | Bàrbara Cornudella Ravetllat | Sara López Ravetllat | 14 | 13 | 7 | 11 | 13 | 11 | 13 | -18 | 9 | 10 | 119 | 101 |
| 13 | RUS | Alisa Kirilyuk | Liudmila Dmitrieva | -21 | 21 | 6 | 9 | 11 | 7 | 18 | 9 | 12 | 11 | 125 | 104 |
| 14 | SUI | Linda Fahrni | Maja Siegenthaler | 8 | 15 | 15 | 12 | 9 | 10 | 8 | 11 | 16 | -19 | 123 | 104 |
| 15 | AUS | Carrie Smith | Jaime Ryan | 16 | 8 | 11 | -17 | 7 | 6 | 14 | 15 | 17 | 12 | 123 | 106 |
| 16 | CHN | Lizhu Huang | Xiaoli Wang | 11 | 10 | 14 | 13 | 16 | 16 | -17 | 13 | 4 | 16 | 130 | 113 |
| 17 | ISR | Nina Amir | Nina Amir | -21 | 9 | 19 | 15 | 17 | 17 | 15 | 5 | 10 | 13 | 141 | 120 |
| 18 | GER | Annika Bochmann | Marlene Steinherr | 12 | 16 | 17 | -21 | 15 | 3 | 6 | 14 | 21 | 17 | 142 | 121 |
| 19 | ITA | Elena Berta | Alice Sinno | 13 | 19 | 16 | 14 | 8 | 15 | 16 | 19 | 15 | -20 | 155 | 135 |
| 20 | SIN | Jovina Choo | Amanda Ng | 17 | 17 | 20 | -21 | 18 | 21 | 20 | 17 | 18 | 18 | 187 | 166 |
49er

| | | | | | | | | | | | | | | | | | |
| --- | --- | --- | --- | --- | --- | --- | --- | --- | --- | --- | --- | --- | --- | --- | --- | --- | --- |
| Pos | Nat | Helm | Crew | R1 | R2 | R3 | R4 | R5 | R6 | R7 | R8 | R9 | R10 | R11 | R12 | Tot | Net |
| 1 | NZL | Peter Burling | Blair Tuke | 1 | 1 | 5 | 2 | -7 | 6 | 2 | 3 | 1 | 3 | 5 | 4 | 40 | 33 |
| 2 | GER | Erik Heil | Thomas Ploessel | 6 | 3 | 1 | 3 | 4 | 13 | 14 | 4 | 5 | 10 | 4 | -18 | 85 | 67 |
| 3 | AUS | Nathan Outteridge | Iain Jensen | -13 | 8 | 2 | 5 | 10 | 12 | 4 | 5 | 8 | 2 | 7 | 7 | 83 | 70 |
| 4 | GBR | Dylan Fletcher-Scott | Alain Sign | 15 | 10 | 7 | -20 | 14 | 4 | 5 | 6 | 9 | 1 | 6 | 3 | 100 | 80 |
| 5 | DEN | Jonas Warrer | Christian Peter Lübeck | 8 | 9 | -21 | 15 | 1 | 5 | 6 | 13 | 14 | 18 | 1 | 2 | 113 | 92 |
| 6 | FRA | Julien d'Ortoli | Noe Delpech | -20 | 12 | 16 | 12 | 2 | 9 | 1 | 1 | 3 | 17 | 9 | 14 | 116 | 96 |
| 7 | ARG | Yago Lange | Klaus Lange | 11 | 7 | 6 | 16 | 12 | 16 | -21 | 2 | 2 | 11 | 3 | 11 | 118 | 97 |
| 8 | IRL | Ryan Seaton | Matthew Mcgovern | 14 | 2 | 4 | 1 | 13 | 17 | 12 | 7 | 13 | 19 | -20 | 1 | 123 | 103 |
| 9 | ESP | Diego Botín le Chever | Iago López Marra | 16 | 5 | 3 | 13 | 6 | 10 | 13 | 15 | -18 | 12 | 2 | 13 | 126 | 108 |
| 10 | POL | Lukasz Przybytek | Pawel Kolodzinski | 2 | 13 | 9 | 9 | 5 | 9.3 | -18 | 11 | 7 | 16 | 18 | 9 | 126.3 | 108.3 |
| 11 | BRA | Marco Grael | Gabriel Borges | 10 | 11 | 8 | 7 | -19 | 7 | 10 | 17 | 10 | 8 | 15 | 6 | 128 | 109 |
| 12 | AUT | Nico Delle - Karth | Nikolaus Resch | 17 | 6 | 10 | 18 | 3 | 14 | 3 | 14 | -21 | 4 | 11 | 16 | 137 | 116 |
| 13 | SUI | Sebastien Schneiter | Lucien Cujean | 5 | 16 | 12 | 4 | -17 | 15 | 15 | 10 | 16 | 5 | 17 | 5 | 137 | 120 |
| 14 | ITA | Ruggero Tita | Pietro Zucchetti | 7 | -20 | 19 | 11 | 15 | 8 | 9 | 9 | 6 | 7 | 10 | 19 | 140 | 120 |
| 15 | CRO | Pavle Kostov | Petar Cupac | 9 | 17 | 11 | 10 | 11 | 1 | 17 | -18 | 15 | 13 | 8 | 10 | 140 | 122 |
| 16 | POR | Jorge Lima | José Costa | 4 | 4 | 18 | 6 | 16 | -21 | 11 | 19 | 4 | 9 | 19 | 12 | 143 | 122 |
| 17 | BEL | Yannick Lefèbvre | Tom Pelsmaekers | 19 | 14 | 13 | 17 | 9 | 3 | 8 | 8 | 12 | -20 | 14 | 8 | 145 | 125 |
| 18 | JPN | Yukio Makino | Kenji Takahashi | 3 | 15 | 17 | 8 | 8 | 2 | 19 | 12 | 17 | 15 | 16 | -20 | 152 | 132 |
| 19 | USA | Thomas Barrows, III | Joseph Morris | 18 | 19 | 14 | 14 | -21 | 11 | 16 | 16 | 11 | 6 | 13 | 17 | 176 | 155 |
| 20 | CHI | Benjamin Grez Ahrens | Cristóbal Grez Ahrens | 12 | 18 | 15 | 19 | 18 | -21 | 7 | 20 | 21 | 14 | 12 | 15 | 192 | 171 |
49erFX
| | | | | | | | | | | | | | | | | | |
| --- | --- | --- | --- | --- | --- | --- | --- | --- | --- | --- | --- | --- | --- | --- | --- | --- | --- |
| Pos | Nat | Helm | Crew | R1 | R2 | R3 | R4 | R5 | R6 | R7 | R8 | R9 | R10 | R11 | R12 | Tot | Net |
| 1 | ESP | Tamara Echegoyen Dominguez | Berta Betanzos Moro | 4 | -13 | 3 | 1 | 11 | 5 | 4 | 1 | 1 | 5 | 10 | 1 | 59 | 46 |
| 2 | BRA | Martine Soffiatti Grael | Kahena Kunze | 9 | 1 | 1 | 10 | 2 | 6 | 3 | 3 | -11 | 2 | 7 | 2 | 57 | 46 |
| 3 | DEN | Jena Hansen | Katja Salskov-Iversen | -21 | 2 | 2 | 2 | 4 | 2 | 9 | 16 | 2 | 1 | 2 | 4 | 67 | 46 |
| 4 | NZL | Alexandra Maloney | Molly Meech | 6 | 5 | 4 | 4 | 5 | 1 | 6 | -12 | 3 | 3 | 5 | 5 | 59 | 47 |
| 5 | FRA | Sarah Steyaert | Aude Compan | 1 | 9 | 10 | 12 | 12 | 13 | 1 | 9 | 4 | -16 | 1 | 3 | 91 | 75 |
| 6 | ITA | Giulia Conti | Francesca Clapcich | 3 | 7 | 7 | 6 | 10 | 8 | -15 | 13 | 5 | 6 | 4 | 7 | 91 | 76 |
| 7 | GBR | Charlotte Dobson | Sophie Ainsworth | 2 | 11 | 5 | 8 | 7 | 10 | 2 | 5 | 9 | -15 | 14 | 8 | 96 | 81 |
| 8 | NED | Annemiek Bekkering | Annette Duetz | -21 | 10 | 12 | 3 | 8 | 3 | 5 | 7 | 13 | 11 | 3 | 10 | 106 | 85 |
| 9 | USA | Paris Henken | Helena Scutt | 13 | -16 | 14 | 5 | 1 | 4 | 11 | 8 | 8 | 12 | 12 | 6 | 110 | 94 |
| 10 | GER | Victoria Jurczok | Anika Lorenz | -21 | 8 | 8 | 7 | 6 | 7 | 17 | 10 | 7 | 9 | 6 | 9 | 115 | 94 |
| 11 | SWE | Lisa Ericson | Hanna Klinga | 11 | 6 | 9 | 15 | 3 | 9 | 10 | 2 | -16 | 14 | 9 | 15 | 119 | 103 |
| 12 | IRL | Andrea Brewster | Saskia Tidey | 8 | 3 | 6 | 18 | 13 | 14 | -19 | 6 | 18 | 8 | 13 | 12 | 138 | 119 |
| 13 | ARG | Victoria Travascio | Maria Branz | 14 | -20 | 13 | 9 | 19 | 12 | 7 | 11 | 10 | 4 | 11 | 19 | 149 | 129 |
| 14 | NOR | Ragna Agerup | Maia Agerup | 10 | -18 | 15 | 17 | 9 | 17 | 13 | 4 | 6 | 13 | 17 | 11 | 150 | 132 |
| 15 | SIN | Griselda Khng | Sara Tan | 12 | 19 | 17 | 11 | 14 | 11 | 8 | -20 | 15 | 7 | 8 | 13 | 155 | 135 |
| 16 | CAN | Erin Rafuse | Dannie Boyd | 5 | 4 | 11 | 16 | 16 | 16 | -18 | 17 | 12 | 18 | 16 | 14 | 163 | 145 |
| 17 | FIN | Noora Ruskola | Camilla Cedercreutz | 7 | 12 | 16 | 13 | -21 | 15 | 14 | 15 | 14 | 10 | 20 | 18 | 175 | 154 |
| 18 | CHI | Arantza Gumucio | Begoña Gumucio | 16 | 14 | 18 | 14 | 15 | -19 | 12 | 14 | 17 | 17 | 15 | 16 | 187 | 168 |
| 19 | EST | Kätlin Tammiste | Anna Maria Sepp | 15 | 17 | 19 | -20 | 17 | 18 | 16 | 18 | 19 | 20 | 18 | 17 | 214 | 194 |
| 20 | JPN | Keiko Miyagawa | Sena Takano | -21 | 15 | 20 | 19 | 18 | 20 | 20 | 19 | 21 | 19 | 19 | 20 | 231 | 210 |
Back to top