Objective "three or four medals"
While this week the butterflies will be getting into full flutter for the athletes competing at Rio 2016, they will also be for the RYA's Olympic Manager, Stephen Park, one of the principle architects of Team GBR's sailing success (or failure) as it has been since taking this managerial role prior to the Athens Olympic Games in 2004.
For the British sailing team, one of the main differences this time is that Rio is not Weymouth and they have had to re-adjust once again to competing at an Olympic Games overseas. Not that this is anything new – the British sailing team is well versed in competing abroad and for an Anglo-Saxon team, Brazil is less 'foreign' than say China.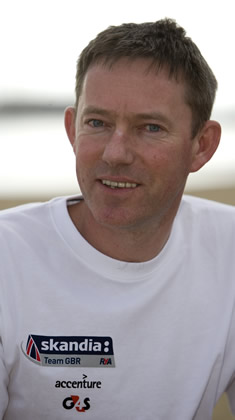 "I am feeling confident," says Park. "The venue's clearly a lot tougher, less predictable than Weymouth and Portland was, but at times there was just that feeling with the home games, despite the warnings, that there were still some people who just were a little bit complacent because it was at home. I think this time our guys have really, really worked hard - I can't think of a single sailor where I'd even begin to suggest that they'd been complacent. It's not like people were massively complacent last time, but it's just fine margins isn't it? This time I think that they're all in a good place."
Team GBR goes into Rio 2016 as reigning world champion in three classes and by a strange twist of coincidence it seems, all of them singlehanded dinghies – Giles Scott, Team GBR's favourite for Finn Gold and who has been World Champion for the last four consecutive years; Nick Thompson in the Laser; Ali Young in the Radial, who both won in Riviera Nayarit, Mexico this year.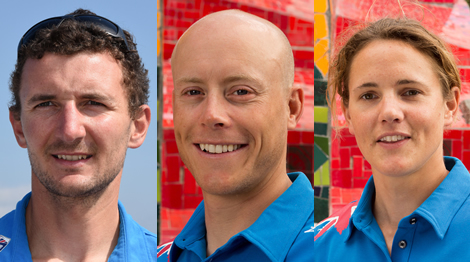 But to Park, this offer little reassurance when it comes to his sailors returning home with silverware round their necks next week: "We know that that's a good indicator traditionally of performance, and it's a good confidence builder within themselves and actually within the fleet in terms of the expectations of others, but of course, as we all know, the Olympics is different to all other events. You can be top of the rankings, you can be the most consistent sailor across the year or across the four years, but the Olympic Games are about racing against the best in the world over a week in August in Brazil. And everybody else is honing their game to perform at that one time as well. And there's a number of people from a number of countries who'll be then in the frame. So if you can get yourself into that group of sailors going into the final medal races in the running to win a medal, then that's about all you can hope for."
Nick Dempsey was robbed of a third World title in the RS:X this year. He was in the gold medal position rounding the final turning mark of the final medal race with 50 metres to run to the finish line, when he fell into a wind hole and those behind surfed past him with the breeze leaving him fourth overall… "Could he have been anywhere else? No," muses Park. "Would it have made any difference? No. He was just unfortunate. And a lot of our other classes are in similar positions. So I think all of that gives us good confidence to go into the Games feeling confident and feeling like our sailors have got every reason to be confident and acknowledging the challenges and unpredictability the Rio venue brings, which are different to Weymouth and Portland."
Normally going into the Games, the RYA has a target to achieve, which also has a bearing on future funding. According to Park, the stated target this time it is to win three or four medals." This compares to the three medals which was the target which Team GBR roundly exceeded at London 2012 (gold – Finn, silver – 470 Men and Women, Star, RS:X Men).
Park observes that sailing is not a linear sport, so forecasting the results are hard. "I always remember chatting with Jürgen Gröbler, the great rowing coach, who said to me 'I can tell you what the winning times are going to be in four years, eight years and in 12 years' time, and the correlating times you need to row and therefore we work on that basis. I'm normally right to within 0.5%.' So he knows the power, technique, speed - what those gains are going to be and it's a linear sport, a straight line. But we're not in a sport like that. So Giles Scott may have won 22 out of his last 23 regattas. Do we think that gives him a good chance to win a gold medal? We do, but we also know that actually something else could happen that might mean that he doesn't…"
The other rule of thumb in terms of medal calculations is to look at those who have won medals recently in international regatta and then to assume that 50% of those will manage to repeat this at the Games. So all ten GBR team have medalled in a major international regatta at some point in the last two years, all but one (the 49ers) have won a major international regatta in the last two years. While Giles Scott certainly goes into the games with the best track record in the team, the 49er FX crew goes in having secured the least silverware.
Luke Patience/Chris Grube
470 Men
2016: 3rd Weymouth; 2015 1st South American Champ, 3rd Hyeres, 1st Miami

Hannah Mills/Saskia Clark
470 Women
2016: 1st Weymouth, 1st Hyeres; 2015 1st SWC final, 2nd worlds, 2nd Test Event, 1st Weymouth, 3rd Palma, 2nd Miami
Dylan Fletcher/Alain Sign
49er
2016: 2nd Weymouth, 3rd Worlds; 2015: 2nd La Rochelle,
Charlotte Dobson/Sophie Ainsworth
49er FX
2016: 1st Weymouth
Nick Thompson
Laser
2016: 1st Weymouth, 1st Worlds, 3rd Brazilian Nationals; 2015: 1st Worlds, 2nd Hyeres, 2nd Miami
Ali Young
Laser Radial
2016: 3rd Hyeres, 1st Worlds; 2015 2nd Palma
Giles Scott
Finn
2016:

1st Weymouth, Worlds, 2nd Palma; 2015 1st test event, Weymouth, Hyeres, Palma, Miami;
Ben Saxton/Nicola Groves
Nacra 17
2016 1st Weymouth; 2015 1st Europeans, 2nd Miami
Nick Dempsey
RS:X Men
2016: 3rd Hyeres, 2nd Miami, 2015 1st Worlds, 3rd SWC final,

Bryony Shaw
RS:X Women
2016: 2nd Hyeres and Worlds, 1st Miami; 2015: 1st SWC final, 1st Europeans, 2nd Weymouth, 1st Miami
So how does Team GBR's sailing team stack up against the rest of the world?
"In terms of the 10 Olympic classes, I don't think there's a team better prepared with better medal opportunities than us," continues Park. "Now remember, of course, in London we still won more Olympic medals than any other country, but Australia beat us in the medals because they won more golds. Will that be the same this time round? I would like to think not, and certainly in the World Cup medal table for the last two years Great Britain has been the top nation.
"Countries like Australia, New Zealand and Brazil have all got some very good individual sailors, but they're not sending full teams because in their view they don't have competitive people across all the classes. Do I think that across those ten events that's good enough for us to top the medal table in Rio? Yes I do."
Among the GBR sailors, for this Games there has been a change of guard. The stalwart Olympic campaigners like Ainslie, Percy and Goodison have moved on, letting through a new generation. Team GBR has been fortunate in having have equally talented sailors such as Giles Scott and Nick Thompson, waiting in the wings, who've been chomping at the bit for years to get an opportunity to get the Olympic ticket.
In addition to the three reigning World Champions, as mentioned Nick Dempsey came within a hair of being RS:X World Champion. Bryony Shaw was second at the RS:X Women's Worlds this year and has been performing at a very much higher level over this Olympic cycle than she has done previously.
Team GBR's London 2012 silver medallist 470 Women, Hannah Mills and Saskia Clark have been exceling and have a particularly strong training group, all three teams in which have beaten the present World Champions from France - Camille Lecointre and Helene Defrance. For the 470 Men it will be more of a struggle, with helmsman and London 2012 silver medallist Luke Patience having to change crew to Chris Grube late in the day when sadly Elliot Willis was forced to pull when he was diagnosed with bowel cancer in March.
With the new classes for Rio 2016, the 49erFX and the Nacra 17, Park says that the British crews are "coming together well, but certainly it's a bit of a late charge for them. There've been one or two people who've been more consistent, like the French in the Nacra, but the last few regattas they haven't performed, and there's still a big equipment aspect to that sport - whether they've got different kit that might mean they have or haven't got the same speed as they've had. But it wouldn't be unrealistic to say that we're in the running."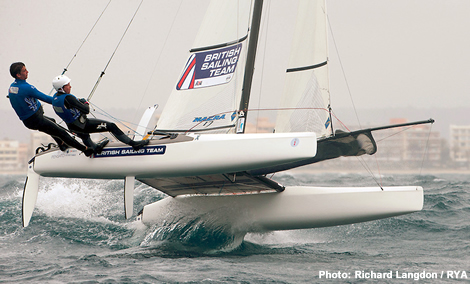 Talking to sailors in the Nacra 17 class, this equipment sounds like it has been a nightmare ever since it was adopted, with almost every part of the boat suffering breakage and in attempting to fix this, the boats are allegedly far from one design. There have been reports of unacceptably large tolerances (or lack of them) in fundamental areas such as overall beam to the angle at which the hulls attach to the beams which affects how the boats curved foils pass through the waves and in turn how early the boat starts its attempt to 'foil'.
While the Team GBR 49erFX sailors have the least impressive track record across the squad, Park observes: "They're coming together well, won their last event (SWC Weymouth & Portland) and are the top five in the world, so it's not like they haven't had a top ten result. They are fighting out, winning races, and just need to string that together. They're at the best of their game, at the best point in the cycle."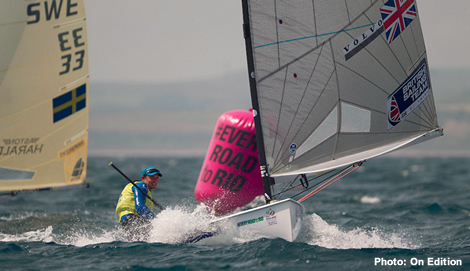 Stand-out performers
Another oddity with this Olympic Games, is that more than any that have gone before, there are more individual gold medal sure-fire favourites, with four across the 10 classes: Team GBR has Giles Scott who, as mentioned, has won the last four Worlds (Finn Gold Cup). Similarly France has Billy Besson and Marie Riou, who have achieved the same in the new Nacra 17 mixed catamaran class, as have New Zealand's London 2012 silver medallists Peter Burling and Blair Tuke in the 49er. London 2012 gold medallist Mat Belcher has won three out of four of the last World Championships in the 470 Men with his 'new' crew for this cycle, Will Ryan, and personally has won six of the last seven, since 2010 when he was sailing with two time 470 gold medallist Malcolm Page.
However generally form comes and goes. As Park observes: "Australia did have a very strong 470 Men's crew, but the question is are they still very strong, are they losing form or have they been testing other parts that haven't been as successful and they're going to come back with their right kit and suddenly be right back at it? They had a good run of regattas through 2012-2014, but recently not so much and that field has opened up.
"The Kiwi 470 women [Jo Aleh and Polly Powrie - London 2012 gold medallists] had a good run, although to be fair Hannah and Saskia should have won the gold were it not for three different incidents - one was their fault when they made an error and took a penalty that they didn't have to, one where they were winning down the final leg and the race was abandoned against the race management guidelines, and thirdly when they had a mainsheet block failure that again resulted in them losing four places. So the Kiwi 470 girls had a good run for a while, but they've not been as strong recently, while the Austrians and the French have been stronger."
It is also in human nature, particularly among more competitive types, to step up when required. "You couldn't run the mile in 4 minutes, then, oh, suddenly you can. And we had the same thing with lottery funding when it was introduced in 1997: If you finished in the top 20 you suddenly became eligible for funding and all these people who'd all spent their lives in the 20-30s suddenly started finishing 18th, 19th and 20th - it was incredible. And then you realised to get the next level of funding you needed to be top 8, and a year later we've got people who were top 8…"
So it's all about $$$? "I wouldn't say that, but there's no doubt in my mind – although not everybody's mind - that sometimes that does help. Personally I am a believer in athlete performance bonuses at the Games. We did that for the past couple of cycles when we had commercial income (because we can't use lottery funding for performance bonuses), but when you look at the research that's been done to determine what's making the difference, that's one of the factors that stands out as maybe making a difference. I suppose it is my Scottish heritage, but if somebody's sitting in a position where they're a safe second, but they could possibly have a go at winning the gold medal - will an extra £10,000 of incentive make the difference as to whether they're going to attack, with the risk of losing the silver and finishing third, as opposed to just being secure and happy with the silver?"
But in fact Park says that that is not always the case. "You've got to look at what you think the odds are and what you think their ability and track record of actually delivering that when that happens. But all things being equal, then, yeah, we're about trying to win gold medals, we're not just about trying to win medals. But from my personal perspective - would I rather have two gold medals and top the medal table or would I rather have eight silvers? I think I'd rather have eight silvers because I think that that shows me that I've fielded a team of sailors in all the classes that are competitive."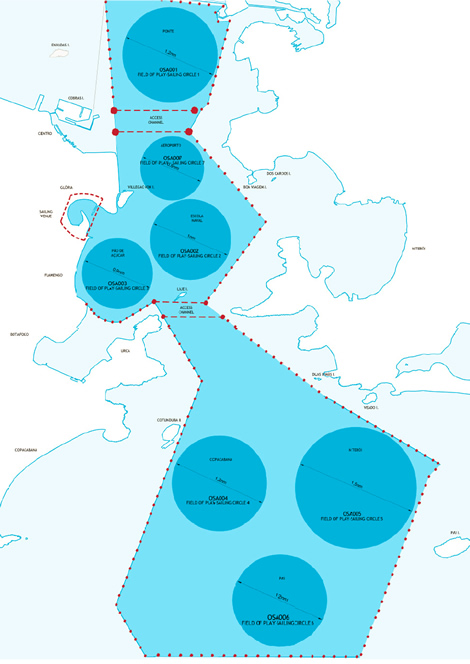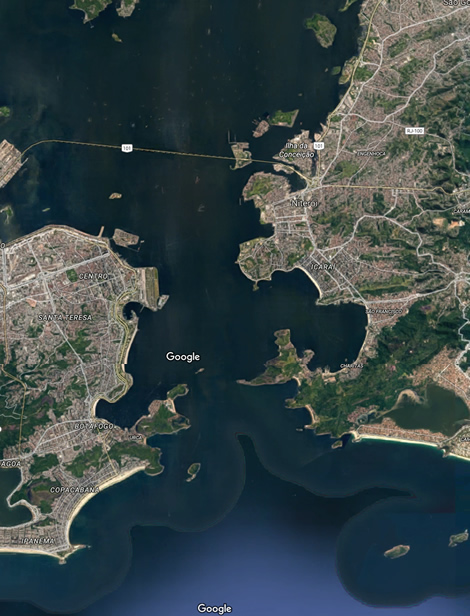 Rio
On to the Rio venue and there are seven course areas, four inside Rio's famous harbour and three outside. Unlike Weymouth, the classes will rotate between the courses, so for example the Lasers and Radial start today on the Escola Naval just inside the Harbour, before moving to the 'Ponte' course, deepest within the Harbour on Tuesday before moving outside of the Harbour to the Copacabana course on Wednesday. Medal races will all be held on the Pão de Açucar, on the west side of the Harbour just south of the sailing event base at Marina Gloria.
Because the medal race course is typically close to shore, stadium-stylee, there are frequent complaints that it can make the final race of the Olympic series something of a lottery. In the case of Pão de Açucar there is the no small of Rio's dramatic geography. As Park explains: "It depends on the wind direction, but the most prevalent wind is westerly, coming directly from the Sugarloaf Mountain so if you imagine you want to put a massive great mountain 50 metres upwind of your windward mark… But if the wind's a bit left then it can come through the gap and it's a bit better. If it's a bit right there is a little bit of a valley, with wind blowing in over the top from Copacabana."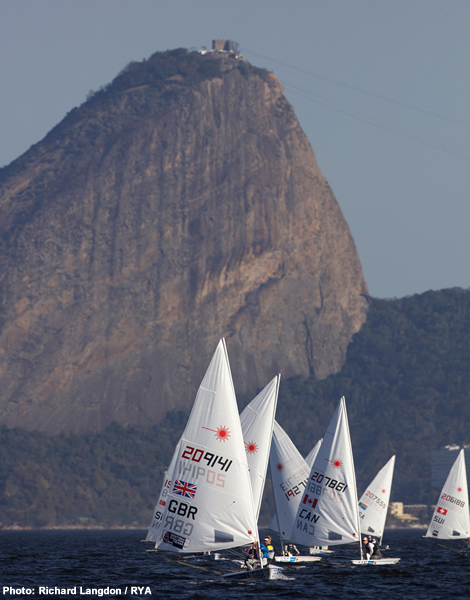 Thanks to the sterling efforts of American former Olympic sailor Brad Funk, the sailing area is perhaps slightly freer of the corpses (both human and animal), shopping trolleys and other flotsam that have been the main criticism of the sailing in Rio (aside from the muggings, incessant thiefing, Zika virus, etc ashore). It will be unfortunate if any of these factors were to affect the sailing results in the Games.
Park agrees: "That would be very disappointing if that was the case, whether it's for our sailors or anyone else, because ultimately one of the things that we like to think our sport is that we're actually out there racing person-against-person and it's not those outside influences that are making the difference at Olympic level. The important thing for all our guys is not going to be about whether it is clean or whether it isn't clean, what's important for our guys is about how they are going to deal with it if it happens.
"From my perspective one of our biggest fears and risks for the Games is that somebody gets ill as a result of something at the venue. But we'll do everything we possibly can to try and make sure it doesn't happen and accept that sometimes it does, sometimes shit happens, literally..."
Fortunately everyone has been aware for a long while now about the lack of cleanliness of the Rio water and the sickness that can occur from coming into contact with it. "We've had some and we know that other teams have had a lot, but we have instituted a lot of mitigating strategies to try and reduce the impact of poor water quality and reduce the number of people that are getting ill. If people get ill from the water quality they'll almost certainly lose a day, because they will be violently sick."
To minimise the risk of this, all equipment is thoroughly cleaned with disinfectant after sailing. Sailors obviously keep themselves and their cloth disinfected and will disinfect their hands before eating or drinking between races. They also take probiotics to build up gut health, and rinse with antibacterial mouthwash. "There are lots of little things which together would appear to be having an impact on the number of people that we have that are being sick."
Back to top
Back to top